We couldn't stop at just one deep-fried treat for County Fair Week! Two of our favorite savory extract powders (Ranch and Sundried Tomato) bring serious flavor to our crispy coating, just begging for a Marinara dip. Talk about a childhood dream come true!
Ingredients
SPECIAL EQUIPMENT
deep fryer or large pot & thermometer
3 bowls
slotted spoon or spider
paper towel-lined plate or cooling rack set over a rimmed baking sheet
Directions
Take the pizza and smash the cheese into the sauce. Cut into desired number of slices and put in the freezer while getting everything else ready.
Pour 3-4" oil in a deep pot and preheat to 350°F or prepare your deep fryer according to the manufacturer's instructions.
Combine flour and 2 tsp Ranch Type Extract Powder in first bowl.
Whisk eggs with Sundried Tomato Extract Powder in second bowl.
Mix breadcrumbs and remaining ½ tbsp Ranch Type Extract Powder in the third bowl.
Take the pizza out of the freezer and, working quickly, coat each slice first with flour, then dip in egg, and finally coat with breadcrumbs.
Pat extra breadcrumbs on to ensure a consistent coating.
Fry for about 1½ minutes, or until golden brown. Flip and fry for an additional minute. Remove to a paper towel-lined plate or cooling rack set over a rimmed baking sheet and let cool slightly.
Serve with Marinara for dipping.
TIPS:
Save leftover fry oil for up to 2 months.
Use your favorite frozen pizza (thawed overnight in the fridge), a homemade pizza (cut & frozen overnight), or even a calzone!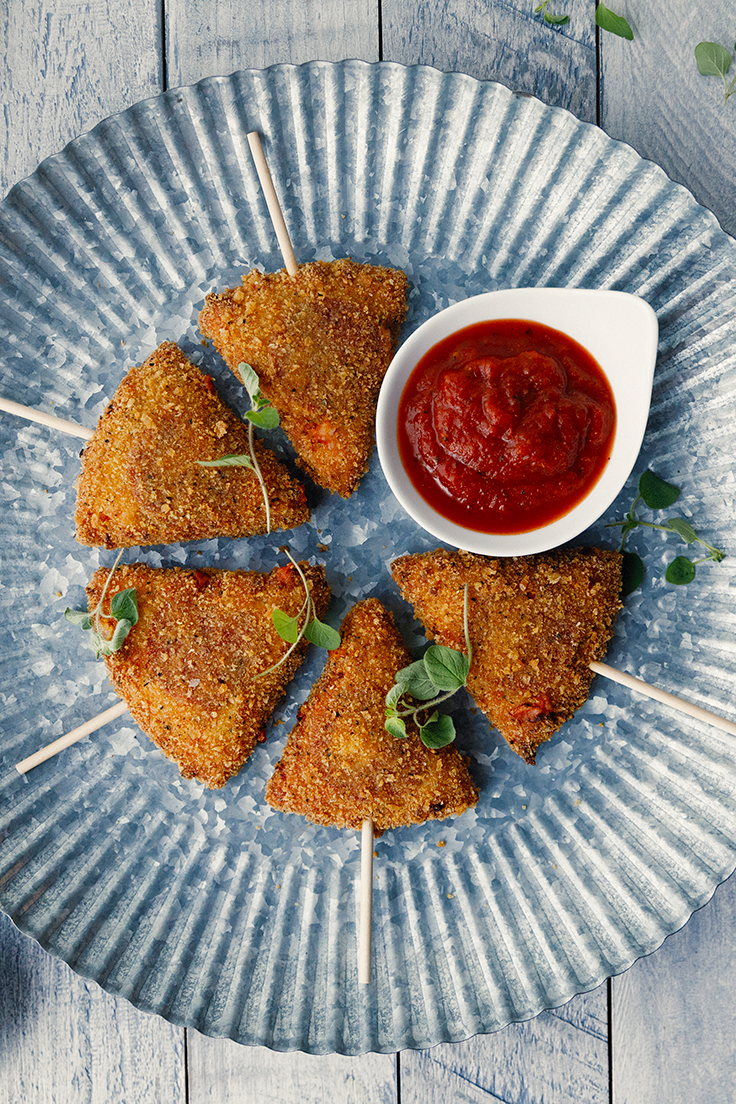 Products used in this recipe