Now that spring is in full swing, we get to enjoy the abundance of fresh vegetables! We kept this salad light by pairing two long-time friends: peas and carrots. Peas are one of the first to sprout in spring; they provide sweetness and crunch while holding up to just about any flavor profile you could think of. As peas come in, carrots are on their way out. While available all year long, the best tasting carrots are harvested from autumn to spring, so we brought the two together as the harvest seasons overlap. Serves 4.
Any good construction project begins with gathering materials. Here we have everything we need for our Springtime Salad: lettuce, carrot ribbons, sliced and split peas, palm hearts, fresh herbs, marinated burrata, and a bright Curry Lime Dressing. Let's get started!
Add all the prepped veggies to a large bowl and toss with some Curry Lime Dressing.
Our simple Curry Lime Dressing comes together in a flash and keeps up to a week in the fridge, which is great since it makes about 1½ cups. #bonus
Marinated burrata adds a creamy component to our spring salad. Add a few dollops to the plate amongst a few larger lettuce leaves.
Plate the remaining dressed salad and finish with a drizzle of straight Curry Oil Extract if you're feeling brave!
Here's the full recipe!
Ingredients
MARINATED BURRATA
8 oz burrata, strained if in liquid
zest of half a lemon
big pinch of salt
CURRY LIME DRESSING
1 tbsp apple cider vinegar
5 tbsp lime juice, from about 3 juicy limes
3 tbsp chopped mint
⅔ cup light flavored oil (grapeseed, canola, avocado, etc.)
salt, to taste
PEAS & CARROTS SPRINGTIME SALAD
2 heads butterleaf, red oak, or other mild lettuce; washed and torn
2 medium carrots, shaved in ribbons with a peeler
7-12 snow peas, thinly sliced on a bias
15-ish snap peas, quickly blanched and split
4 stalks heart of palm, thinly sliced
10 mint leaves, torn
1 recipe Curry Lime Dressing
1 recipe Marinated Burrata
salt and pepper, to taste
Directions
MARINATED BURRATA
Place drained burrata in a medium bowl.
Drizzle with Lemon Oil and zest.
Break the burrata apart with a spoon, season with salt, and fold gently until burrata is evenly coated.
Refrigerate until ready to serve.
CURRY LIME DRESSING
Combine vinegar, lime juice, Agave Nectar, and mint in a blender or food processor. Blend until mint is broken up.
Slowly drizzle in oil and Curry Oil Extract.
Add salt to taste.
PEAS & CARROTS SPRINGTIME SALAD
In a large bowl, toss lettuce, carrot ribbons, snow and snap peas, heart of palm, and torn mint leaves with some Curry Lime Dressing.
Season with salt and pepper to taste.
To plate the salad, place a few larger lettuce leaves on a plate and spoon dollops of Marinated Burrata along the plate.
Delicately layer the remaining salad and burrata, arranging as much or as little as you'd like.
TIPS:
Burrata may not be available; mozzarella slices will provide a similar creaminess to the dish.
If you are able to find heirloom carrots, wash the carrot tops and incorporate them into your greens.
This salad is delicate on its own and can be built upon depending on what you love to eat. Use this recipe as a jumping off point; your ingredients could be fully dictated by what is in season, what you prefer, or what is in your fridge at the moment. Lobster tossed in lemon juice would elevate the salad and be great for first course at a dinner party. Rendered pancetta is what we ate it with because, why not, pancetta is great on everything! Bulk it up with more vegetables and salmon to make a filling lunch entrée.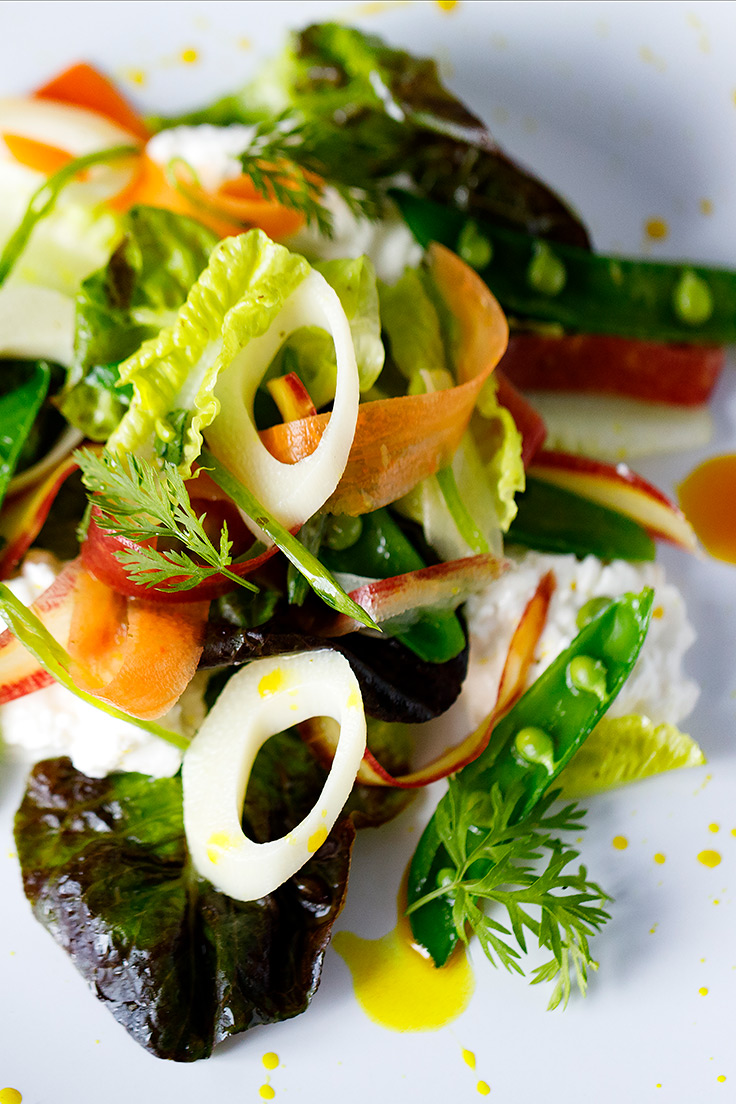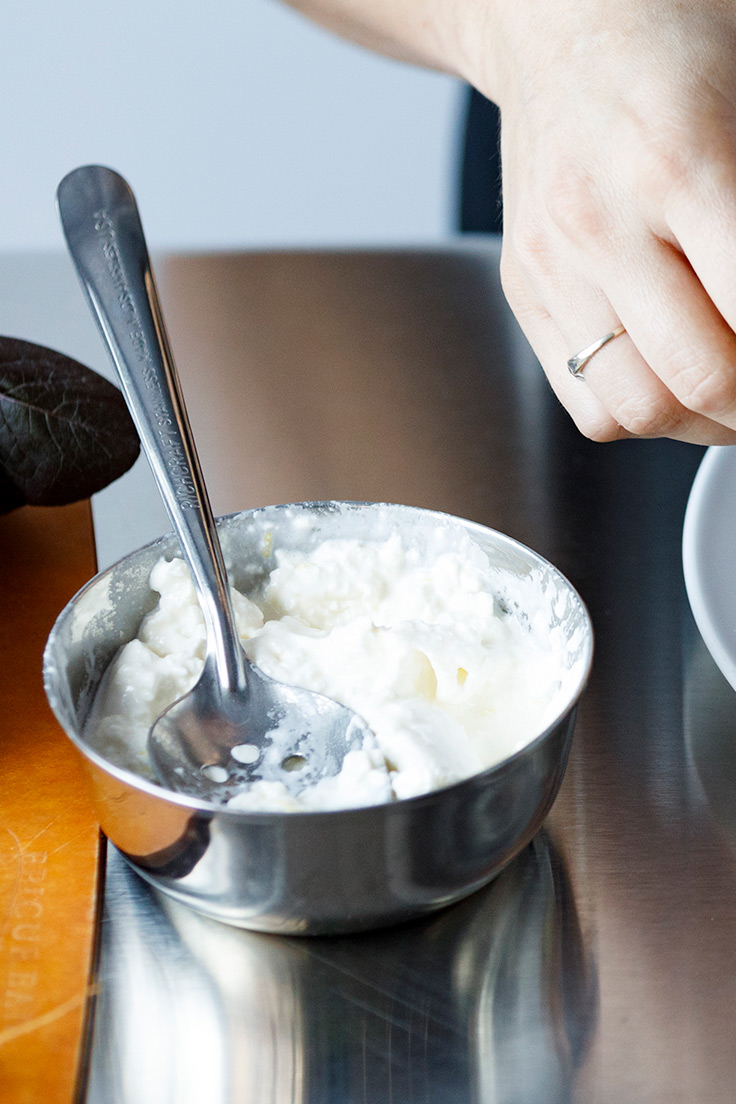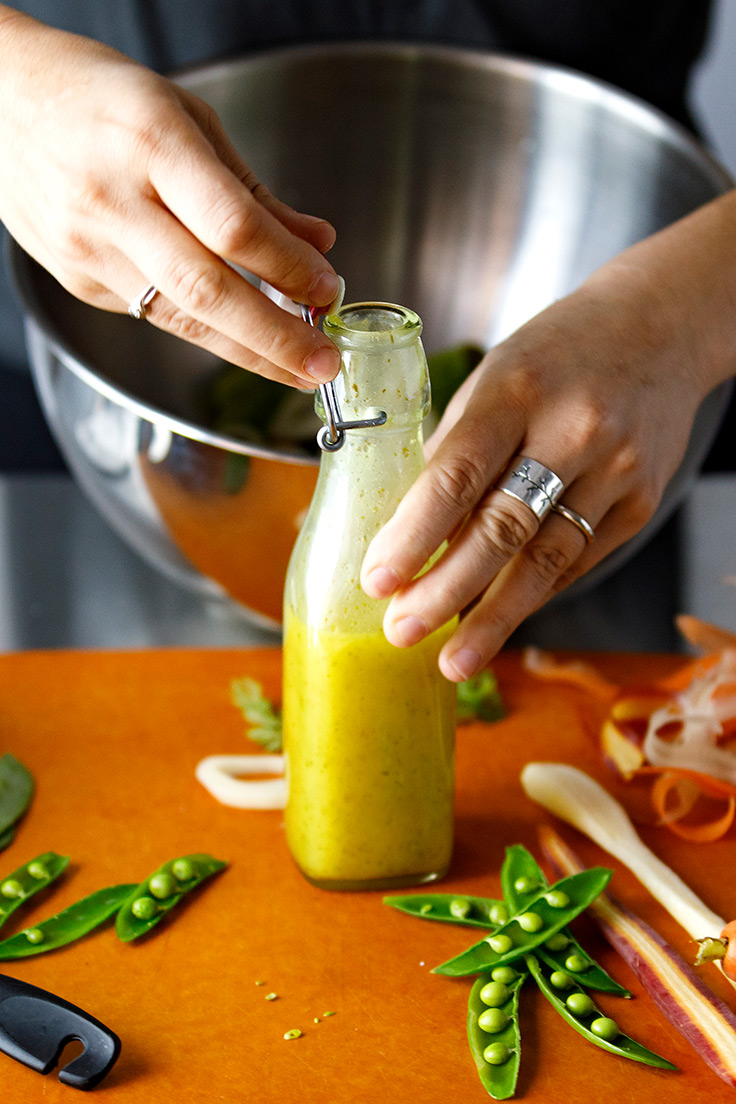 Products used in this recipe