Ingredients
CAKE
3 cups flour
1 tsp baking soda
3 eggs
1 cup sugar
7 tbsp unsalted butter
2 tbsp honey
FILLING
½ cup heavy cream
1 cup powdered sugar
8 oz sour cream
¼ cup mascarpone
FINISHING TOUCHES
SPECIAL EQUIPMENT
8" cake ring
parchment-lined sheet pans
Directions
CAKE
Preheat the oven to 350℉.
Whisk together flour, Blanched Almond Flour, and baking soda. Set aside.
Combine the eggs and the sugar in a heat-proof bowl.
Place the bowl over a double boiler and add the butter, honey, Natural Almond and Natural Honey Extracts.
Stir with the heat on medium-high until the butter is melted. Remove the bowl from the double boiler.
Add the dry ingredients a little at a time and stir with a wooden spoon until the dough comes together.
On a lightly floured surface, knead the dough a few times until it is smooth.
Shape the dough into a log and cut 8 equal pieces.
Keep the pieces covered with a towel at all times and, working with one piece at a time, roll each piece into a ball.
Place one ball onto a piece of parchment and gently roll out into a thin circle.
Using an 8" cake ring, cut into the dough and peel off the extra dough from around the outer edge, this will give you an even circle. (Save all the pieces of dough for later. Place them on a parchment-lined sheet pan.)
Place the parchment with the circle onto a sheet pan and gently dock with a fork.
Bake for 7-9 minutes, until the cake is golden brown. Cool completely.
Repeat with remaining portions of dough.
Bake the discarded pieces of dough until they are browned, but not too dark. Cool completely.
While the layers are cooling, make the filling.
FILLING
In a stand mixer combine heavy cream, Madagascar Bourbon Vanilla, and powdered sugar.
Whip to a medium peak.
Add sour cream and mascarpone, mix on medium-low until the mixture is smooth.
Add Natural Almond and Natural Honey Extracts.
ASSEMBLY
In a processor, grind the cooled dough scraps to a fine crumb and set aside.
Lay one layer of the cake onto a platter or cake stand.
Top with 4-5 tbsp Filling and smooth to the edges.
Repeat this process for all 8 layers.
Cover the top and sides with the Filling and smooth with a scraper. The filling is very loose, so it will not cover completely.
Chill overnight.
Cover the top and sides with buttercream, smooth and chill for 30 minutes.
At this point, if you decide to cover the entire cake with the crumbs, cover the top of the cake with some of the crumbs. Lift the cake and, while holding in one hand, gently press the crumbs around the sides to cover completely.
If you are covering with buttercream and not crumbs, add another layer of buttercream, smooth, and decorate.
TIPS:
You can frost the outside of this cake with the filling instead of buttercream by doubling the filling recipe.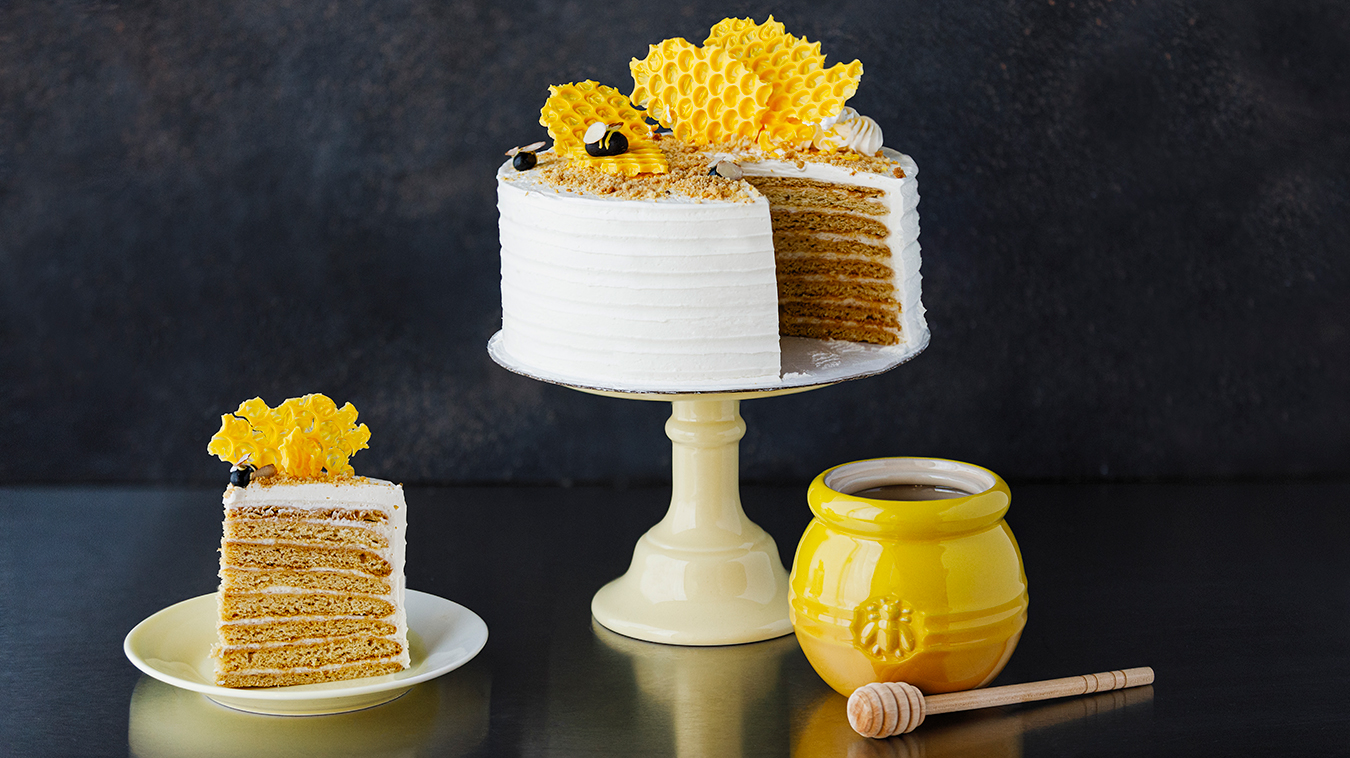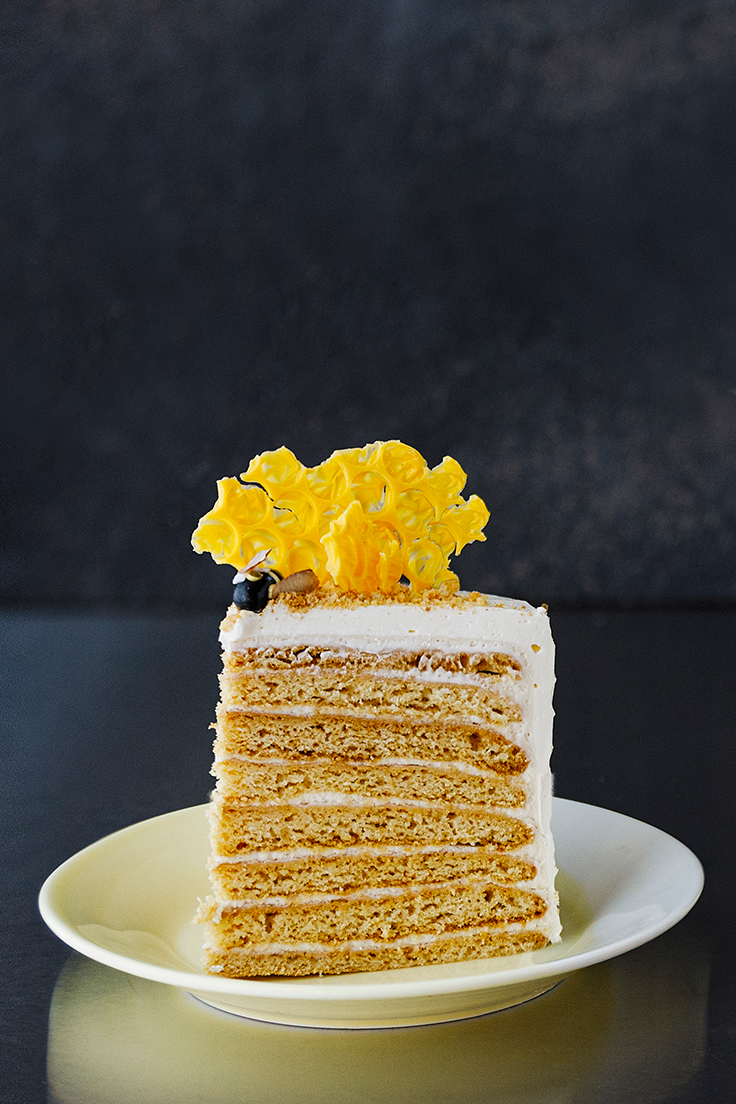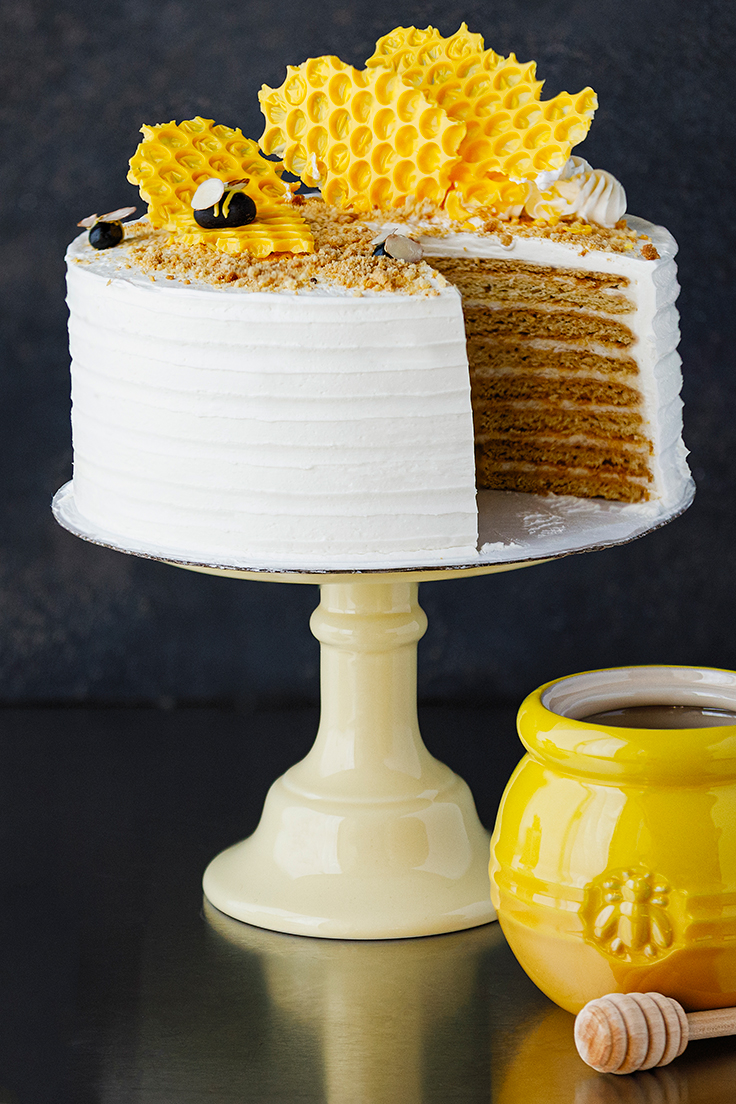 Products used in this recipe