These bars make great snacks, and feature a healthy fresh cranberry filling!
Ingredients
CRANBERRY FILLING:
2½ cups fresh or frozen cranberries
⅔ cup sugar
pinch salt
3 tbsp water
⅓ cup chopped walnuts
⅓ cup white chocolate chips
⅓ cup white chocolate chips (set aside for drizzling on top after baking)
CRUST & STREUSEL TOPPING:
1 cup all purpose flour
⅔ cup oats
½ cup sugar
¼ teaspoon salt
2 sticks cubed, softened butter
2 egg yolks
Directions
Combine the cranberries, sugar, water, Cranberry Artisan and Orange Zest Oil Extract in a medium saucepan.
Bring mixture to a boil, then reduce heat to medium-low for about 10-12 minutes, until thickened.
Place pan in an ice bath to cool the filling while you make the crust.
In a food processor, combine flours, sugar, and oats for about 10 seconds.
Add softened butter and mix until a ball forms.
Set aside ¾ cup of this dough and put into the freezer to chill. This will be for the streusel top. (Chilling the dough makes it easier to break up.)
Add yolks to the remaining dough and mix.
Spread the dough into a sheet pan or rectangular baking dish.
Spread the cranberry filling on top.
Sprinkle chopped walnuts and ⅓ cup white chocolate chips over the top and press down with a spatula.
Crumble the remaining chilled dough into pea-sized pieces and sprinkle over the cranberry filling.
Bake in a 350°F oven for 40- 45 minutes, until the streusel is golden brown.
Let cool on a rack for about 20-30 minutes before chilling. While the bars are cooling, melt the second ⅓ cup of white chocolate and drizzle over the top.
Chill for 1½ hours or overnight before cutting into bars.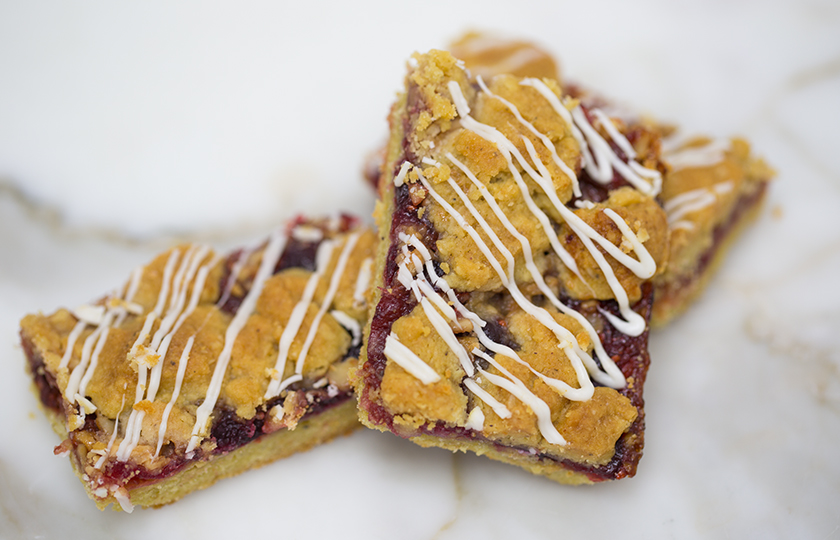 Products used in this recipe