Biscotti are a perfect snack with your afternoon coffee, sweet enough to satisfy a craving and substantial enough to keep you going. Makes 24-30 cookies.
Ingredients
1¼ cup cake flour
½ cup all purpose flour
2 tsp baking powder
⅛ tsp salt
2 tbsp dried cherries
¾ cup + 1-2 tbsp sugar, divided
2 large eggs, room temperature
½ cup pistachios, lightly toasted and coarsely chopped
Directions
Sift together cake flour, all purpose flour, baking powder, and salt. Set aside.
Dice the cherries in 1-2 tablespoons sugar, separating the bits as you go. (Dicing them in the sugar will help to keep them from clumping together.)
Once they are diced, gather with a bench scraper, place into a sieve and shake out the excess sugar into a bowl and set aside. (The cherry-flavored sugar can be used for another purpose.)
In the bowl of a stand mixer fitted with the whisk attachement, whip the eggs and sugar until very light and pale (ribbon stage), about 5-6 minutes.
Add Almond Extract, Orange Zest Oil Extract, and Madagascar Bourbon Vanilla to eggs and sugar mixture. Mix briefly to combine.
Switch out the whisk attachment for the paddle attachment.
Add sifted ingredients and Pistachio Flour to the egg mixture and mix just until combined. Scrape bowl and mix once again briefly.
Fold in toasted pistachios.
Add the diced cherries to the dough a little at a time to prevent them from clumping together.
Line a pan with parchment paper and sprinkle with a little sugar.
Place half the dough onto the parchment, spreading to a log shape. Dough will be very sticky.
Fold the parchment over the dough. Hold the top edge of the parchment and. using a scraper or ruler, pull the other edge of parchment towards you, forming a tight log.
Place onto a sheet pan and repeat with the other half of the dough.
Freeze for 30 minutes or chill overnight.
Meanwhile, preheat the oven to 350℉.
Remove log(s) from parchment and place onto a parchment-lined (or silpat-lined) sheet pan.
Bake for 30 minutes, turning halfway through for even baking.
Remove the log(s) from the oven and cool for 10-15 minutes.
Reduce the oven temperature to 325℉.
Slice log(s) diagonally and place the slices on their sides. Bake for 15-18 minutes, turning them over halfway through baking, until lightly browned.
Cool for 15-20 minutes.
TIPS:
2 cups pastry flour may be used in place of the all purpose and cake flours.
Biscotti can be kept in a sealed container at room temperature for up to a week.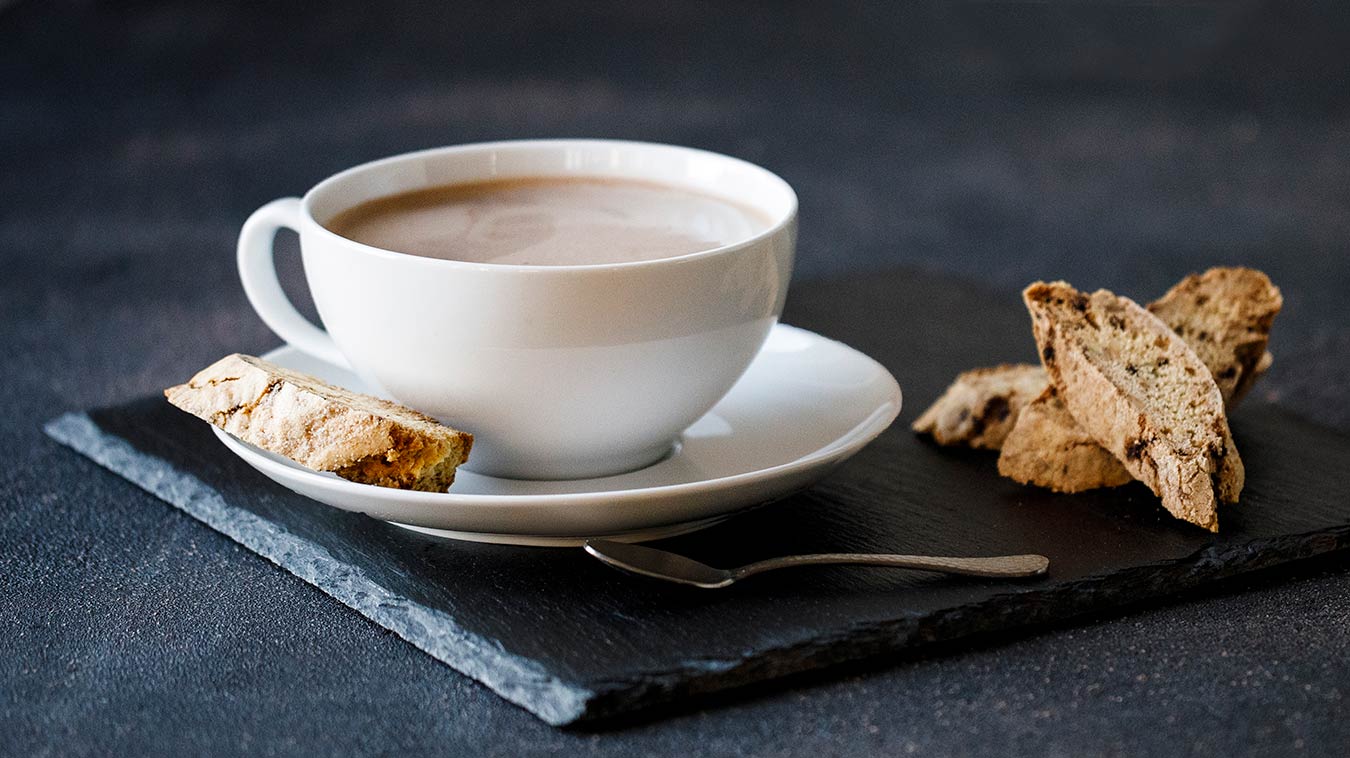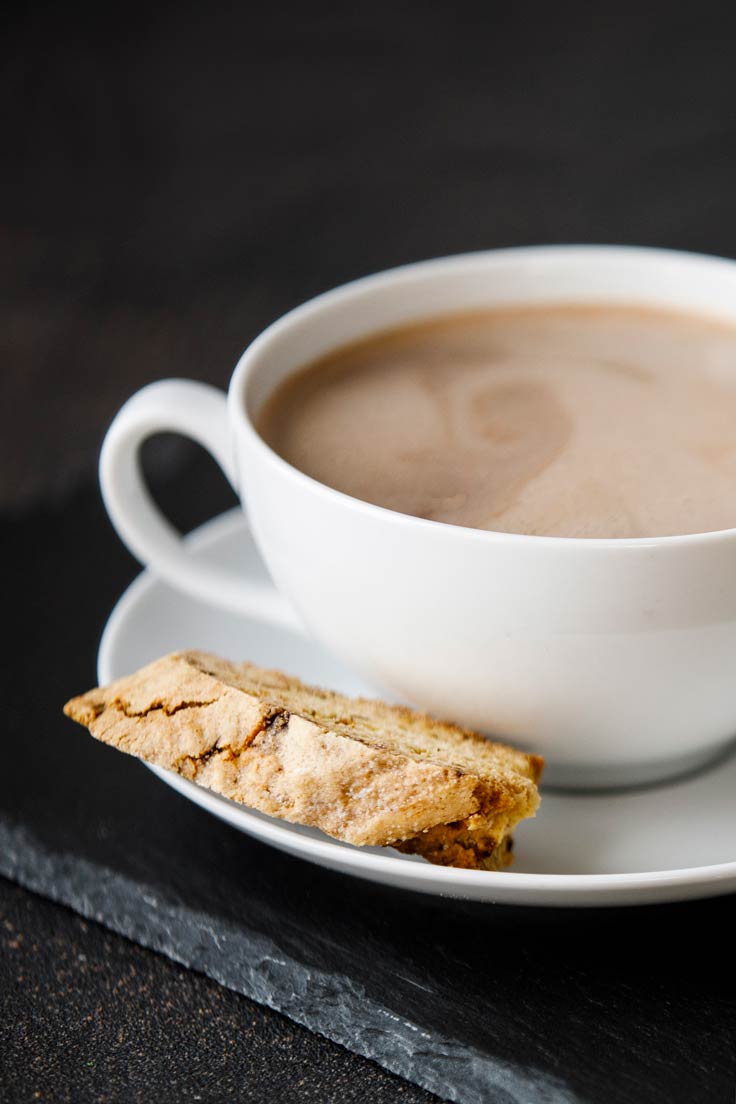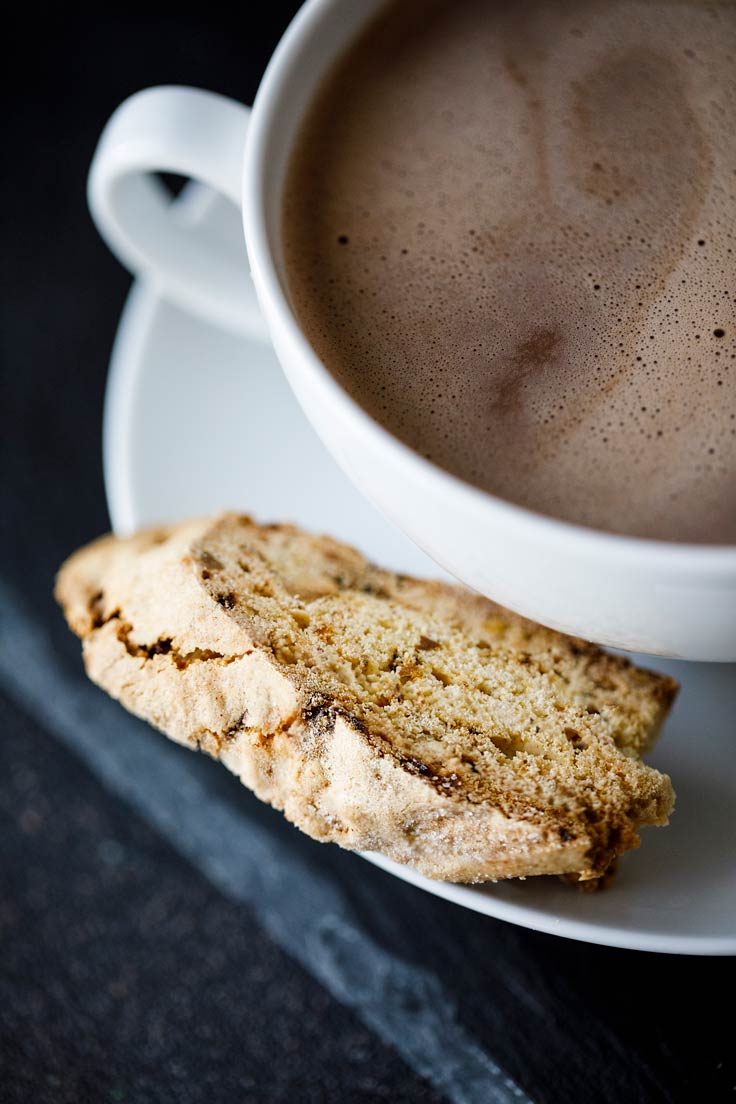 Products used in this recipe