We wait all year for that shiny red and gold square box. You know the one, it weighs nearly 2 pounds and contains a cylindrical loaf that tastes like Christmas. (For the uninitiated, we're talking about Panettone, a sweet Italian holiday bread studded with dried fruits and citrus zest.) Since our annual Panettone has already arrived, we decided to make our very own savory version packed with herbs, Italian cheeses, and prosciutto! You'll want to plan ahead for this one, we'll mix together a quick starter the night before. Makes one 7" loaf.
Everything we need for our Savory Panettone! We've got our starter, flours and other dries already mixed together, butter, Amoretti Extracts, fresh herbs, and eggs. Let's get cracking!
The overnight starter we mixed together last night goes in first.
Then we add flours (all purpose, bread, and potato), sugar, yeast, and salt. And our Sundried Tomato Powder!
Next come the eggs, butter, Ham Hock and Thyme Extracts.
And fresh herbs! For extra color and flavor. If only you could smell this!
Scrape the dough out of the bowl and roll up your sleeves, it's about to get messy.
Knead the dough for about 5 minutes and then spread it out a bit to create a nice bed for our mix-ins!
Shredded cheeses and chopped prosciutto are the final additions. We thought about calling this bread Four Cheese Savory Panettone with Fresh Herbs, Sundried Tomato, and Prosciutto but we'd rather have a mouthful of this tasty bread!
After a cozy rise, it's time to bake! This paper mold is traditional for panettone and perfect for gifting, no worries about never getting your favorite pan back.
Ok, we'll admit this looks a bit strange. But think about angel food cake! It's the same basic principle, cooling the cake (or bread in this case) upside down keeps the crumb nice and fluffy instead of collapsing into dense sadness. With all our cheese and prosciutto, we need all the help we can get. Yay gravity!
Here's the full recipe!
Ingredients
STARTER
1 cup all purpose flour
1/16 tsp yeast
½ cup cool water
DOUGH
1 cup all purpose flour
1 cup bread flour
3 tbsp potato flour
3 tbsp sugar
2 tsp yeast
1¼ tsp salt
¼ cup warm water
2 eggs
6 tbsp (¾ stick) butter
2-3 tbsp fresh oregano and thyme, finely chopped
3½-4 oz (1 heaping cup) prosciutto, chopped
3½ oz (1 heaping cup) shredded cheese (an Italian blend is nice here, we used parmesan, romano, mozzarella, and asiago)
SPECIAL EQUIPMENT
stand mixer fitted with paddle attachment
7.3" panettone paper mold
long bamboo skewers, for cooling
deep bowl, for cooling
Directions
The starter needs to be made the night before. Mix flour, yeast, and water together with a fork. Cover with plastic wrap and leave out at room temperature overnight.
In a bowl, combine all purpose flour, bread flour, potato flour, sugar, Sundried Tomato Extract Powder, yeast, and salt.
Place the starter, dry ingredients, water, eggs, butter, Ham Hock and Thyme Extracts, and fresh herbs in a mixer and mix with the paddle attachment until it comes together.
Knead the dough by hand for about five minutes.
Flatten it out a bit and pour the cheese and prosciutto over it. Fold it over itself to contain the ingredients and continue kneading until evenly dispersed throughout.
Let the dough rest in a warm spot for 1½ hours in a covered bowl.
Shape dough into a ball and place it into the panettone mold. (Ours is 7.3" across and 3" high.)
Rest, covered, for another hour. Meanwhile, preheat the oven to 375°F.
Bake for 15 minutes at 375°F then turn the heat down to 350°F and continue to bake for another 35 minutes.
Insert skewers near the base of the bread and invert over a deep bowl.
Let cool completely before slicing.
Leftover panettone will keep, well-wrapped, several days at room temperature. Refrigerate or freeze for longer storage.
TIPS:
Keep the chopped prosciutto and grated cheese in the refrigerator until the dough has been formed and kneaded a bit. This will help with even distribution.
These leftovers would make a spectacular breakfast strata or savory french toast!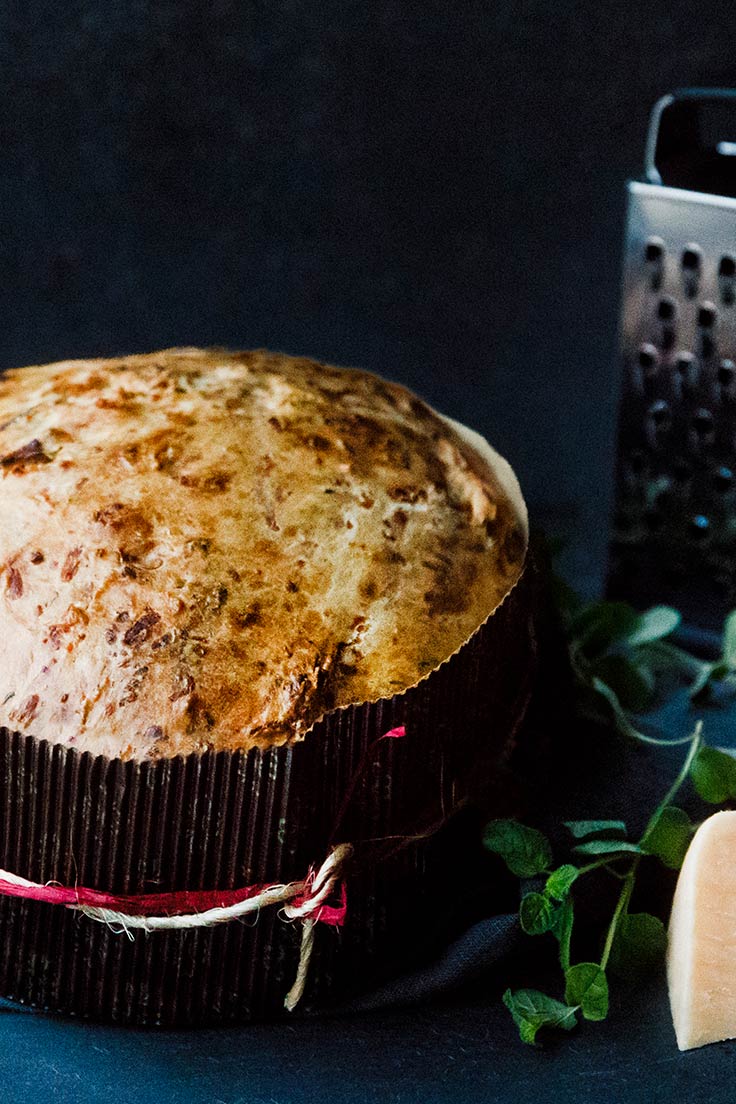 Products used in this recipe