These yeasted doughnuts filled with raspberry jam are especially popular during Carnival and are sure to delight any time of year. Jamaican Rum Extract adds a subtle flavor to the dough. Makes 14-16 filled doughnuts.
Ingredients
RASPBERRY JAM
DOUGHNUTS
2 packages (4½ tsp) dry yeast
1½ cups warm whole milk (95-110℉)
½ cup (1 stick) unsalted butter, room temperature
½ cup sugar
1 egg
3 egg yolks
1 tsp salt
4½-5 cups flour
about 2 quarts peanut or grapeseed oil or other oil with high smoke point
powdered or granulated sugar
SPECIAL EQUIPMENT
circle cutter, up to 3"
large pot or deep fryer
deep-fry thermometer
wire rack set within a sheet pan
Directions
RASPBERRY JAM
In a saucepan over low heat, combine frozen raspberries and ½ cup sugar.
Once the raspberries have defrosted and the sugar has dissolved, increase temperature to medium-low and cook 15 minutes, stirring occasionally.
Meanwhile, combine pectin and 2 tablespoons sugar. Stir together to combine completely.
Add pectin mixture to raspberries.
Bring to a boil and cook for 2 minutes, stirring.
Remove from heat and stir in Raspberry Swirl.
Move to a bowl to cool before refrigerating overnight, or chill in an ice bath if using immediately.
DOUGHNUTS
Add the yeast to the warm milk, stir and then let it sit for 5-10 minutes until it is bubbly.
Cream the butter and sugar until it is light and fluffy.
Add the egg and egg yolks, one at a time.
Add Jamaican Rum Extract and salt and combine.
Alternate adding the flour with the milk/yeast mixture. Mix for 5 minutes or more until the dough is smooth.
The dough will be slack and may need some more flour. Add the flour a few tablespoons at a time. This dough will not pull away from the sides.
Place the dough in a greased bowl and proof for 1-2½ hours until it has doubled in size.
Punch it down and proof again to double in size, another 1-2½ hours.
On a lightly floured surface, roll the dough to ½" thickness and cut rounds up to 3" in diameter.
Place them on a parchment-lined sheet pan, spaced at least an inch apart, and let them proof for 30 minutes to double size.
Ten minutes before they are done proofing begin heating the oil to 375℉ in a deep pan. Use enough oil to give you at least 2" in depth.
Fry the doughnuts for 2-3 minutes on each side until browned.
Place on a rack over a sheet pan to cool.
Fill with Raspberry Jam and dust with powdered sugar or granulated sugar.
TIPS:
Raspberry Jam will keep 1 week in the refrigerator.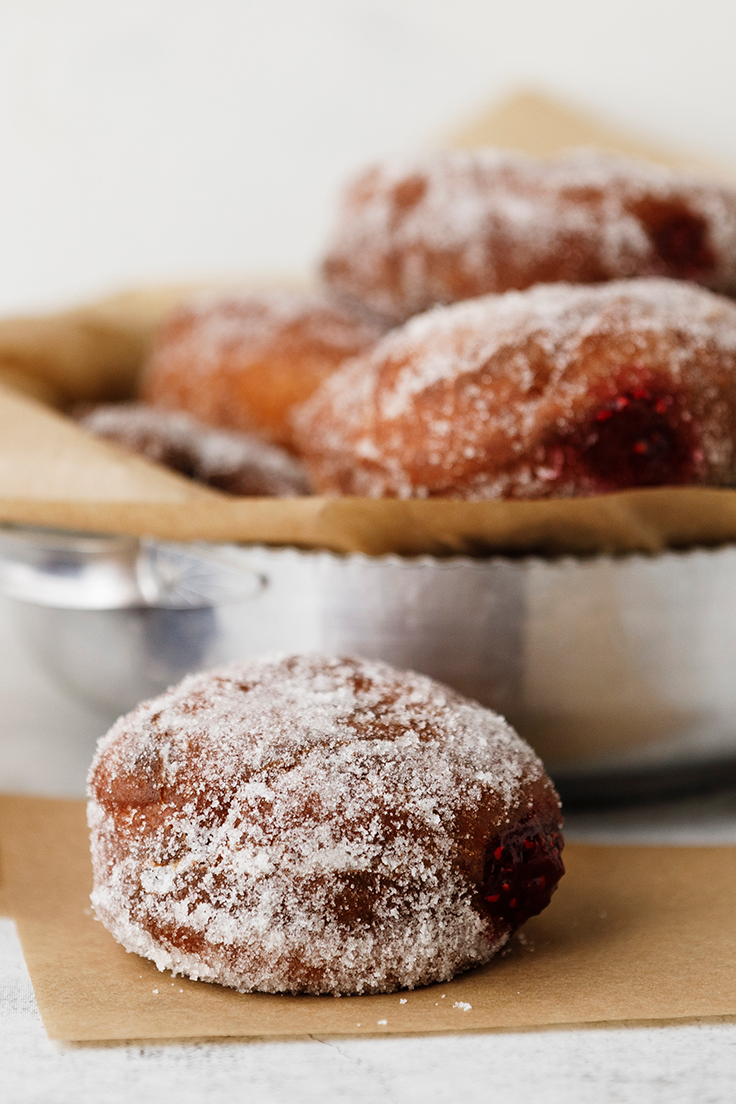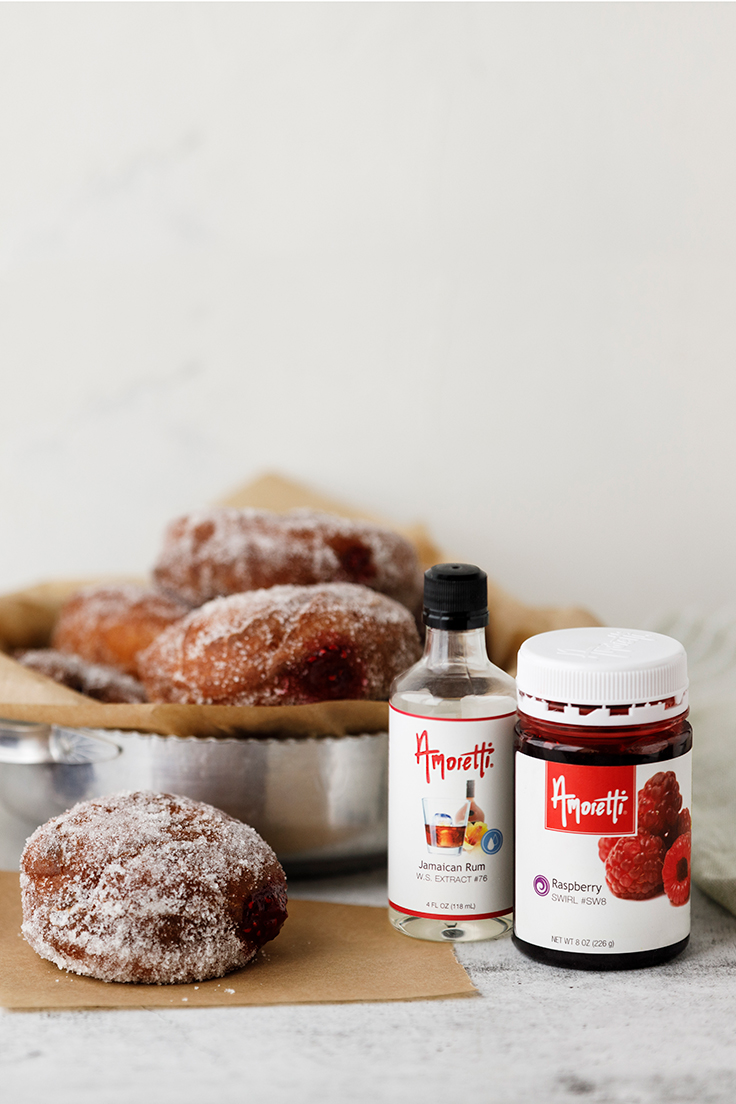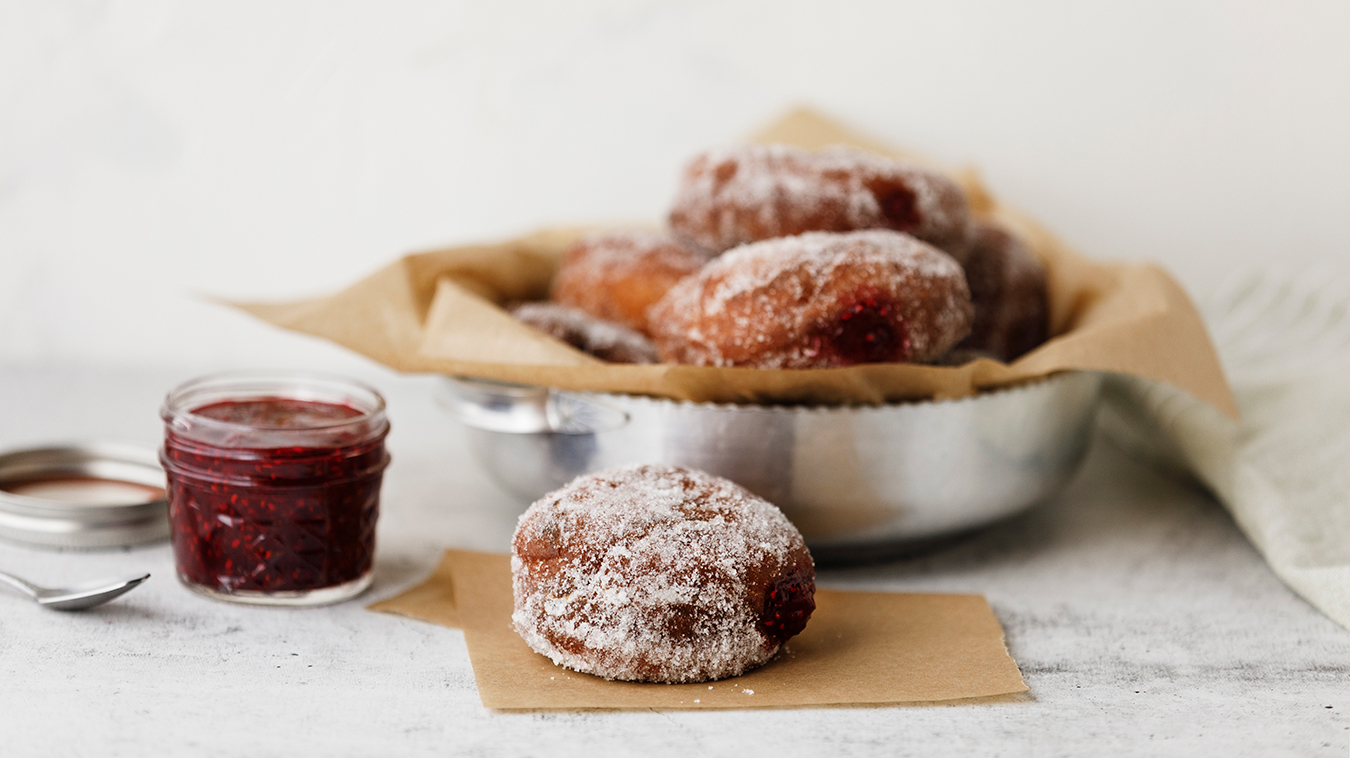 Products used in this recipe