Try these soft & scrumptious lemon-pistachio cookies!
Ingredients
½ cup (1 stick) butter, softened
3 oz cream cheese, softened
1½ cups powdered sugar, sifted
1 egg
2 drops green food color
2¼ cups all purpose flour, sifted
¼ + ½ cup Amoretti

®

Pistachio Flour, divided
½ tsp baking powder
½ tsp salt
¼ cup finely chopped pistachios
¼ cup whole shelled pistachios
Directions
Cream together butter, cream cheese, and powdered sugar.
Add egg, Lemon Zest Oil Extract, Vanilla, and two drops of green food color.
Mix just until combined. Scrape bowl, and mix again.
Add all purpose flour, baking soda, ¼ cup Pistachio Flour, and salt.
Mix, scraping bowl, until combined.
Divide dough in half and spread onto parchment or waxed paper.
Take one half and form into a log. The dough will be soft and sticky, so rub some AP flour onto your hands as you work.
Roll the dough into a log shape, wrap, and set aside.
Repeat with other half of dough.
Chill both logs for 2 hours.
Combine ½ cup Pistachio Flour with ¼ cup finely chopped pistachios.
Working with one log at a time (keeping the other chilled), unwrap and roll in the chopped pistachios and pistachio flour.
Cut into ¼" slices and place onto a parchment- or silpat-lined cookie sheet.
Place one pistachio in center of each cookie and gently press into dough. (We like to cut each pistachio in half, to show the greenest part of the nut, but you may use the whole nut.)
Bake in a 350°F oven for 12- 15 minutes, rotating pan at 6-7 minutes, for even baking. Cool on rack and repeat with remaining log, or save for later. Dough will keep for 3-4 days.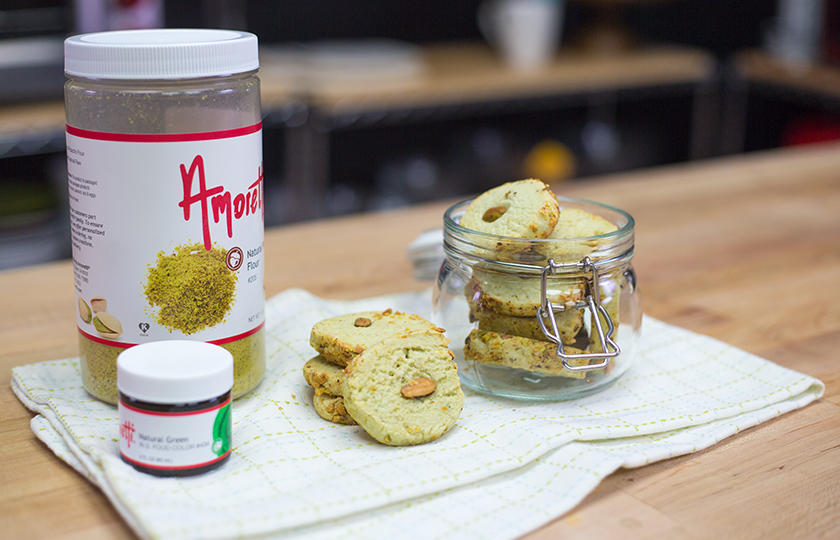 Products used in this recipe