Bars are a perfect way to have a snack or dessert. And our treasured family recipe with decadent chocolate and rich pecan flavor is pretty much the best way to enjoy a bar. It's pretty special because it only uses the finest pecan flour to make a cake that will satisfy any nut lover! So, what are you waiting for? Watch our video and grab the recipe to make at home today!
Ingredients
CAKE:
250 g sugar
9 egg whites (reserve yolks)
TOPPING:
250 g sugar
75 g pure cocoa powder
9 egg yolks
250 g butter, cubed into 1" pieces
Directions
CAKE:
Whip egg whites until stiff peaks form.
Mix pecan flour and sugar, then gently fold in egg whites.
Butter a 9 x 13" baking dish, and pour mixture into dish; even out the thickness.
Bake in preheated oven for 40 minutes, turning the dish every 10 minutes. Remove from oven, and cool on a rack.
TOPPING:
Mix egg yolks until smooth.
In a heavy saucepan, combine sugar and cocoa; mix well and add egg yolks.
Place on heat source over medium heat; stirring constantly, add butter and stir until all butter is incorporated and the mixture is silky smooth.
Remove from heat and add espresso compound; stir well.
Pour mixture over cool cake and place into a 350°F oven for 3 minutes; turn off heat.
Keep cake in cooling oven for 15 minutes then open door; leave the cake in open oven for another 15 minutes.
Remove cake, allow to cool completely, and slice into 3" x 1" pieces.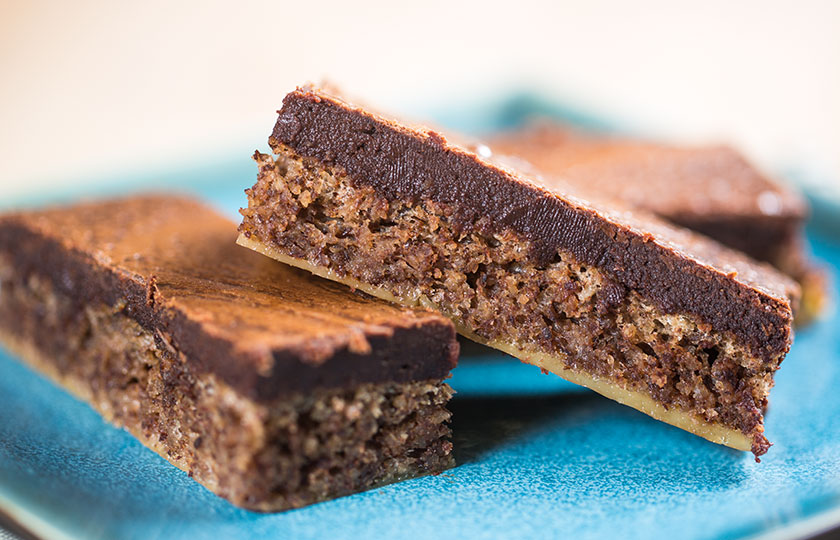 Products used in this recipe