This flavorful, gluten free coffee cake is a wonderful addition to your morning coffee, afternoon tea or snack! Makes one 9" coffee cake.
Ingredients
PEAR ALMOND CAKE
1½ cups gluten free flour blend
½ cup potato flour
1 cup brown sugar
½ cup granulated sugar
2½ tsp cinnamon
1¼ tsp baking powder
1 tsp baking soda
¾ tsp salt
½ cup sour cream
¼ cup applesauce
⅓ cup + 2 tbsp vegetable oil
3 eggs
3 tbsp Amoretti® Pear Compound
TOPPING
½ cup brown sugar
½ cup whole almonds, toasted
1 tsp cinnamon
¼ tsp salt
5 tbsp unsalted butter, cold and cubed
SPECIAL EQUIPMENT
9" cake pan
food processor
Directions
PEAR ALMOND CAKE
Preheat the oven to 350℉. Spray and line a 9" cake pan, set aside.
Whisk Almond Flour, gluten free flour blend, potato flour, brown sugar, granulated sugar, cinnamon, baking powder, baking soda, and salt together.
In a separate bowl, combine sour cream, applesauce, vegetable oil, eggs, Pear Compound, and Madagascar Bourbon Vanilla. Whisk until smooth.
Add wet mixture to drys and stir until combined.
Pour the cake batter into prepared pan, smooth top.
TOPPING
Pulse Almond Flour, brown sugar, toasted almonds, cinnamon, and salt in a food processor until almonds are chopped small.
Add cold butter cubes and pulse until butter is pea-sized.
Sprinkle topping evenly over cake and press lightly to adhere.
Bake 45-50 minutes or until a toothpick inserted in the center comes out clean.
Let cake cool and rest for 40-60 minutes before removing from pan.
TIPS:
This cake can be enjoyed immediately after removing from pan or it is also good after chilling a few hours or overnight.
For a tasty dessert, warm cake slightly and serve with poached pear slices, vanilla ice cream, and a drizzle of Crema di Caramel Syrup.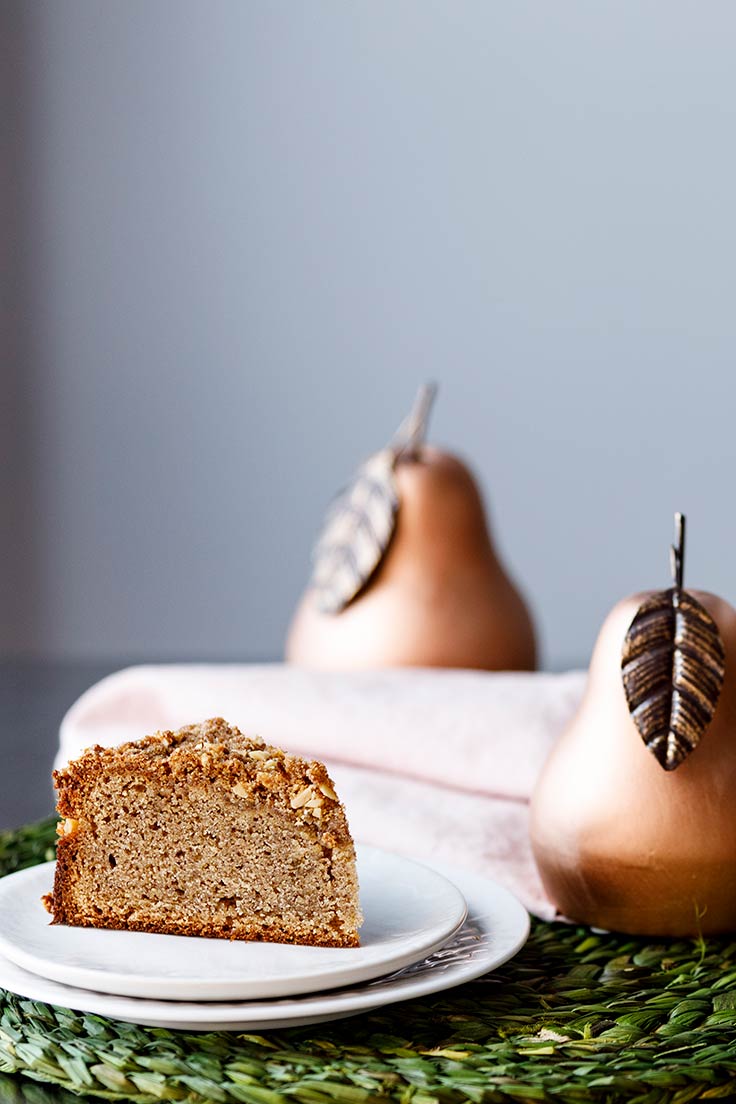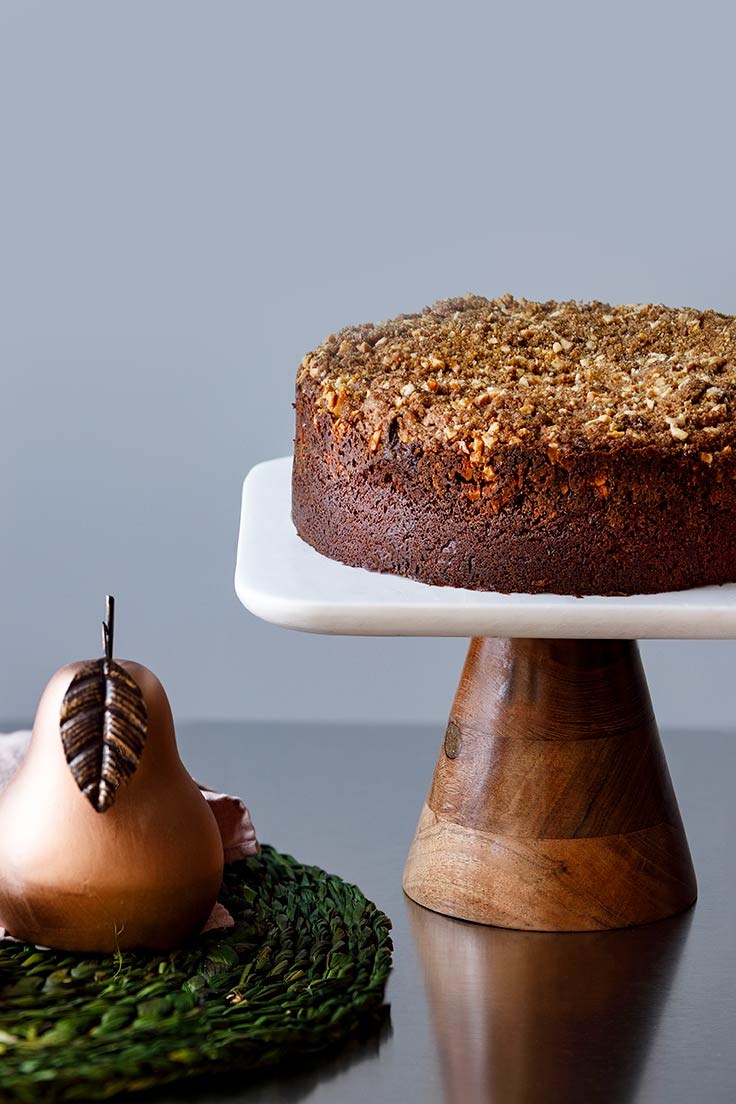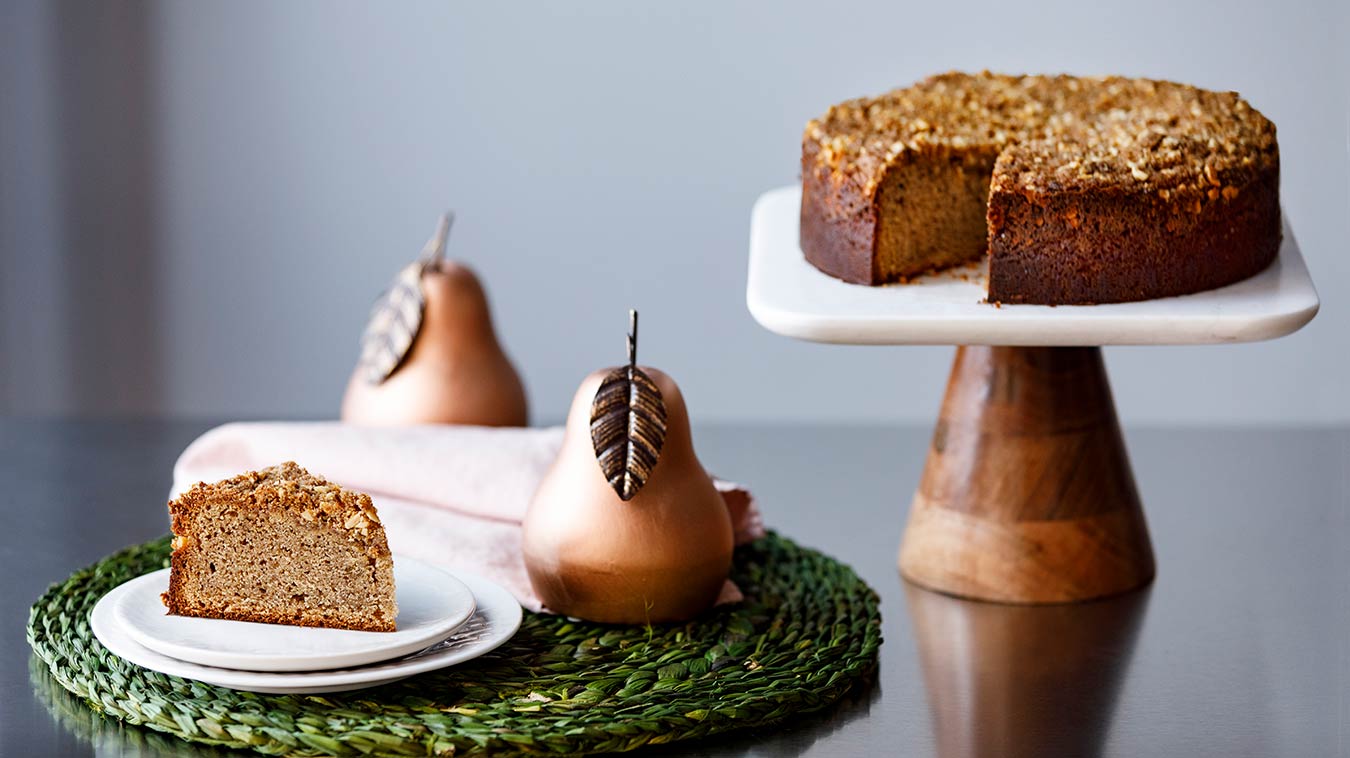 Products used in this recipe