These scones will delight your family and friends with the flavor of Fall! Adding Natural Bourbon Whiskey Extract gives the slight taste of toasty bourbon without adding liquor and Lemon Zest Oil Extract adds a touch of brightness. Served warm or at room temperature, these are great for breakfast, with tea, or just as a snack. Makes 16 scones.
Ingredients
MAPLE BOURBON PECAN SCONES
8 tbsp salted butter, frozen (we like Plugra best)
½ cup whole milk
½ cup sour cream
2¼ cups flour
½ cup sugar
2 tsp baking powder
¼ tsp baking soda
¾ cup toasted chopped pecans, divided
1 egg, for egg wash
2-3 tbsp raw sugar
MAPLE GLAZE
¾ cup powdered sugar
1 tbsp + ¼ tsp milk
Directions
Preheat the oven to 350℉.
Grate the frozen butter onto a piece of parchment paper and place in the freezer while preparing remaining ingredients. You could also grate cold butter onto parchment paper and then place it in the freezer while you prepare the remaining ingredients.
Whisk together the milk, sour cream, Lemon Zest Oil, Natural Bourbon Whiskey, and Maple Extracts. Refrigerate.
Whisk the flour, Pecan Flour, sugar, baking powder, and baking soda together in a large bowl.
Add the frozen grated butter and gently mix by hand until the butter pieces are very small.
Add the cold milk and sour cream mixture to the dry ingredients and fold in with a spatula until it is almost combined.
Transfer the dough to a floured surface and knead a few times until it holds together. Don't over work the dough.
Roll the dough into approximately 12" square.
Sprinkle ¼ cup of the toasted pecan pieces over the surface of dough and press gently with a rolling pin to lightly embed them into the dough.
Roll up the dough into a log, with the seam on bottom, and press into a long rectangle about 4" wide.
Cut into 8 rectangles and then cut each rectangle in half to form triangles.
Place the scones onto a parchment-lined baking sheet and brush them with egg wash, sprinkle with raw sugar and remaining toasted pecans.
Bake for 20-30 minutes or until the scones are lightly browned.
Meanwhile, prepare the Maple Glaze.
Mix the powdered sugar and milk together.
Add Maple Extract and mix to combine. The glaze should be thick, but not stiff, add milk ¼ tsp at a time if needed.
Let the scones cool to "slightly warm" before drizzling with Maple Glaze, or it will not stick.
TIPS:
TOASTED PECANS Bake at 350℉ for 6-8 minutes until toasted. Let cool and chop if desired.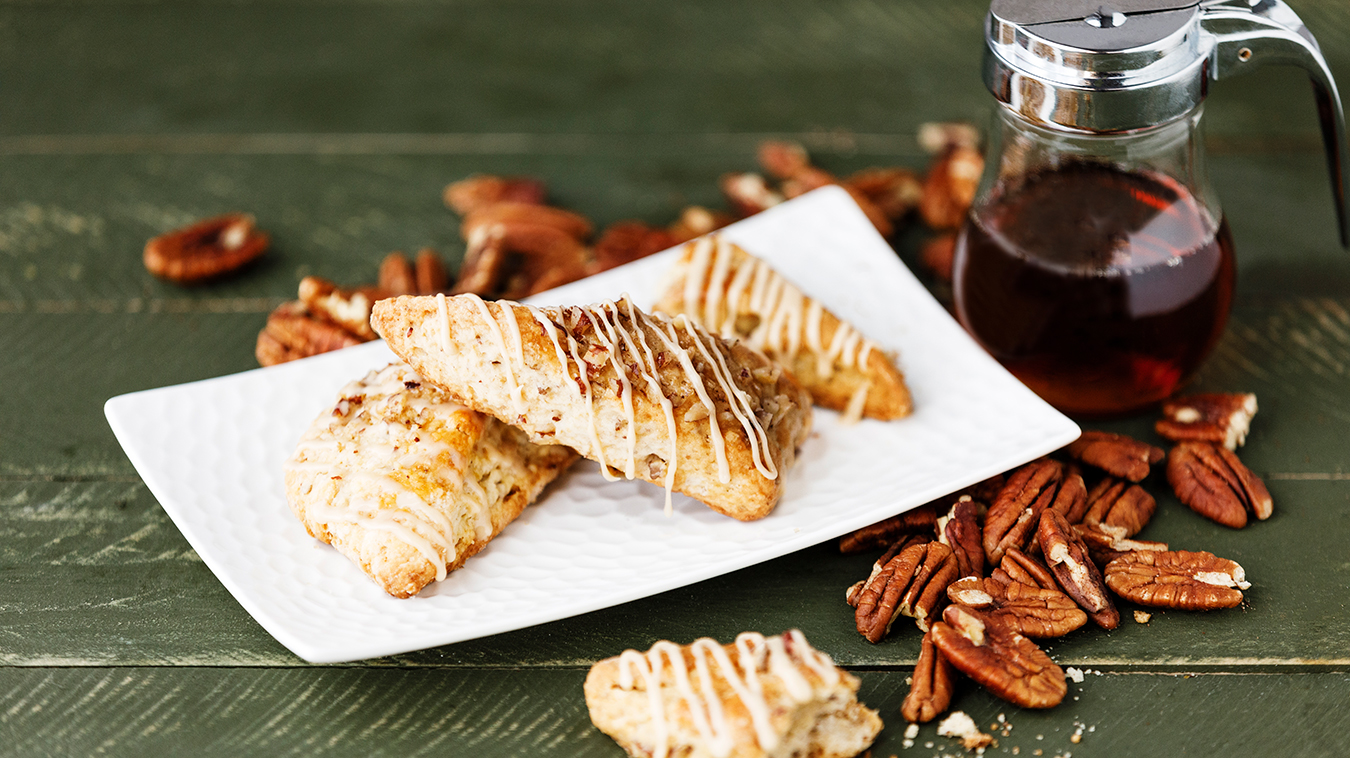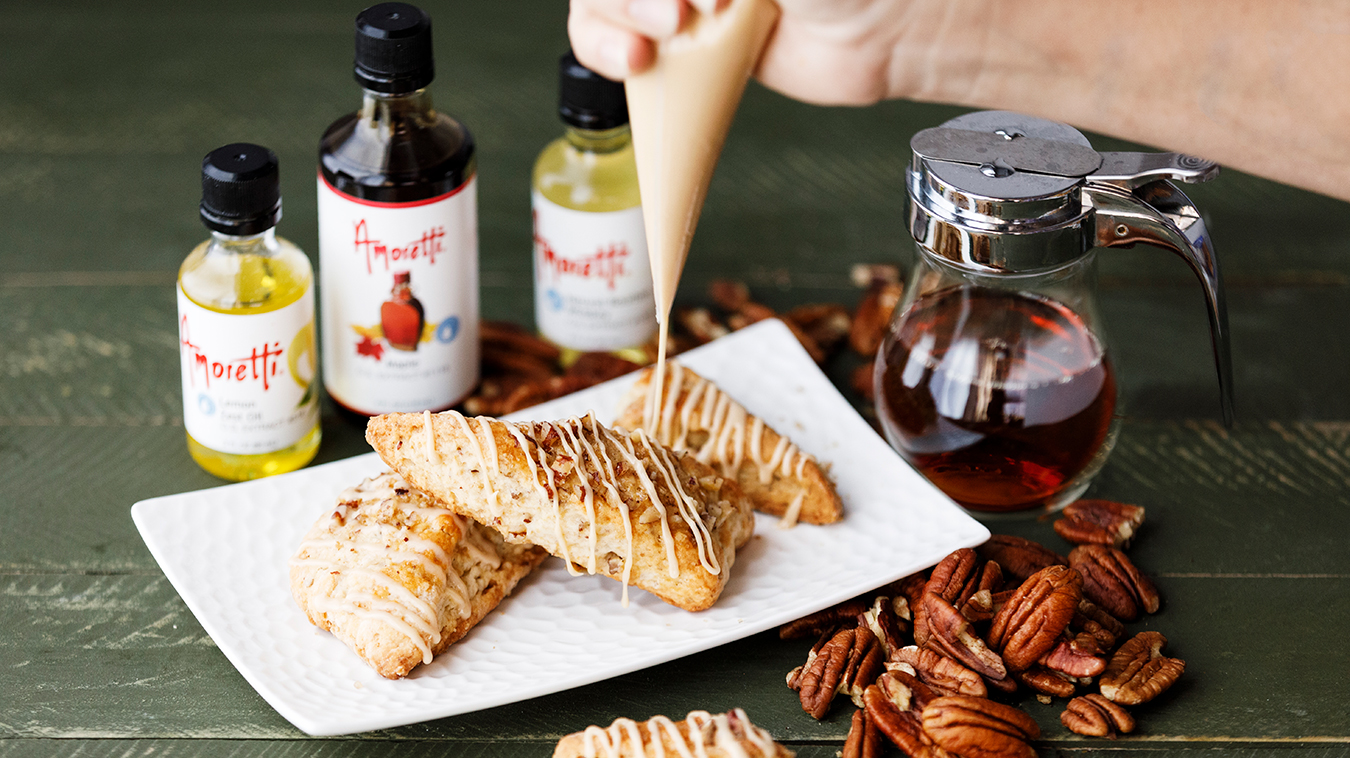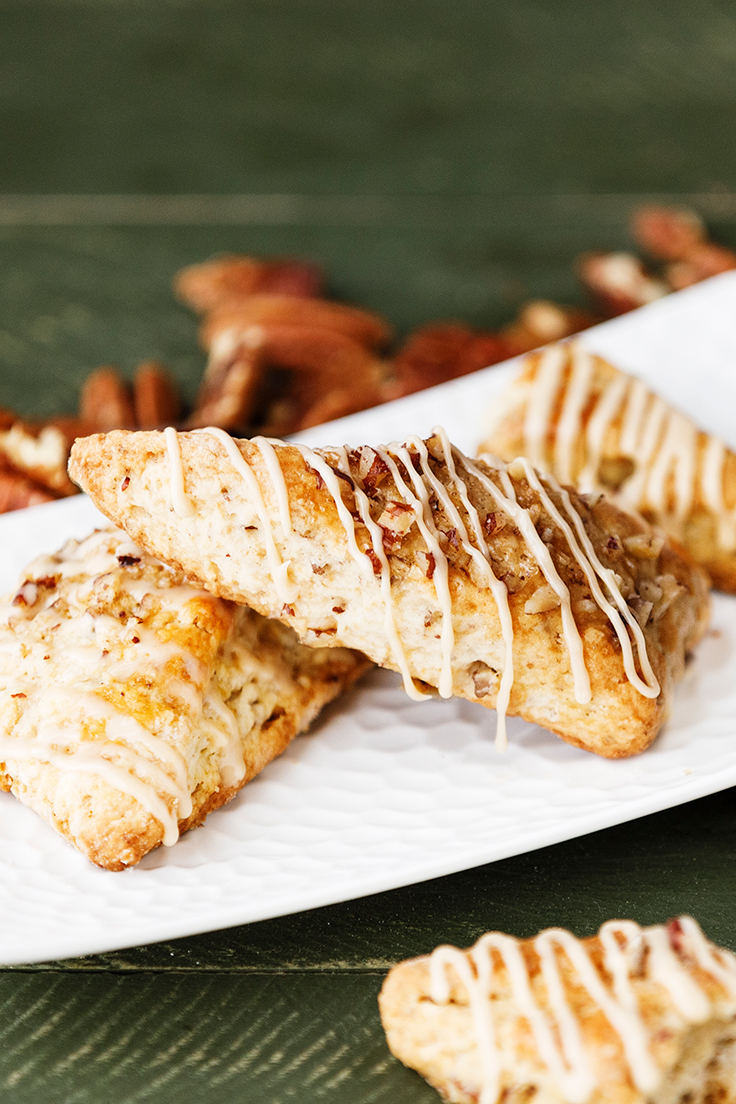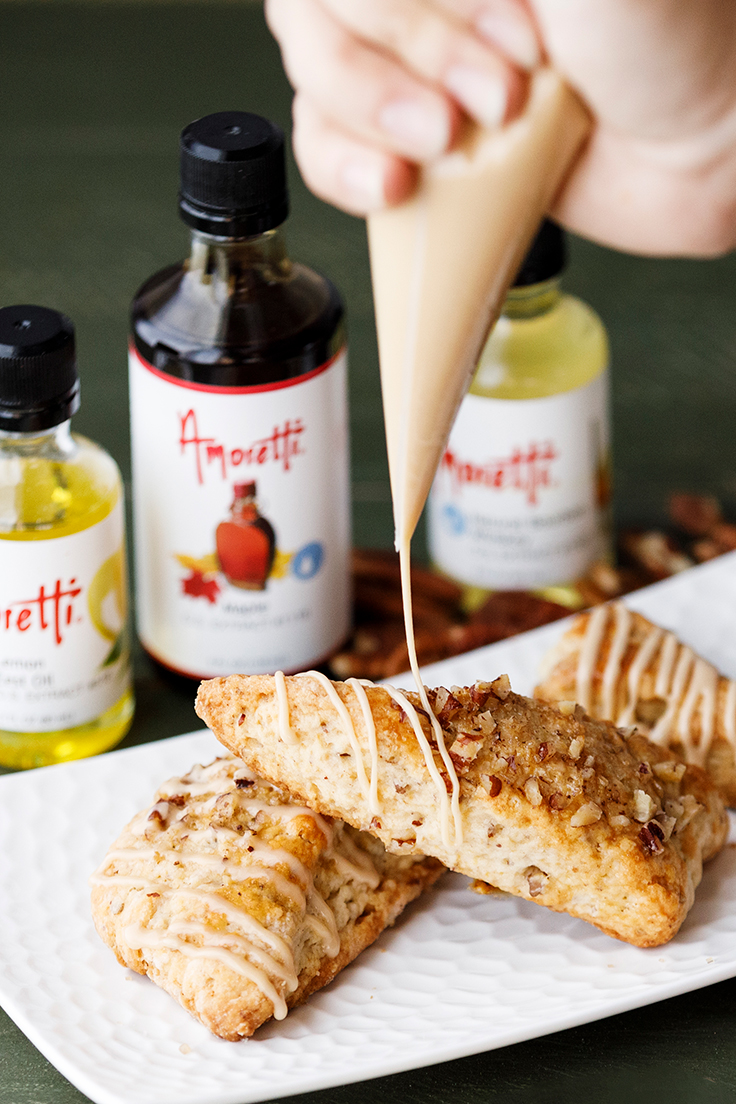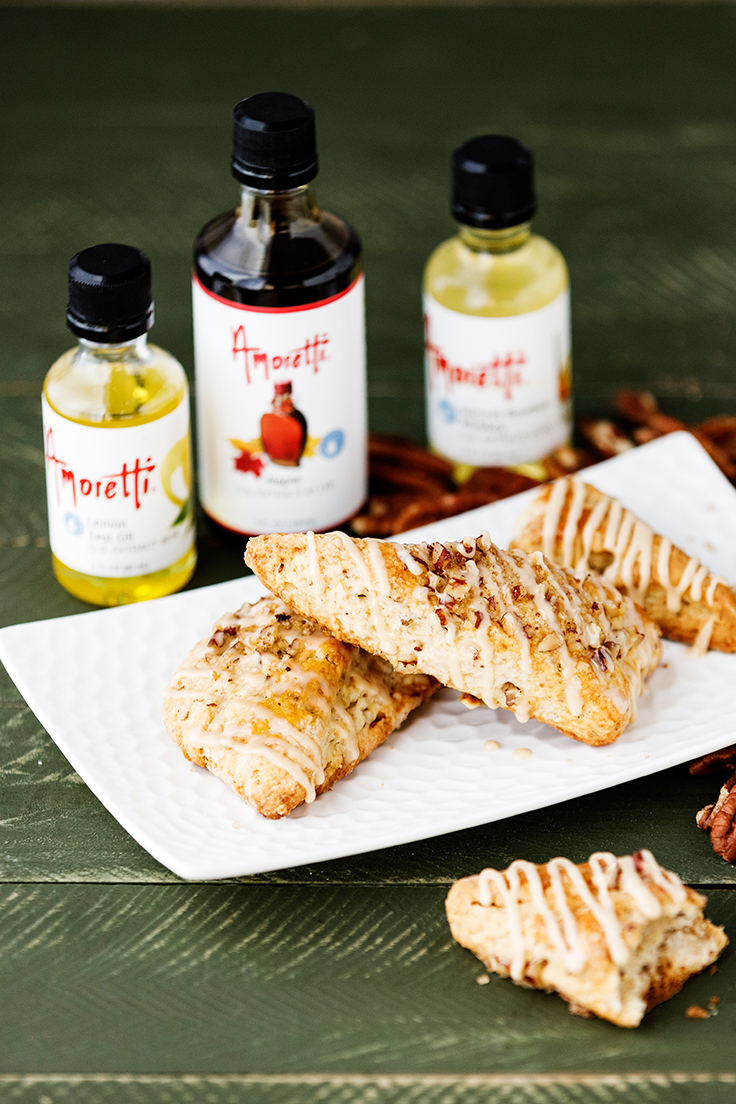 Products used in this recipe