The Hummingbird Cake is a Jamaican spice cake, named after the island's national bird. It is said to be so sweet it attracts hummingbirds! It eventually made its way to the United States and has grown in popularity in the South since the late 70's. It is traditionally frosted with a simple cream cheese frosting but we've added our own twist with brown butter. Makes one 9" cake.
Ingredients
CAKE
2¾ cups all purpose flour
1 tsp baking soda
1 tsp salt
1 tsp cinnamon
2 cups mashed ripe bananas (3-4 bananas)
2 cups sugar
1 cup finely chopped toasted pecans
1 cup coconut oil
3 large eggs, room temperature
1 - 8oz can crushed pineapple, undrained
BANANA CUSTARD FILLING
1 tbsp powdered gelatin
2 tbsp + 2 tsp water
⅓ cup all purpose flour
½ cup sugar
3 large eggs
1½ cups milk
1 - 8oz block cream cheese, room temperature
2 tbsp Amoretti® Banana Compound
BROWN BUTTER FROSTING
½ batch Brown Butter, cooled overnight
5½ cups powdered sugar
¼ cup milk
SPECIAL EQUIPMENT
Directions
CAKE
Preheat the oven to 350℉.
Spray four 9" cake pans and line with parchment paper. Set aside.
Sift flour, baking soda, salt, and cinnamon into the bowl of a mixer.
Stir in Pecan Flour.
In a food processor, pule the bananas until they are pureed.
Add bananas, sugar, chopped pecans, coconut oil, eggs, crushed pineapple and juices, and Madagascar Bourbon Vanilla. Mix until just combined.
Divide the batter evenly between pans.
Bake for 20 minutes or until a skewer inserted in the center comes out clean.
Let cakes cool completely then wrap and chill for 4 hours or overnight.
BANANA CUSTARD FILLING
In a small bowl, combine gelatin and water. Set aside to bloom.
In a saucepan, whisk flour and sugar. Add eggs and milk, whisk until smooth.
Add Agave Nectar and Madagascar Bourbon Vanilla..
Cook on medium-low heat for 8-10 minutes, whisking constantly, until mixture begins to thicken.
Bring to a boil on medium-high heat and whisk vigorously for one minute.
Remove from heat and stir in the bloomed gelatin until it is melted.
Add the cream cheese and Banana Compound. Whisk or use a hand blender until all the cheese has melted.
Pour into a quarter sheet pan lined with plastic and cover, making sure the plastic touches the custard so no skin forms.
Chill for two hours or overnight. If using right away, freeze for 20-25 minutes or until the filling is set.
BROWN BUTTER FROSTING
Beat chilled brown butter until it is light and fluffy.
Gradually add the powdered sugar, alternating with the milk.
More milk may be added if you prefer a softer frosting, but add one tablespoon at a time and mix to control the consistency.
Add Madagascar Bourbon Vanilla.
ASSEMBLY
Remove cake layers from the pans, level tops with a serrated knife.
Using a stand mixer fitted with the paddle attachment, beat the cold Banana Custard Filling until it is smooth.
Fill each layer of cake with the custard filling and frost as desired with Brown Butter Frosting.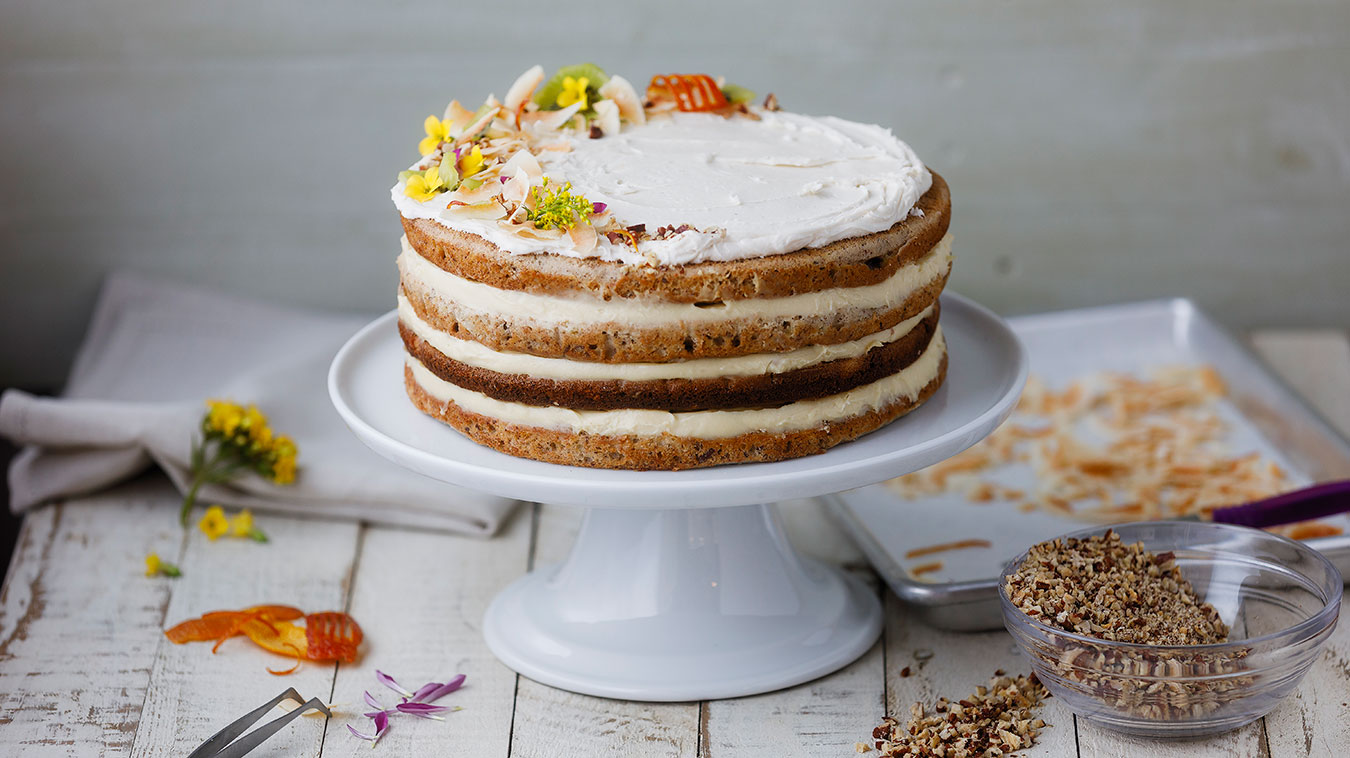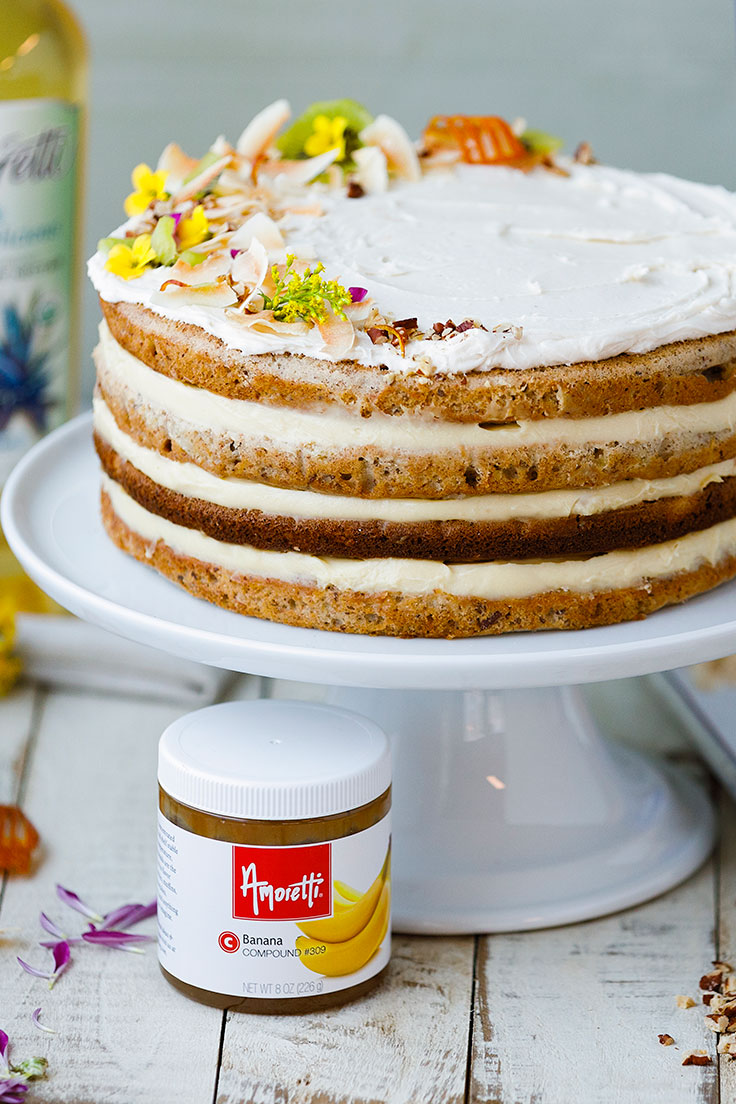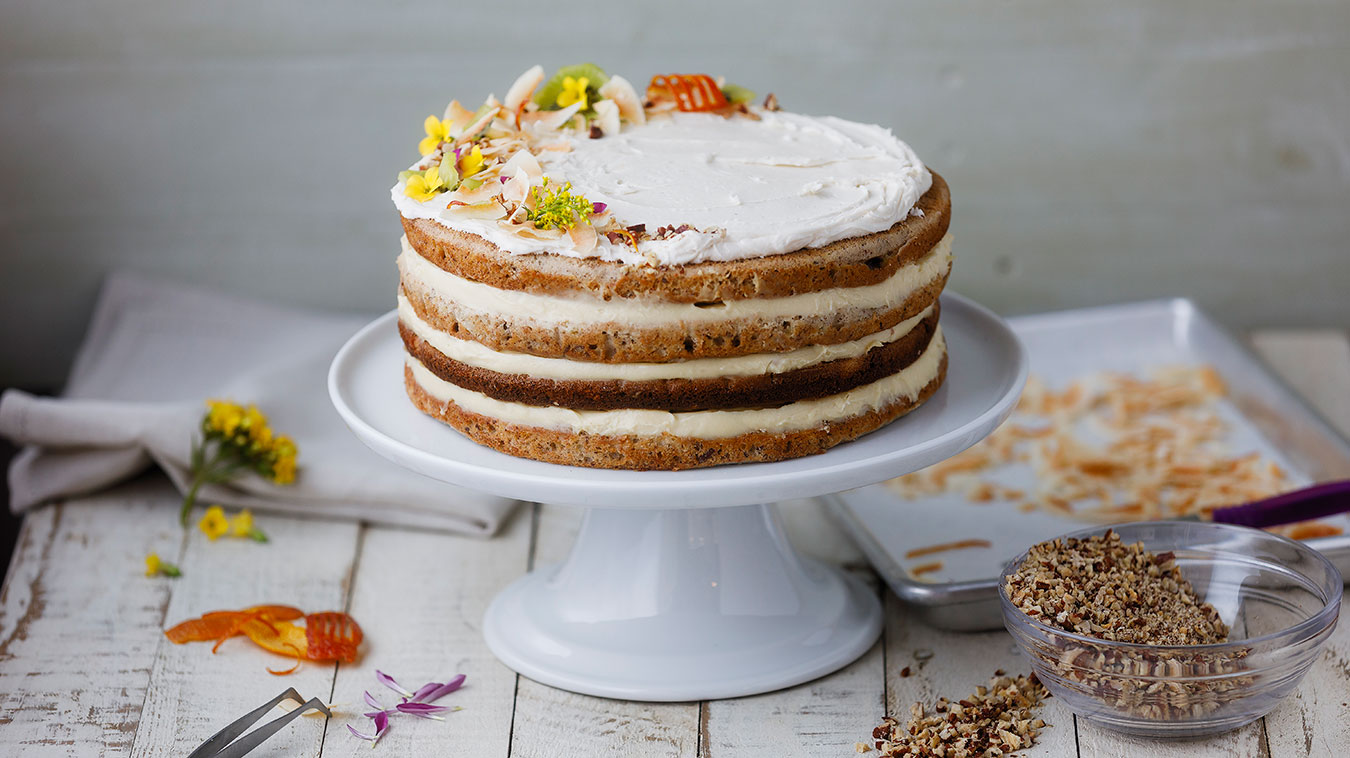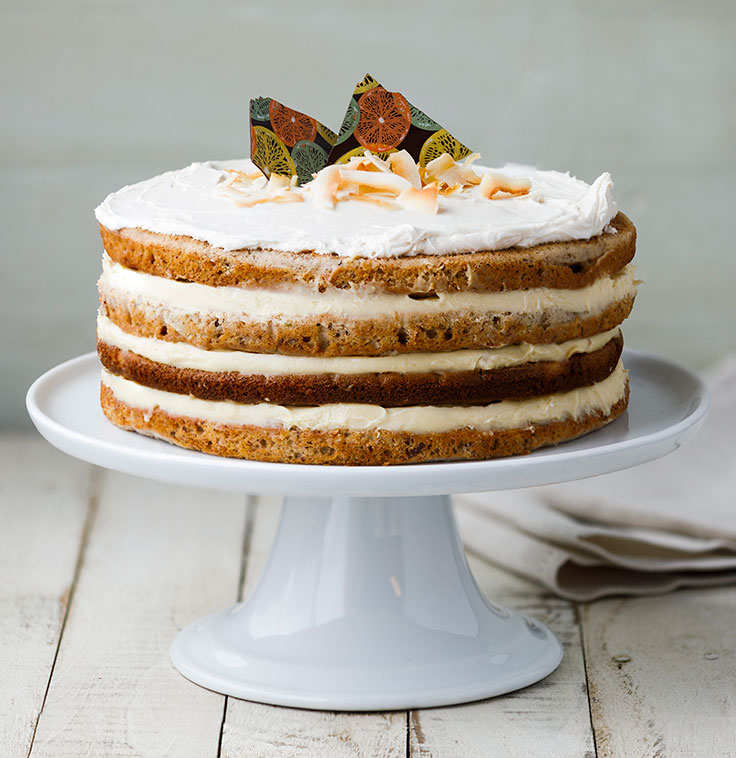 Products used in this recipe