When Chef Maureen first mentioned this Grilled Pear & Prosciutto Flatbread, we were volunteering as taste testers even before the first round of recipe testing! And boy oh boy, it did not disappoint! The combination of earthy Blue Cheese, fresh Rosemary, and sweet-tart Pomegranate Balsamic along with juicy pears and salty proscuitto... If just reading that doesn't make you salivate, maybe a more traditional Spicy Margherita Pizza is more your style. Makes two flatbreads.
Ingredients
BLUE CHEESE MASCARPONE
8 oz mascarpone
½ cup shredded mozzarella
FLATBREADS
1 pear, sliced
8 oz pizza dough
¼ cup shredded mozzarella
3 oz Blue Cheese Mascarpone
2-3 oz prosciutto
fresh arugula & oregano, for garnish
SPECIAL EQUIPMENT
Directions
Preheat the oven to 400℉ and preheat grill or grill pan to medium-high.
Mix together mascarpone, shredded mozzarella, and Blue Cheese Extract. Refrigerate until ready to assemble flatbreads.
In a small pot over low heat, reduce Aged Pomegranate Balsamic Vinegar to about ⅔ cup.
Meanwhile, grill pear slices on preheated grill. Set aside.
Divide dough in half and shape in two rectangles.
Spray with oil and grill quickly on both sides.
Place on a sheet pan or pizza screen. Sprinkle with mozzarella and plop a few dollops of Blue Cheese Mascarpone onto each flatbread.
Weave slices of prosciutto between the cheese mixture and finally, top with grilled pears.
Bake for 10 minutes until cheese melts and flatbreads are golded.
Garnish with arugula and oregano.
Drizzle with vinegar reduction and spritz with Rosemary Edible Perfume Spray before enjoying.
TIPS:
You'll have Blue Cheese Mascarpone leftover. It makes an excellent dip for crackers, would be delicious under veggies in a savory galette, or could be topped with breadcrumbs and baked for a warm appetizer with baguette slices.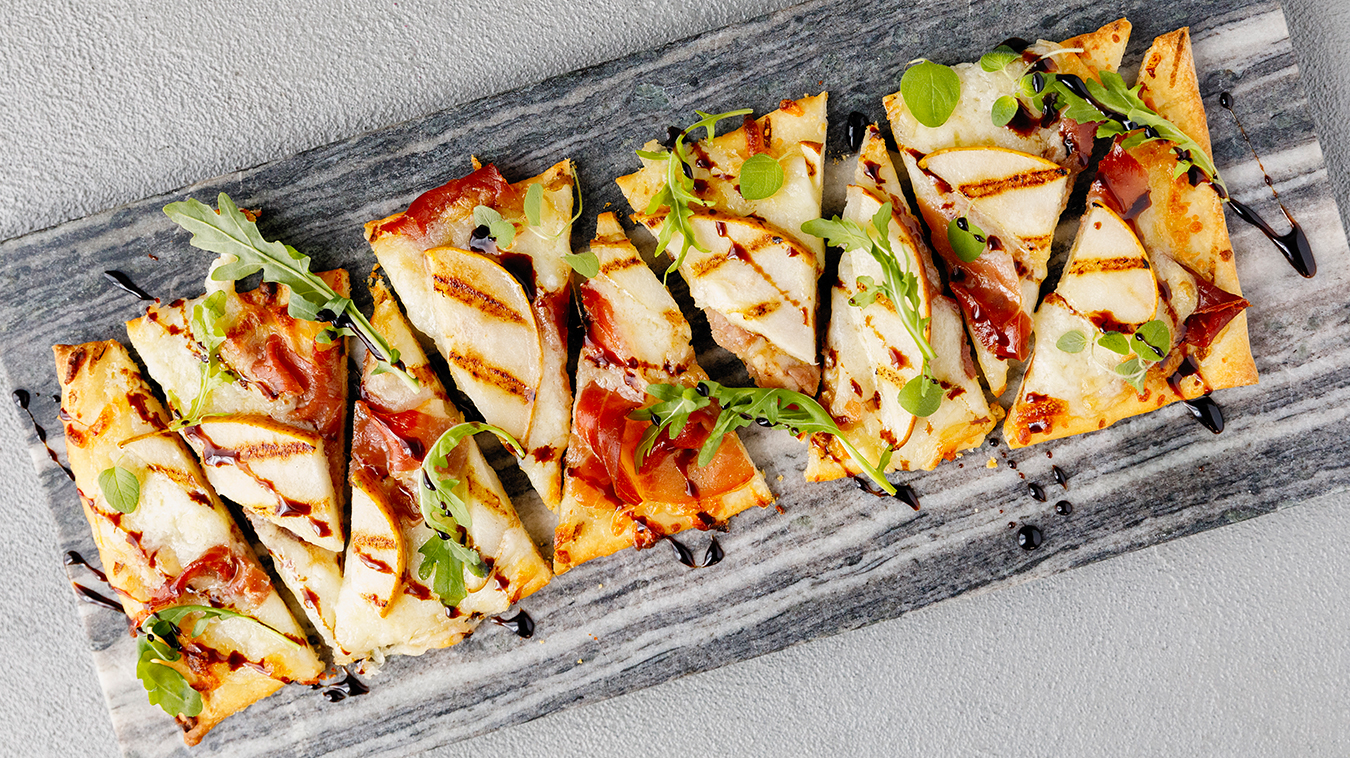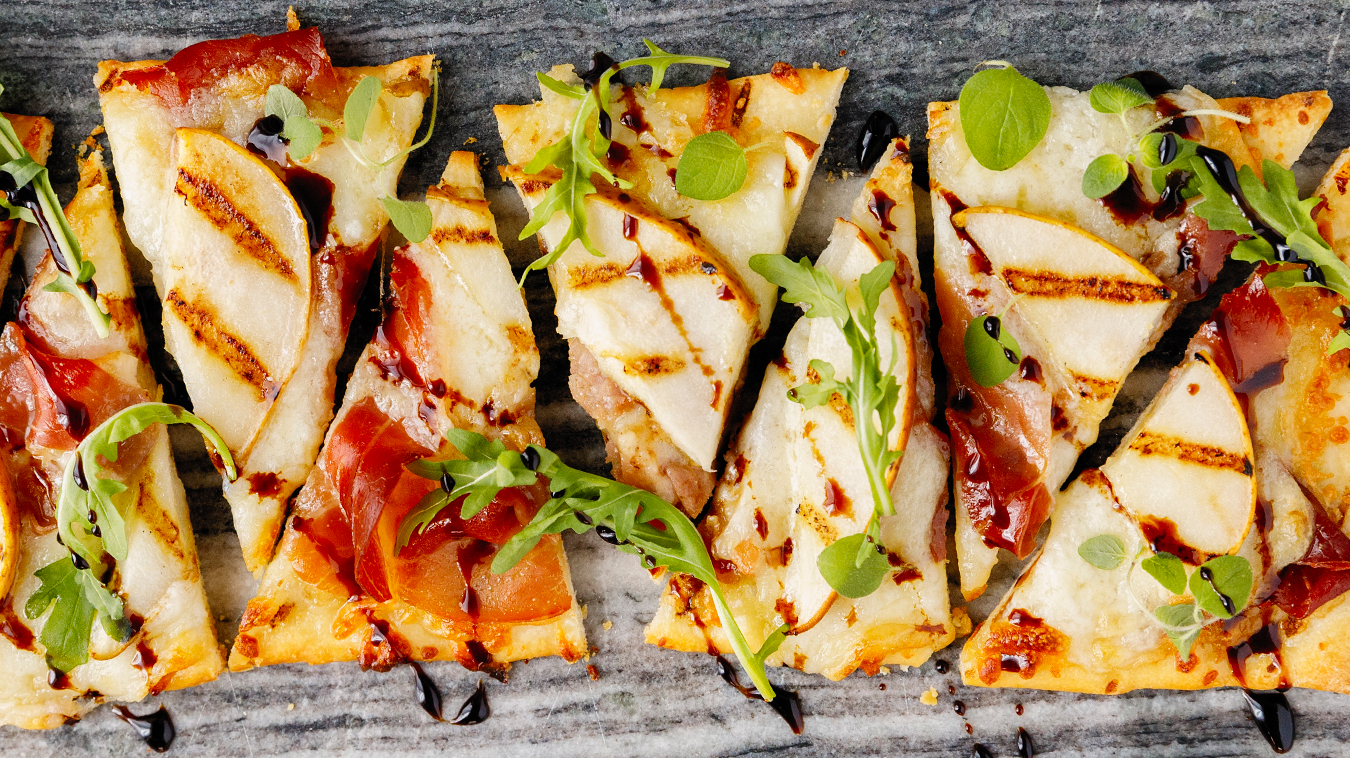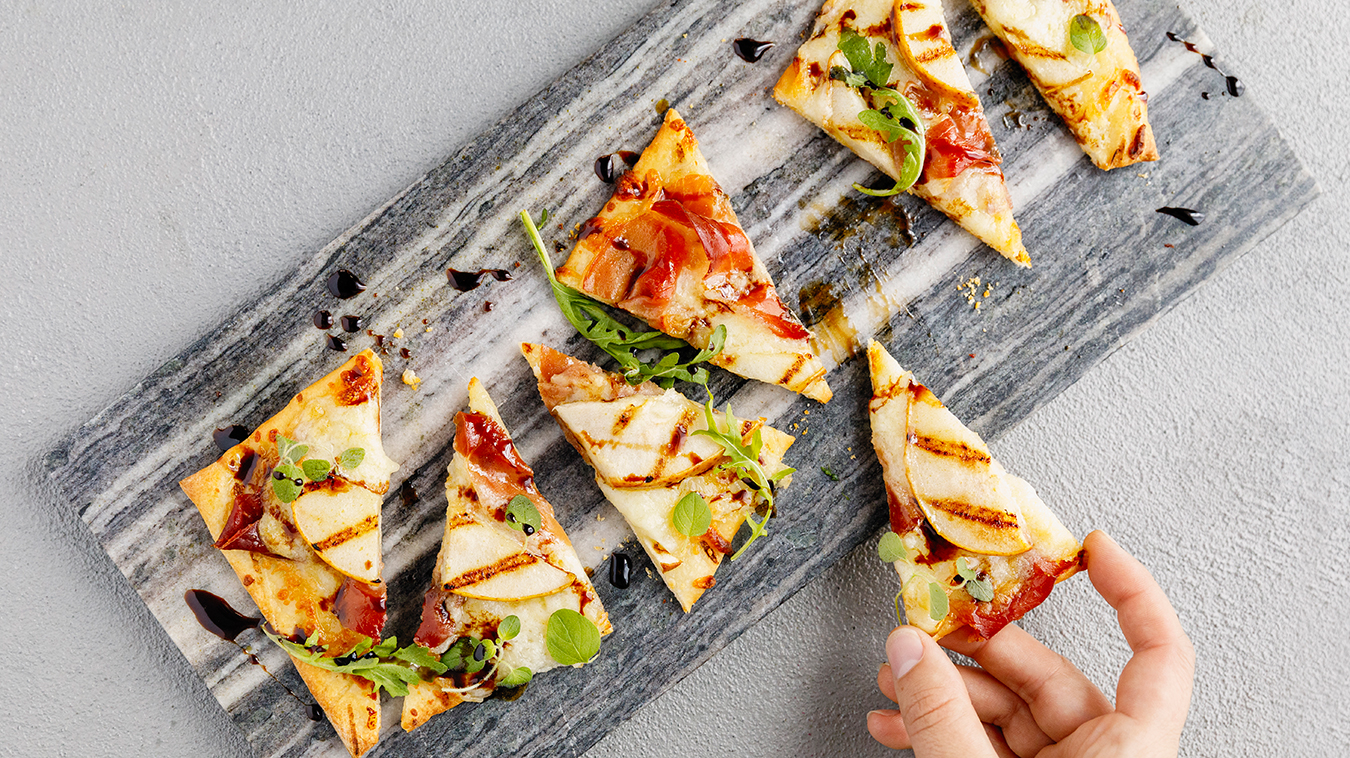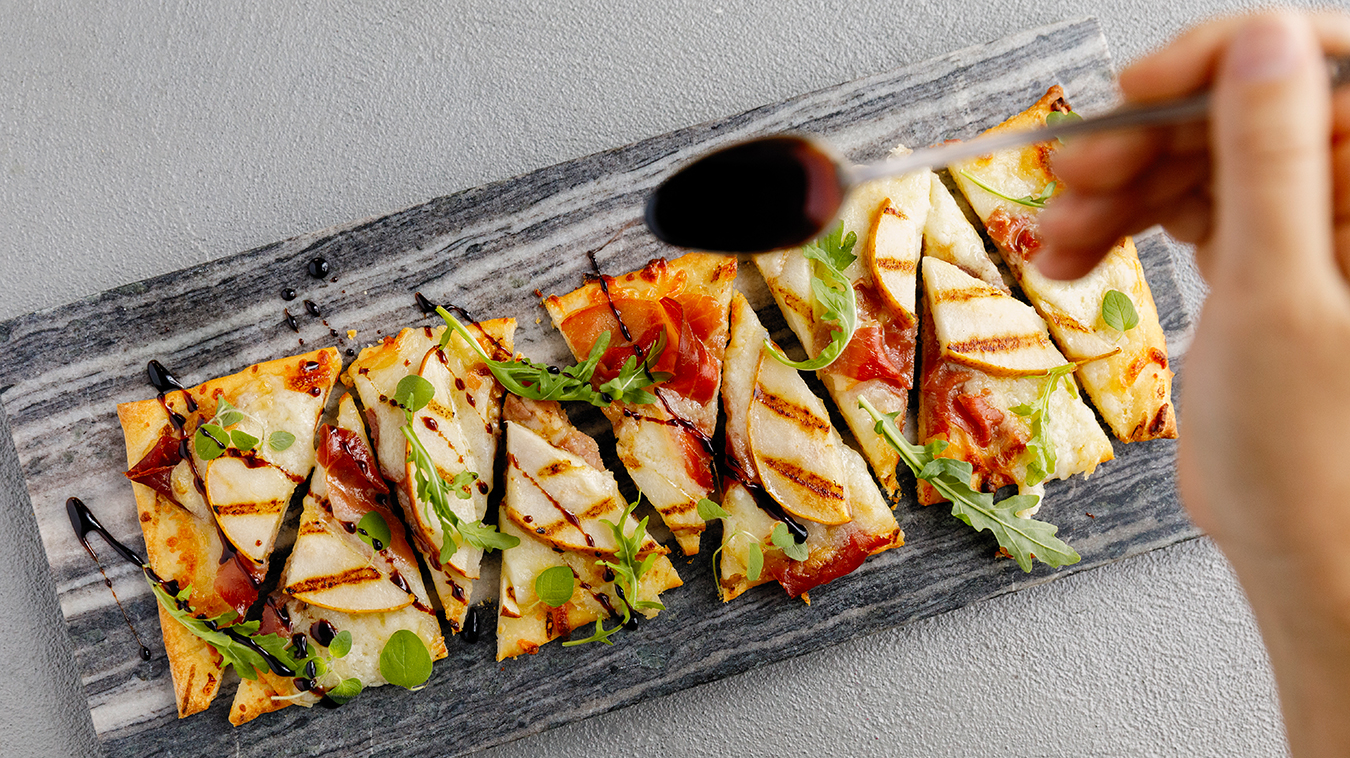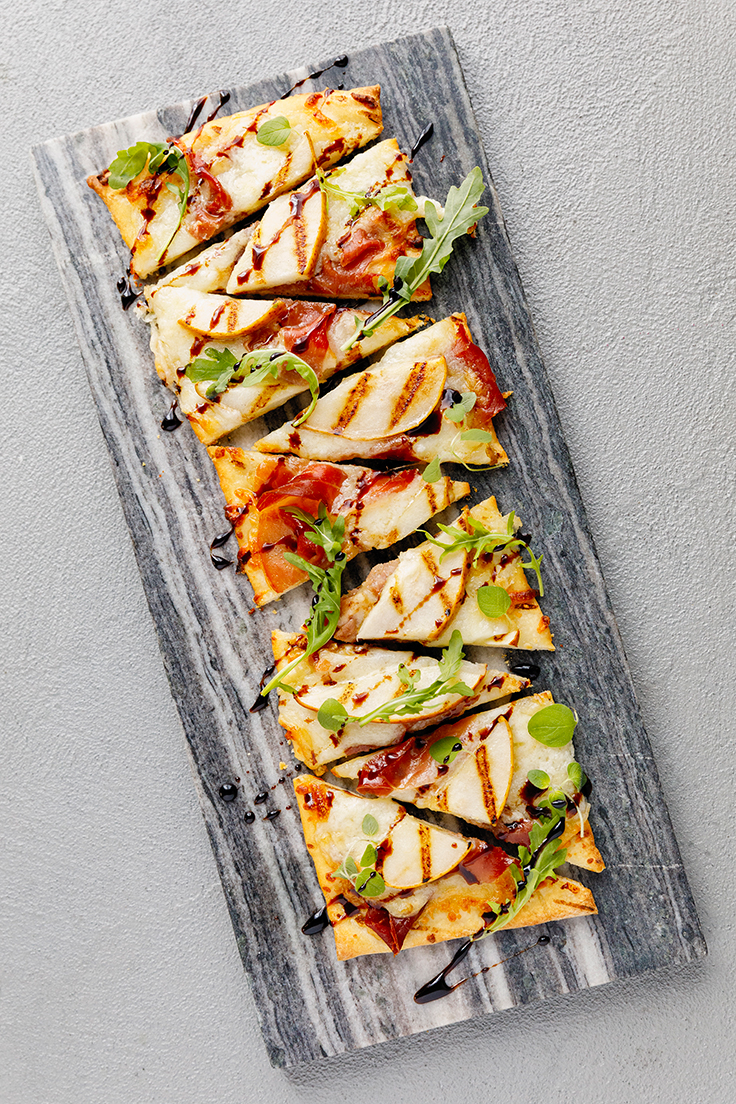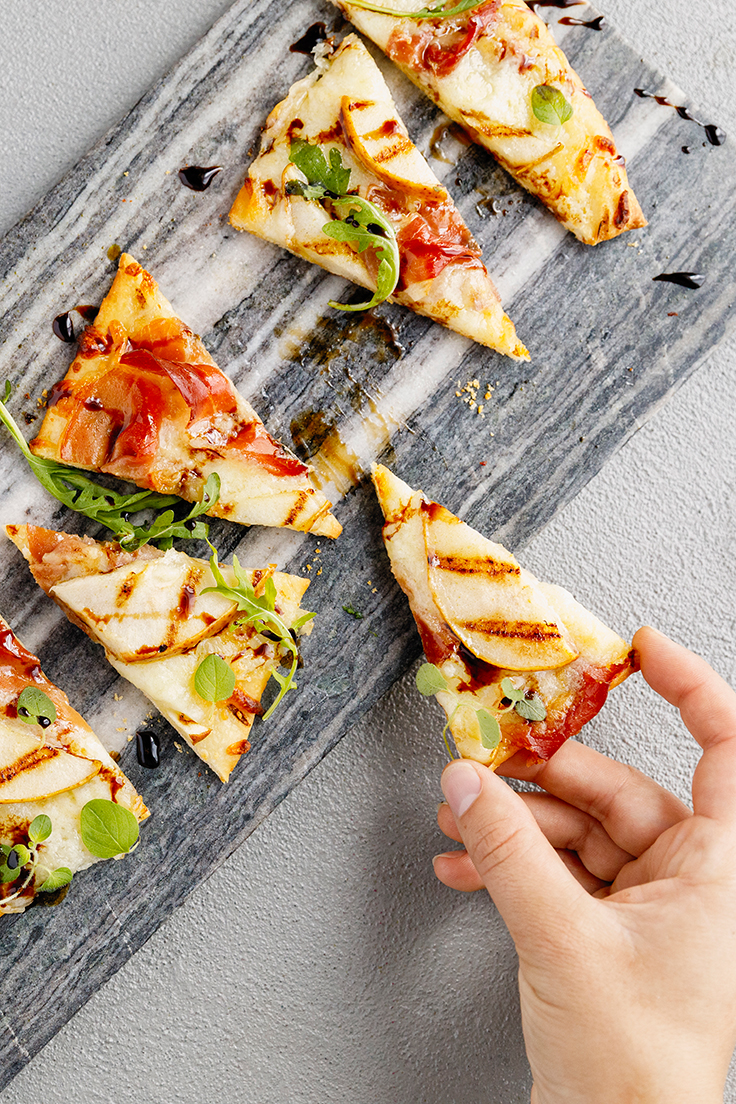 Products used in this recipe