This delicious cake is sure to become a new holiday favorite! Great looking dessert to impress your guests these holidays!
Ingredients
2¼ cup all purpose flour
2 tbsp cocoa powder
2¼ tsp baking power
½ tsp baking soda
½ tsp salt
1 tbsp cinnamon
½ tsp cardamom
1½ tsp dry mustard
⅔ cup coconut oil, melted
¼ cup honey
2 cups brown sugar
3 eggs
½ cup buttermilk
¾ cup dark beer
1½ oz unsweetened chocolate
1 tsp coconut oil
SOAKING SYRUP
FILLING AND FROSTING
3 - 8oz packages cream cheese, room temperature
1½ cups (3 sticks) butter, softened
6 cups powdered sugar
GLAZE
1 cup cream
1 cup semi sweet chocolate chips
Directions
Preheat oven to 350°F.
Sift all dry ingredients.
In a large bowl, whisk together the coconut oil, honey, brown sugar, and eggs.
Add half of the sifted dry ingredients and gently fold this into the mix.
Add buttermilk and gently fold this in.
Add remaining dry ingredients and continue folding.
Add beer and Gingerbread Compound. Fold until fully mixed.
Lightly spray two 9" cake pans and line with parchment. Lightly spray the parchment.
Pour cake batter into the pans, half into each cake pan.
Melt the unsweetened chocolate and coconut oil very slowly in a microwave at 30 second intervals, so as not to burn the chocolate.
Once melted, stir to completely combine.
Drizzle this in lines into each cake pan, half in one and half in the other.
Using a stick, swirl the batter to create a ribbon effect, or run a stick back and forth for a specific design.
Bake both cakes for an hour and possibly up to 1 hour and 10 minutes, checking with a stick. Once it comes out dry, the cakes are done.If you are using a convection oven, they will probably be done in 35 min.
Cool completely, wrap and chill at least 4 hours or overnight.
Remove cakes from cake pans (they will be difficult, so you may need to warm the bottom of the pan to release the cakes).
Wrap one cake in plastic and freeze for later.
Cut the other cake in half, to prepare for soaking and filling.
Or if you want three layers of cake, cut the other cake in half and use one layer.
Soak the cake layers with the Agave/water soaking syrup.
FILLING AND FROSTING
With a paddle in a mixer, beat the cream cheese, scraping the bowl, for about two minutes, until soft.
Add softened butter and beat again, scraping the bowl.
Add powdered sugar, beat and scrape the bowl.
Add Maple Extract, beat and scrape.
Fill and frost the cake then chill for 30-40 minutes while you prepare the glaze.
GLAZE
Heat cream and pour over semi-sweet chocolate and let it sit for one or two minutes before mixing to combine.
Let sit for a few minutes to cool a bit and set.
Pour over top of chilled cake and smooth with an off-set spatula.
Pour extra around outer edge of cake so it drips down the sides.
Transfer cake to a cake plate or clean cake stand.
Slice and serve, cleaning and heating knife before each cut.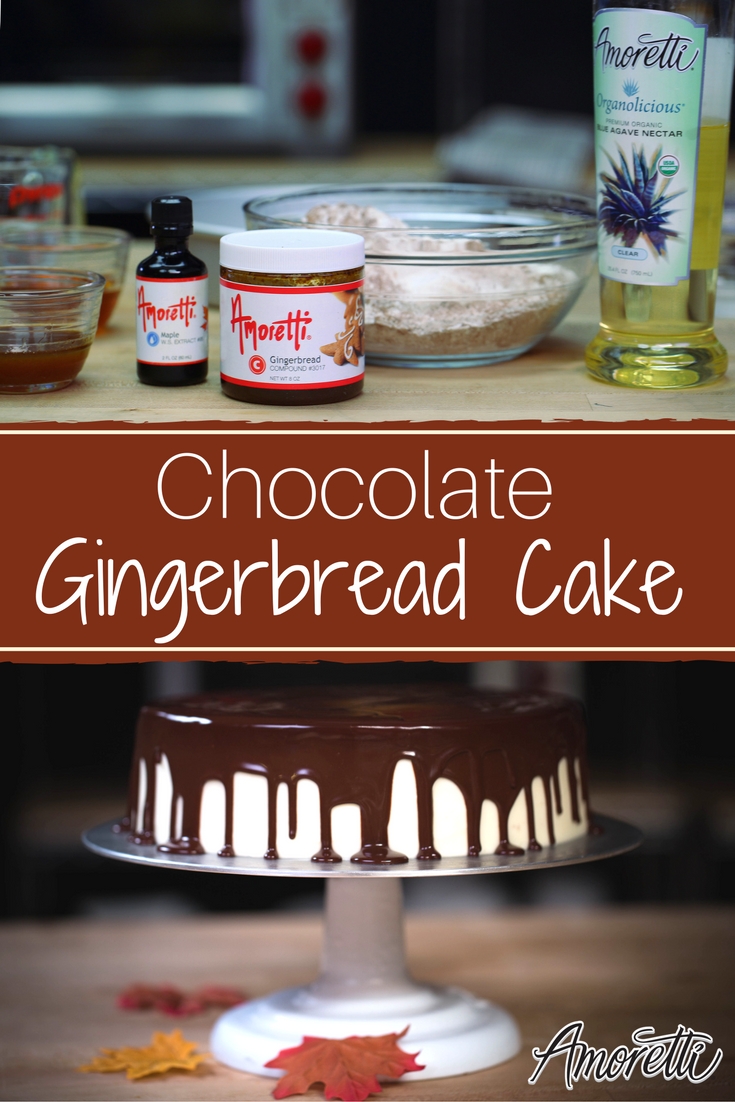 Products used in this recipe