Ah, France. So romantic! And don't forget the food, either. French cuisine is renowned for its skill and taste. But if you can't go to France, you can still make a French dessert! Impress your guests with this elegant Cappuccino Tiramisu Pot de Crème. It's creamy yet light and full of chocolaty goodness with just the right hint of coffee. The gingerbread whipped cream tops it off with a touch of spice to bring it all together. Watch our video to find out how we did it!
Ingredients
½ cup heavy cream
⅓ cup milk
4 egg yolks
⅛ teaspoon salt
2 teaspoons sugar
GINGERBREAD WHIPPED CREAM
1 cup heavy cream
1 tsp sugar
Directions
Combine egg yolks, sugar and salt. Set aside.
Heat cream and sugar to simmering.
Temper cream/milk mixture into egg mixture, whisking constantly.
Add Cappuccino Tiramisu Compound.
Strain mixture and pour into small cups or bowls.
Bake in a water bath at 325°F for 20 – 30 min.
Cover with foil to prevent a skin from forming on the custard.
GINGERBREAD WHIPPED CREAM
Whip cream, sugar and Gingerbread Compound in a chilled mixing bowl.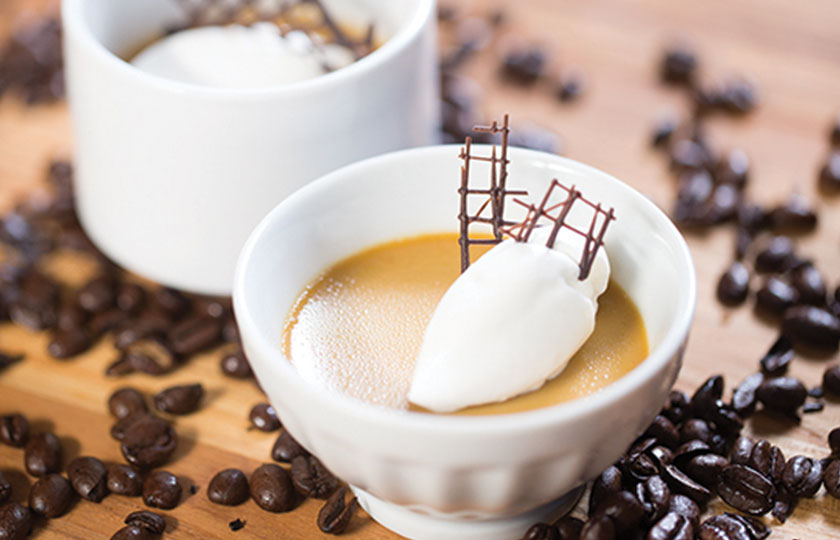 Products used in this recipe