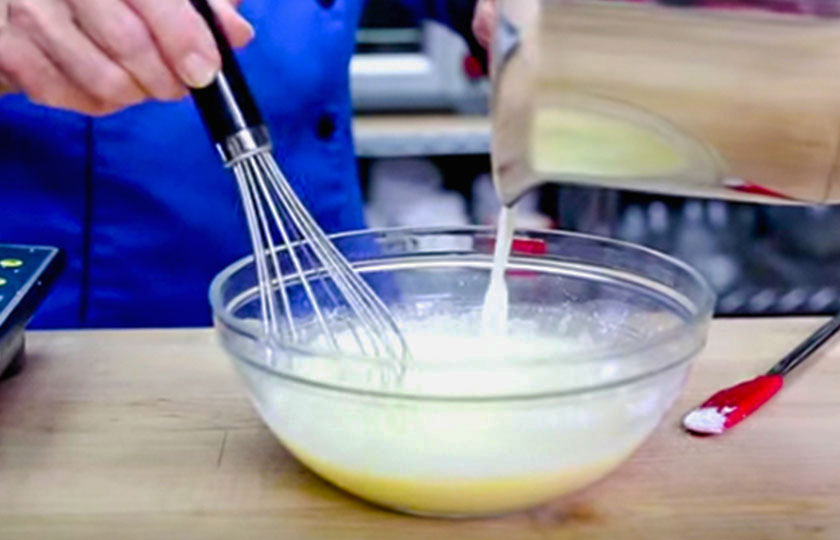 Pastry cream is essential for tarts, eclairs, cake filling, and more. It's also something you can simply whip up at home. It doesn't take much time to make, although it's best if chilled overnight, so you need to plan when you're going to be using pastry cream. Check out our video above for a great explanation from Chef Barbara!
Ingredients
1 cup milk
3 tbsp sugar
2 egg yolks
3 tbsp sugar
3 tbsp cornstarch
¼ cup milk
¼ stick (2 tbsp) butter
OPTIONAL FOR LIME FLAVORED:
Directions
Ready a small sheet pan and plastic wrap.
Heat the cup of milk, Amoretti Vanilla, and sugar to simmering.
Combine the yolks, sugar, cornstarch, and the rest of the milk, mixing until fully combined.
Remove the hot milk from the heat, temper in the egg mixture, and whisk until smooth.
Return to low heat and whisk constantly until the mixture begins to thicken and small chunks form.
Remove from heat and stir vigorously until smooth.
Return to heat and cook on medium-high heat for about 3 minutes, whisking constantly.
Remove from heat and add the butter, mixing until fully combined.
Pour the pastry cream into the sheet pan and cover with plastic.
Place in the freezer for 10 minutes and then move to the refrigerator.
Chill for 4 hours or overnight.
TIPS:
When covering the pastry cream with plastic, sure it is touching the pastry cream to prevent a skin forming.
Place the pastry cream in the freezer for ten minutes before moving to the refrigerator to keep the items in the refrigerator from warming.
Save
Save
Save
Save
Save
Save
Save
Save
Save
Save
Save
Save
Save
Save
Save
Save
Save
Save
Save
Products used in this recipe