Ricotta cheese is incredibly versatile in the world of cooking; it is a wonderfully creamy addition to many savory and sweet dishes. Although, we've been known to eat it straight from the fridge with a spoon, it's that good! Makes about 2 cups.
Ricotta may be one of the simplest recipes ever, here's everything we need to make our fresh cheese: whole milk, cream, salt, Meyer Lemon Extract, and fresh lemon juice. Let's get started!
We'll begin by combining milk, cream, salt, and Meyer Lemon Extract in a medium saucepan.
Bring to a simmer over medium heat. We know this goes against everything you've ever heard, just breathe through it with us. Remember, we want the milk to curdle this time.
Once the milk and cream are simmering, we'll add the lemon juice. Now things get really exciting! Stir constantly for 2 minutes and then...
Strain through a fine-mesh sieve lined with several layers of cheesecloth. It looks kind of weird at this point but hang in there, it's about to be cheese!
Here's the full recipe!
Ingredients
8 cups whole milk
½ cup heavy cream
1½ tsp kosher salt
¼ cup lemon juice
SPECIAL EQUIPMENT
large strainer lined with 2-4 layers of cheesecloth
Directions
Combine milk, cream, salt, and Meyer Lemon Extract in a pot.
Bring to a simmer over medium heat.
Turn heat to low, add lemon juice, and stir continuously for 2 minutes.
Immediately remove from heat and pour through cheesecloth-lined strainer.
Allow to drain for about 30 minutes and cool to room temperature.
Refrigerate in an airtight container for up to 2 weeks.
WAYS TO USE HOMEMADE RICOTTA:
Ricotta makes a delicious breakfast treat when simply mixed with fresh fruit and dolloped on a waffle or wrapped in a crepe.
Mixed with fresh herbs and spices, ricotta is a great addition to a crudité and charcuterie spread.
Use ricotta for traditional pasta dishes including manicotti or ravioli filling and lasagna, or add it to the egg mixture of a quiche to add some depth.
Make our Pea and Ricotta Spread! It's fabulous spread on crostini with prosciutto or swirled through warm pasta under a dusting of parmesan.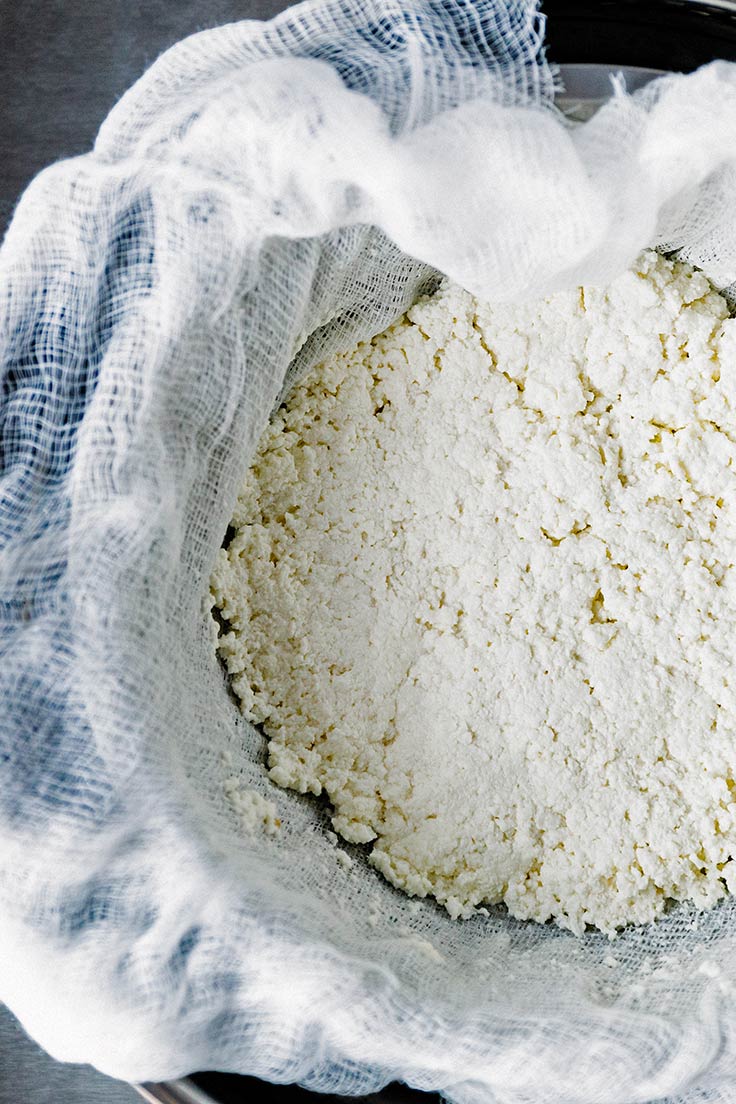 Products used in this recipe