If you're looking for a simple dessert that'll dazzle the eyes and the taste buds, why not try a sweet, delicate strawberry shortcake? The light, fluffy shortcake is boosted to a whole new flavor level when you add the juicy strawberries and sweet whipped cream. Don't let the gorgeous presentation fool you, it's easy!
Ingredients
DOUGH
2 cups all-purpose flour
2 tsp baking powder
¼ tsp baking soda
2 tbsp sugar
¾ tsp salt
1½ cups cream
1 egg, lightly beaten, for egg wash
2 tbsp raw sugar, for topping
STRAWBERRY TOPPING
1 lb strawberries, quartered if large or halved if small
2 tbsp sugar
WHIPPED CREAM
1½ cups cream
3 tbsp sugar
Directions
DOUGH
Preheat oven to 400°F.
Sift the dry ingredients and add to the mixer.
Add cream and mix until a dough forms
Roll out the dough.
Using a cookie cutter or biscuit cutter, cut out circles.
Place on a parchment- or Silpat-lined sheet pan.
Chill for 20 minutes or freeze for 10 minutes.
Brush the tops with egg wash and sprinkle with turbinado sugar.
Bake for 18-20 minutes until lightly browned and let cool.
STRAWBERRY TOPPING
Combine strawberries, sugar, Madagascar Bourbon Vanilla, and Wild Strawberry Swirl.
Cover with plastic and chill for 30-60 minutes.
WHIPPED CREAM
Whip cream, sugar, and Madagascar Bourbon Vanilla to medium peaks.
ASSEMBLY
Slice cooled shortcakes in half.
Place one half on a plate, top with strawberries.
Add whipped cream on top of berries and place the other half of the shortcake on top.
Garnish with additional strawberries and whipped cream.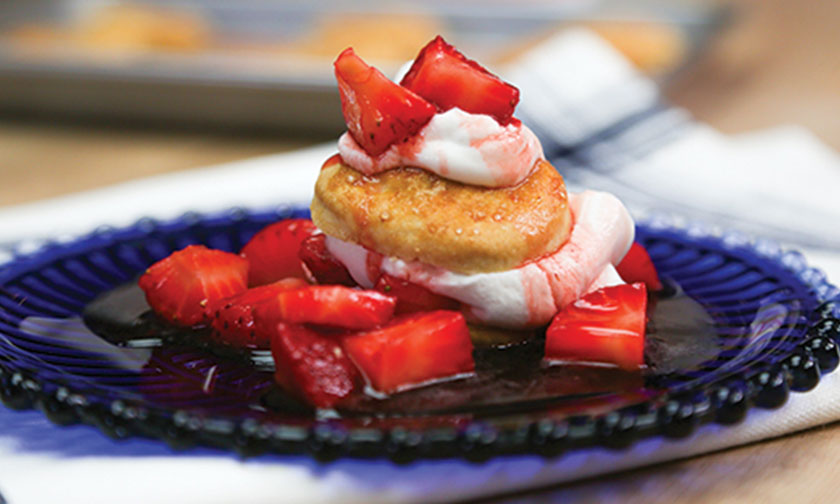 Products used in this recipe