Tired of bringing the same old dip to every party? Next time you get that invite, grab our Savory Pumpkin Dip recipe and bring this flavorful, filling dip! It hits all the right notes and goes well on chips, pita, and even pretzels! It's so unique and tasty that all your friends will be begging to know your secret recipe. Watch the video to see just how simple it is!
Ingredients
2.5 – 3 lb pumpkin
1½ teaspoons Olive Oil
1½ cups of cooked chickpeas
2 garlic cloves, minced
1 lemon, juiced
1 – 2 tablespoons water
½ teaspoon smoked paprika
½ teaspoon cumin
few drops (6-8) Amoretti

®

Cinnamon Oil Extract O.S.
salt and pepper to taste
Directions
Preheat oven to 425°F.
Cut pumpkin in half and scoop out seeds.
Rub 1½ teaspoons olive oil on the inside and lightly sprinkle with salt and pepper.
Place on a baking sheet, olive oil side down and roast for about 30 minutes.
Remove from oven and allow to cool.
Once cooled, remove 1½ cups for dip. Save remainder for another use.
Add 1½ cups roasted pumpkin, 1 tablespoon of Amoretti® Olive Oil, chickpeas, garlic, lemon juice and 1 tablespoon of water to the food processor and blend until smooth.
Add the smoked paprika, cumin and a few drops of Amoretti® Cinnamon Oil Extract and blend well. (If dip is too thick, add the additional tablespoon of water and blend again.)
Adjust salt and pepper to taste.
Place dip in serving dish and drizzle with Amoretti® Olive Oil.
Serve with pita triangles or pita chips.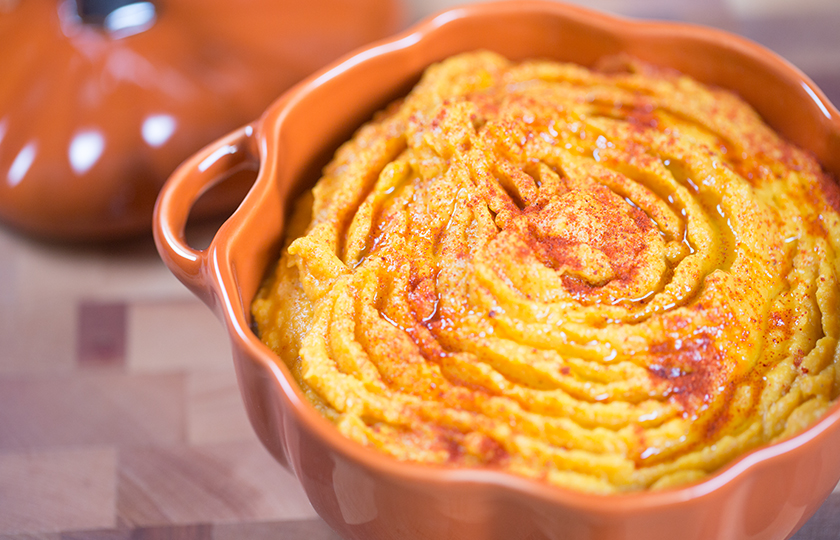 Products used in this recipe