The winning recipe from our first ever recipe contest! Shannon (@srsand) won with her gourmet s'mores recipe, including fresh marshmallows and homemade graham crackers!
Ingredients
MARSHMALLOWS
21 g (2 tbsp + 1 tsp) unflavored gelatin
227 g (1 cup) cool water, divided
298 g (1½ cups + 2 tbsp) sugar
312 g (1 cup) light corn syrup
⅛ tsp salt
1-2 tsp Amoretti® Vanilla Bean Artisan
powdered sugar
GRAHAM CRACKERS
113 g (¾ cup + 1 tbsp) whole wheat flour
120 g (¾ cup + 2 tbsp) all-purpose flour
50 g (¼ cup) sugar
½ tsp salt
1 tsp cinnamon
1 tsp baking powder
1 large egg
50 g (¼ cup) vegetable oil
1-2 tsp Amoretti® Vanilla Bean Artisan
85 g (5 tbsp) honey
28-43 g (2-3 tbsp) milk
cinnamon-sugar, optional, for topping
ASSEMBLY
500 g dark or milk chocolate, tempered (Shannon likes to use a mixture of both)
Directions
MARSHMALLOWS
Grease a 9" x 13" pan, glass or ceramic is best, and set aside.
Combine gelatin and ½ cup water in the bowl of an electric mixer fitted with the whisk attachment. Mix briefly to combine and set aside.
In a small, deep saucepan combine the sugar, corn syrup, salt, and remaining ½ cup water. Cook the mixture over medium heat, stirring, until the sugar dissolves.
Increase heat to high and cook, without stirring, until the syrup reaches 240°F on a candy thermometer (you may need to adjust based on your altitude). Remove from the heat.
With the mixer set on low speed, slowly pour the sugar syrup into the softened gelatin.
Increase the speed to high, and whip until the mixture is very thick and fluffy, and has cooled to lukewarm, 3-10 minutes (depending on the mixer and attachment you use, a stand mixer using the whisk attachment will work more quickly than a hand mixer equipped with beaters). The mixture should be cool enough that you can spread it into the pan without burning your fingers, about 95°F.
Add Natural French Vanilla Compound, Vanilla Bean Artisan, and Toasted Marshmallow Artisan towards the end of the mixing time.
Spread marshmallow mixture into prepared pan. Use your wet hands to smooth and flatten the marshmallows.
Sprinkle powdered sugar over the top and let sit for several hours or overnight before cutting.
Use a greased knife of cookie cutters to make squares or other shapes.
GRAHAM CRACKERS
Combine the whole wheat flour, all-purpose flour, sugar, salt, cinnamon, and baking powder in a medium-sized bowl.
In a separate bowl, whisk the egg with the oil, Vanilla Bean Artisan, honey, and 2 tbsp milk.
Stir egg mixture into the dry ingredients until you have a fairly stiff dough, adding more milk if necessary.
Wrap the dough and chill it until firm, about 1 hour but longer is better.
Preheat the oven to 300°F.
Divide the dough in half and, working with one piece at a time, knead the dough gently until it holds together. Roll the dough out about 1/16" thick between two pieces of parchment paper.
Transfer the rolled-out dough on the parchment paper to a baking sheet.
Repeat with the second piece of dough.
Brush both pieces of dough with remaining milk and sprinkle with cinnamon-sugar, if desired.
Bake the sheets of dough for 10 minutes, rotating the pans after 5 minutes.
Remove pans from the oven and use a pizza wheel or sharp knife to cut the sheets of dough into 3" x 2" rectangles; don't separate them, just cut them.
Return the cut crackers to the oven and continue to bake for 18-20 minutes.
Turn off the oven and open the oven door wide for 5 minutes. After the majority of the oven's heat has dissipated, shut the oven door and let it cool down for 20 minutes with the crackers inside; this will help them become as crisp as possible.
Remove the crackers from the oven, transfer them to a cooling rack, and cool completely.
ASSEMBLY
Once the crackers and marshmallow are done and set, cut out marshmallows in the shape of the the crackers and use a little of the tempered chocolate to stick the marshmallow to the graham cracker.
Once the graham crackers and marshmallows have been assembled it's time to have fun and dip them in the remaining tempered chocolate!
You can decorate them with leftover graham cracker crumbs, chocolate transfer sheets or sprinkles. Go crazy!!!
AMORETTI TEST KITCHEN NOTES
We dipped our s'mores in dark chocolate then added a drizzle of white chocolate for a fancy finish.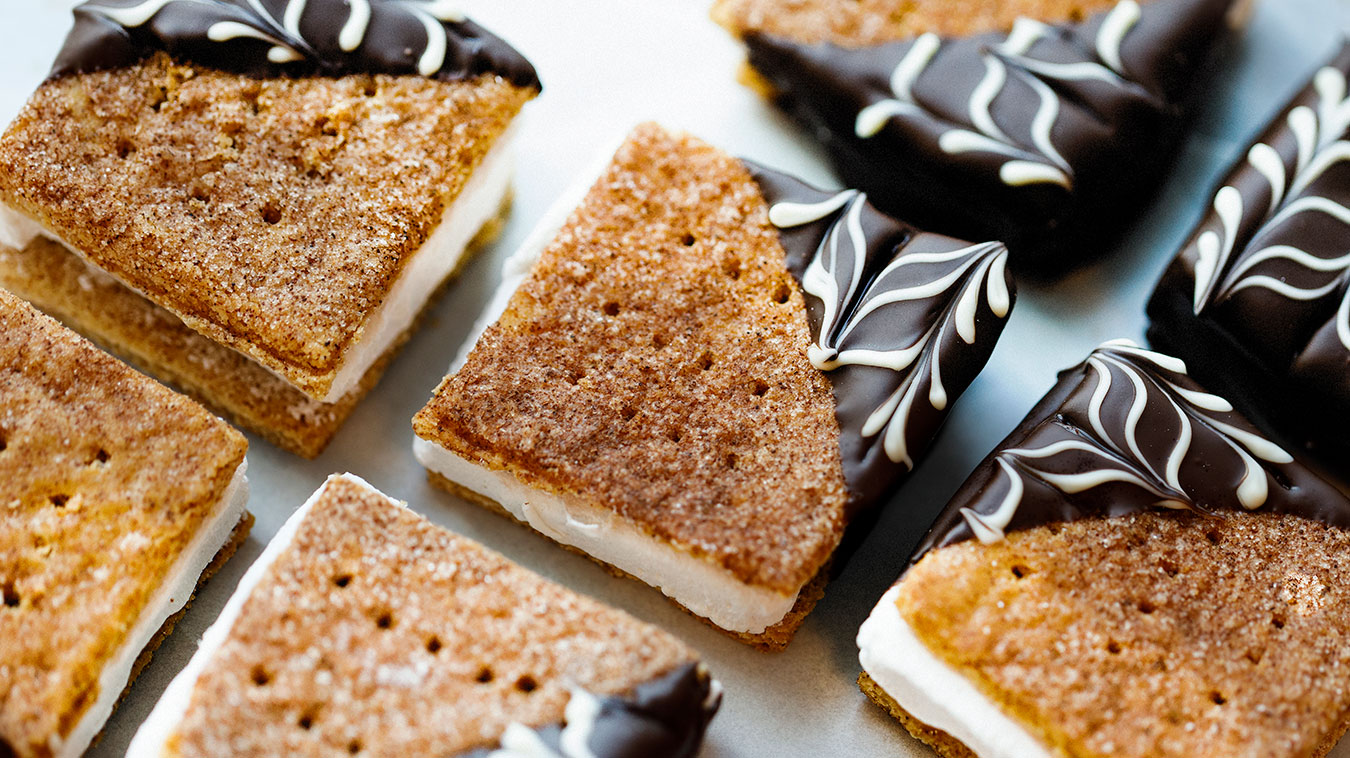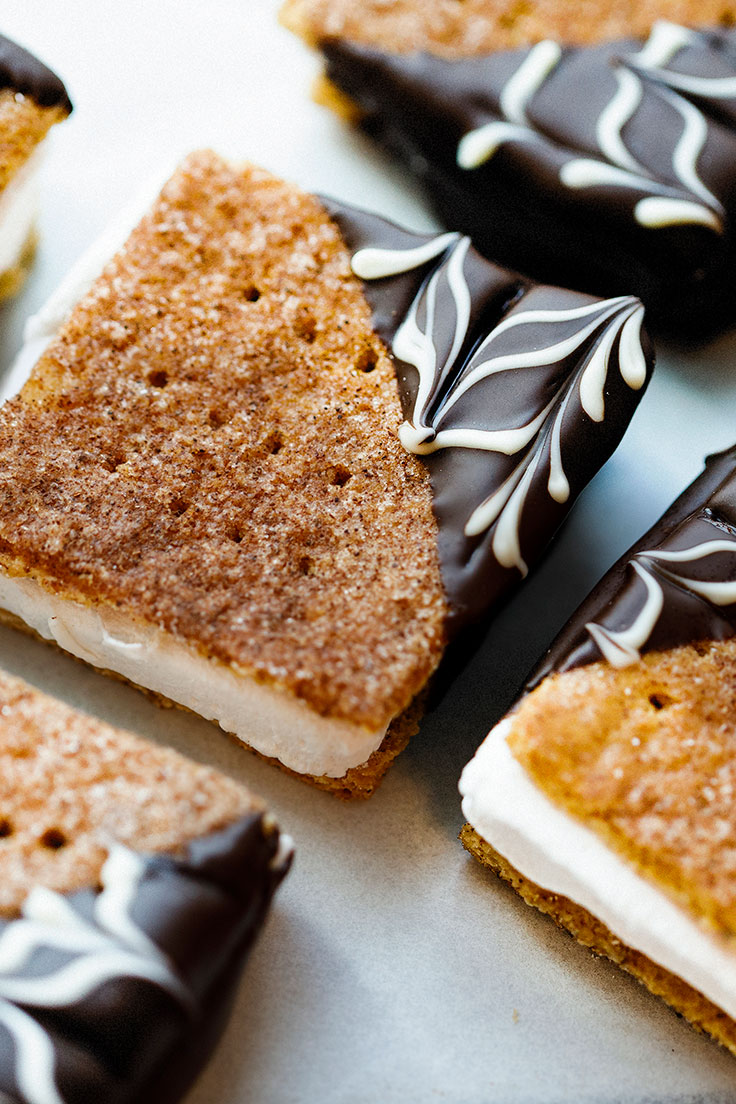 Products used in this recipe