Individual bread puddings may just be the cutest dessert ever, especially when baked in colorful ramekins. Add in those fall classics: pumpkin spice, pear, and cranberry and you've got the perfect seasonal dessert! This bread pudding is also a great addition to a brunch or holiday breakfast spread. Pumpkin Spice Extract is a nice addition without being overly spicy and Pear Extract lends just enough sweetness. Pear Anglaise, served warm or cool, is a perfect complement to the puddings. Makes about 24 puddings.
Ingredients
BREAD PUDDING
1 loaf ciabatta or french bread (about 14-16 cups cubed)
1½ cups heavy cream, plus ¼ cup if needed
1½ cups milk, plus ¼ cup if needed
⅓ cup brown sugar
4 large eggs, lightly beaten
1 tbsp + 1 tsp Amoretti® Natural Pumpkin Spice Extract O.S.
1 tbsp Amoretti® Pear Extract O.S.
¾ cup pumpkin purée
½ tsp salt
3 pears, peeled and chopped
¾ cup dried cranberries
¼ cup raw sugar, for sprinkling
¼ cup powdered sugar, for dusting
PEAR CRÈME ANGLAISE
Directions
BREAD PUDDING
Preheat the oven to 350℉.
Cut the bread into large cubes and toast them for about 10 minutes, set aside to cool.
Heat the cream, milk, and brown sugar to a simmer.
Temper in the eggs and add White Chocolate Spread, let sit for a minute so the chocolate can fully melt.
Add Madagascar Bourbon Vanilla, Pumpkin Spice and Pear Extracts, pumpkin purée, and salt to cream mixture, whisking to incorporate. Add to the toasted bread.
Fold in chopped pears and cranberries.
Pour into a large container, cover and refrigerate overnight.
Preheat the oven to 350℉. Spray 2 standard muffin tins with nonstick spray or brush with oil.
If all the liquid has been absorbed, you can add the additional ¼ cup cream and ¼ cup milk to the mixture.
Using an ice cream scoop, fill each muffin section with the mix.
Sprinkle each with raw sugar and bake for 50-60 minutes or until the tops are lightly browned.
Let cool before serving.
PEAR CRÈME ANGLAISE
Heat the cream and milk in a sauce pan to simmering.
Combine the egg yolks and sugar in a heat-proof bowl.
Temper in the egg yolks and sugar into the hot cream and milk.
Heat the mixture on medium low, stirring, to a temperature of 179℉ (82°C).
Strain, add Pear Syrup and place the container in an ice bath to stop the cooking.
Serve warm with the bread pudding.
TIPS:
Crème Anglaise can be kept chilled for one week.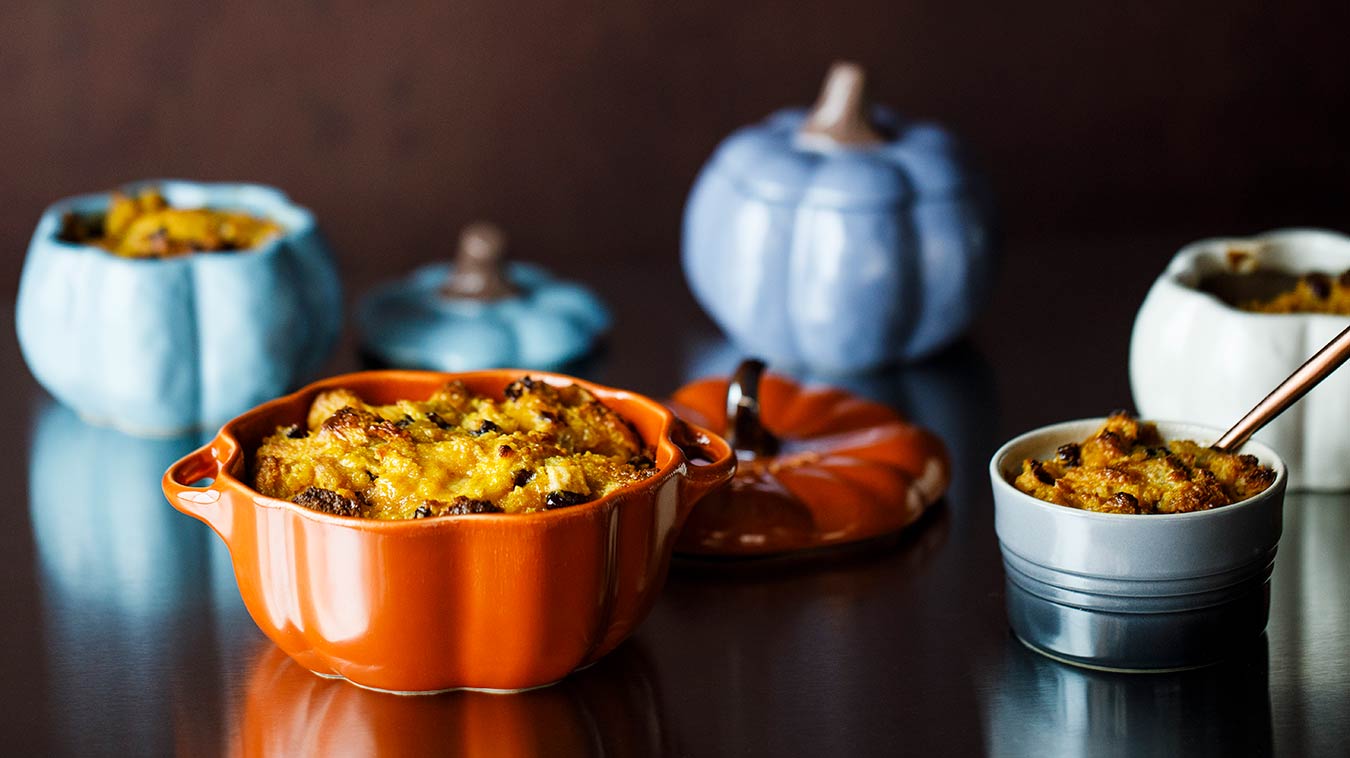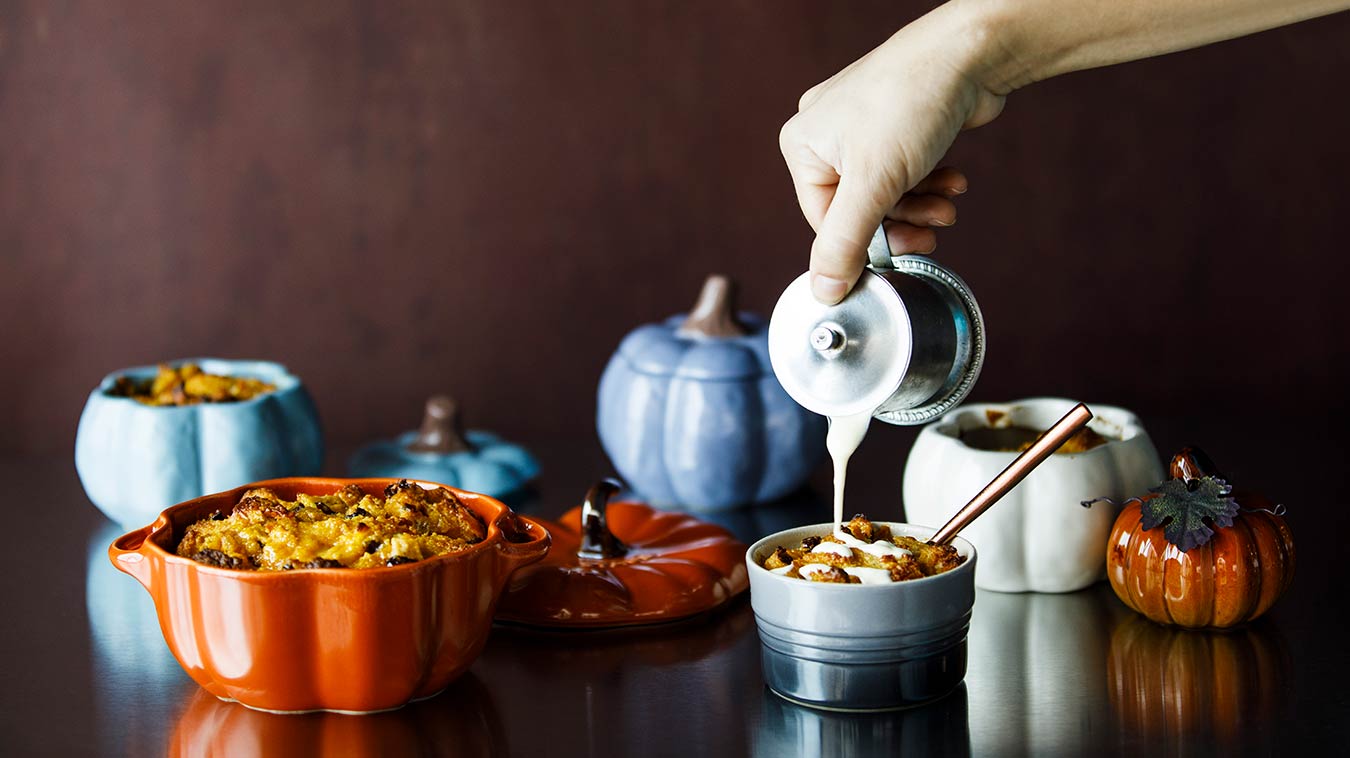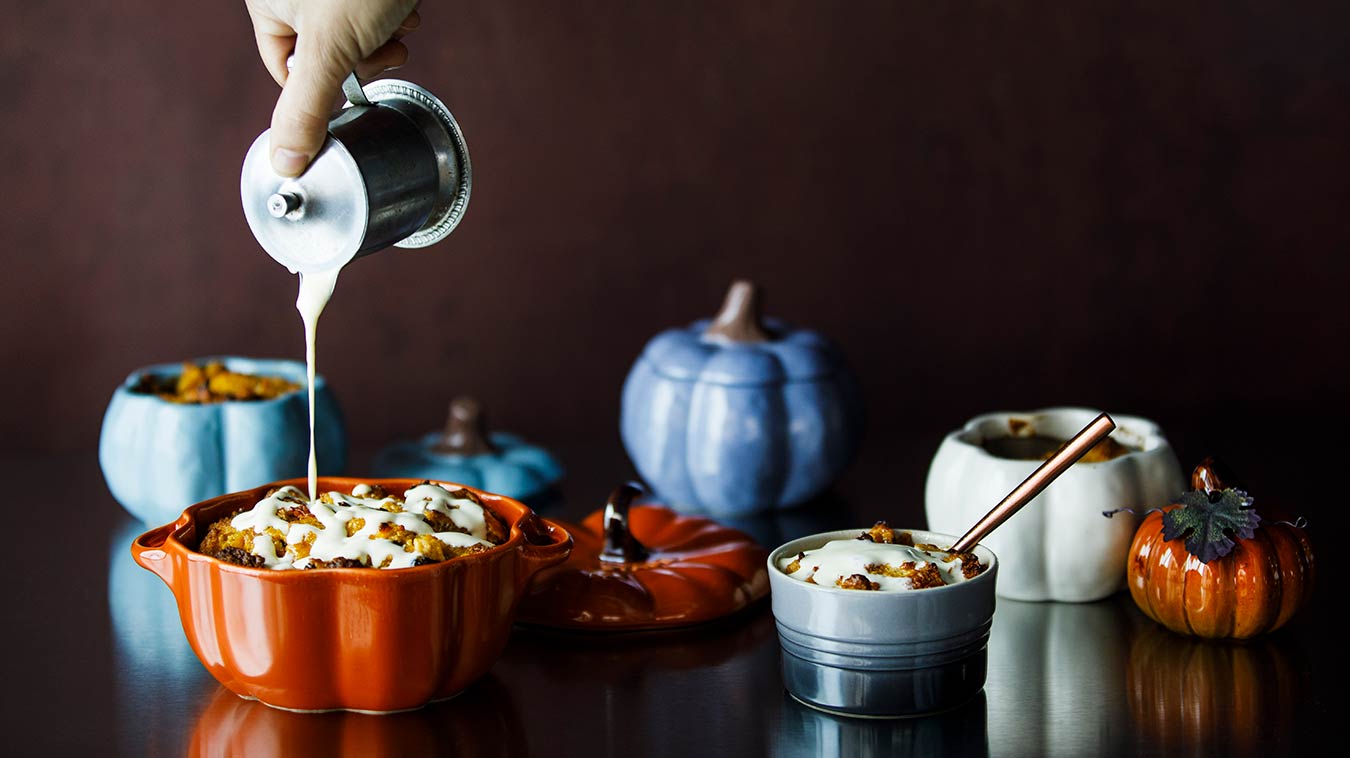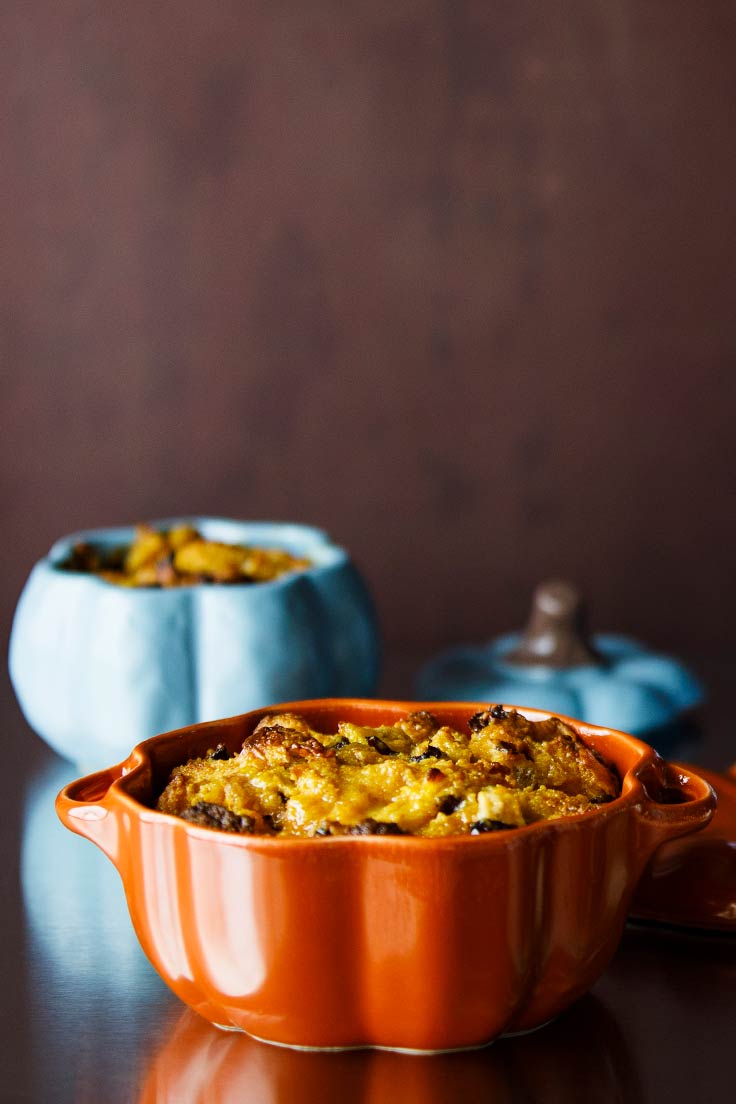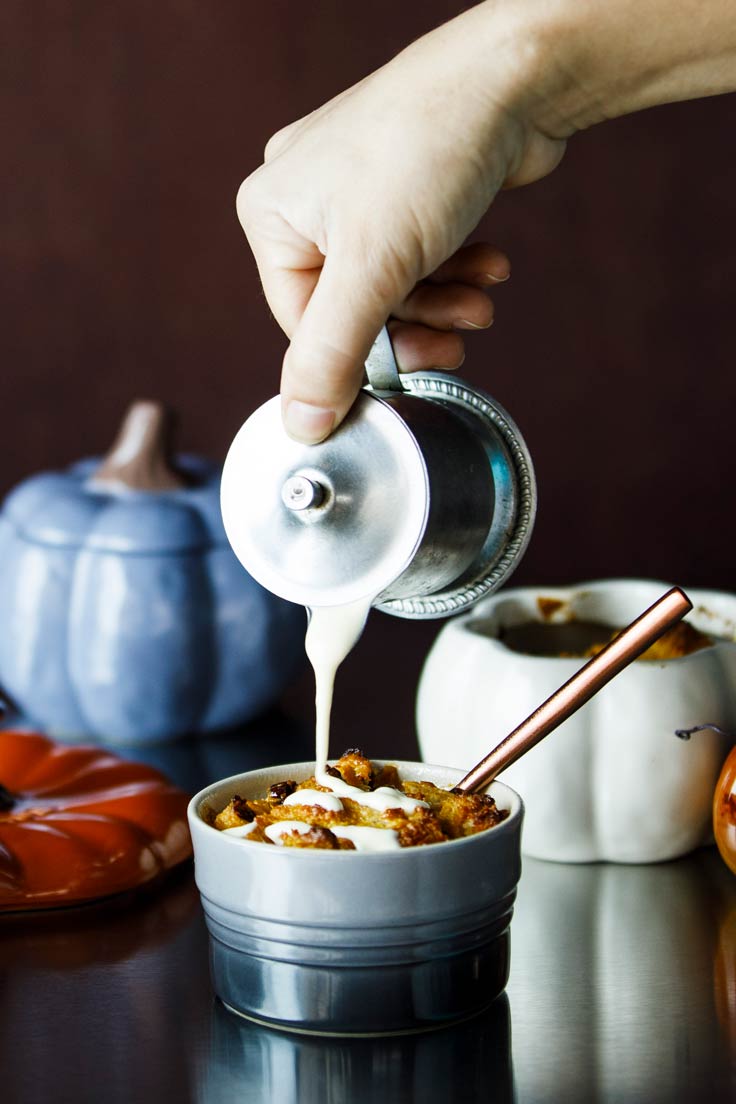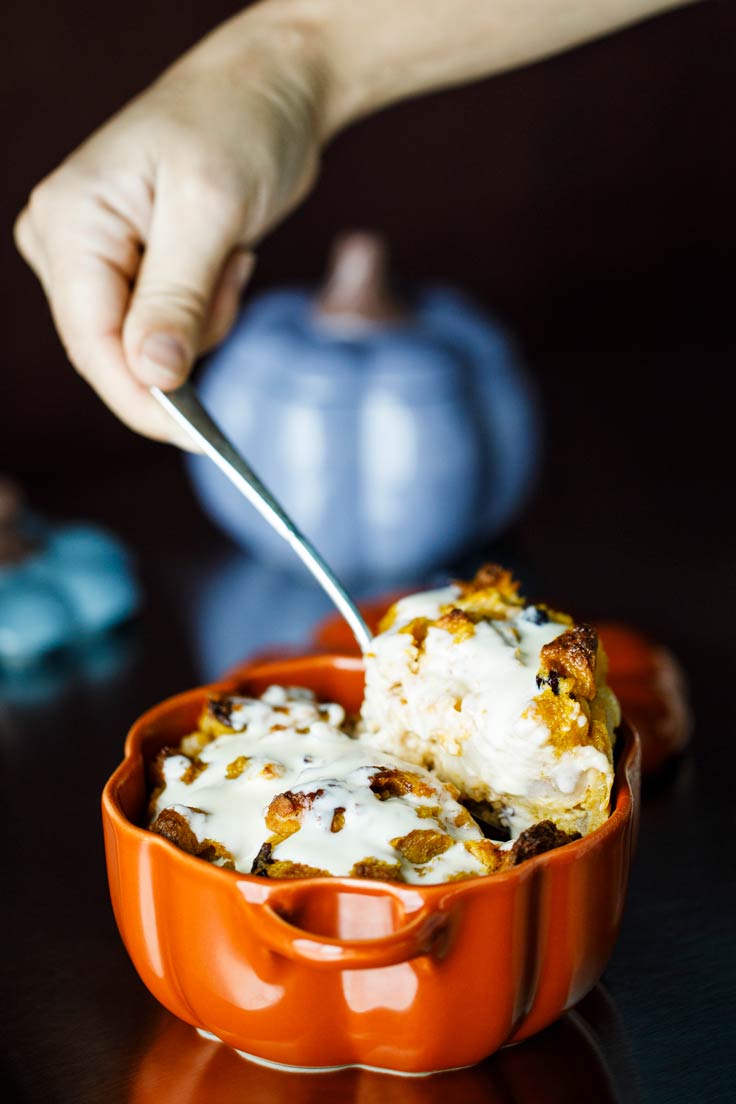 Products used in this recipe