We've finally recovered from that gnarly Halloween sugar coma and we're easing back in with these lightly sweet and doubly spiced Pumpkin Spice Doughnuts! With our Natural Pumpkin Spice Extract flavoring the doughnuts and their glaze, these beauties are perfectly flavored and not the least bit overwhelming. It takes quite a while to make these, but the time spent is well worth it! Makes about 1 dozen doughnuts.
Ingredients
PUMPKIN SPICE DOUGHNUTS
1½ cups whole milk - hot, almost boiling
2½ tbsp unsalted butter
3 tbsp vegetable shortening
⅓ cup warm water
3 tsp dry yeast
¼ cup sugar
1½ tsp salt
2 eggs
1 tbsp + 2 tsp Amoretti® Natural Pumpkin Spice O.S. Extract
4½ cups + 2 tbsp bread flour
about 2 quarts peanut oil or other oil with high smoke point
PUMPKIN SPICE GLAZE
3½ cups powdered sugar
½ cup hot water
2 tsp corn syrup
SPECIAL EQUIPMENT
doughnut or 3" circle cutter
large pot or deep fryer
deep fry thermometer
wire rack set within a sheet pan
Directions
In a bowl, pour the hot milk over the butter and the shortening and whisk to combine. Set aside to cool.
Pour the warm water into a small cup or bowl and then add the yeast. Give it a quick stir to combine and then let it sit for 5 minutes. It should be foamy on the top when it is ready to use.
When it is activated, pour the yeast into a mixing bowl.
Add the cooled milk mixture, sugar, salt, eggs, and Natural Pumpkin Spice Extract. Whisk to combine.
Add half of the flour and, with the paddle attachement, mix on low and then medium until combined.
Add the remaining flour and mix on low and then medium until mostly combined, but not completely.
Switch out the paddle for the dough hook and mix the dough for 5 minutes on medium or until the dough begins to come away from the bowl.
Place dough in an oiled bowl, cover loosely with a towel and let it rest for 1 hour until it has doubled in size.
Place the dough on a heavily floured surface and knead to a smooth round ball.
Roll out to ½" thick.
Using a doughnut cutter or round 3" cookie cutter cut out the doughnuts and make holes in the centers.
Place cut doughnuts and holes onto a sheet pan that has parchment dusted with flour. Space them about 1" apart because they will get bigger as they proof. If they do stick together once they have finished proofing, use a scraper to gently divide them; they are delicate and you don't want to pull them apart. See TIPS.
Cover them with a towel and let them proof for 1 hour in a warm spot.
Meanwhile, prepare the glaze by whisking powdered sugar, hot water, corn syrup, and Natural Pumpkin Spice Extract together until smooth.
Ten minutes before they are done proofing begin heating the oil to 375℉ in a deep pan. Use enough oil to give you at least 2" in depth.
Using a flat spatula or scraper gently lift the doughnuts and place them into a metal basket or spider to lower into the hot oil, this will keep the doughnuts from losing their shape. If you pick them up with your hands they will deflate and lose their shape.
Fry the doughnuts for 1 minute per side.
Let them cool just a few minutes and then dip them in the glaze. The warmer the doughnuts are the thinner the glaze will be. If you want a thicker glaze, let them cool before dipping them.
Place on wire rack to set.
TIPS:
Another way to make sure the doughnuts keep their shape is to place each doughnut on a square of floured parchment. Once the doughnuts have proofed, you can pick up the parchment square and drop it and the doughnut into the oil. The parchment paper will separate and float to the top to be removed. This means your doughnut keeps its shape when transferring from sheet pan to oil.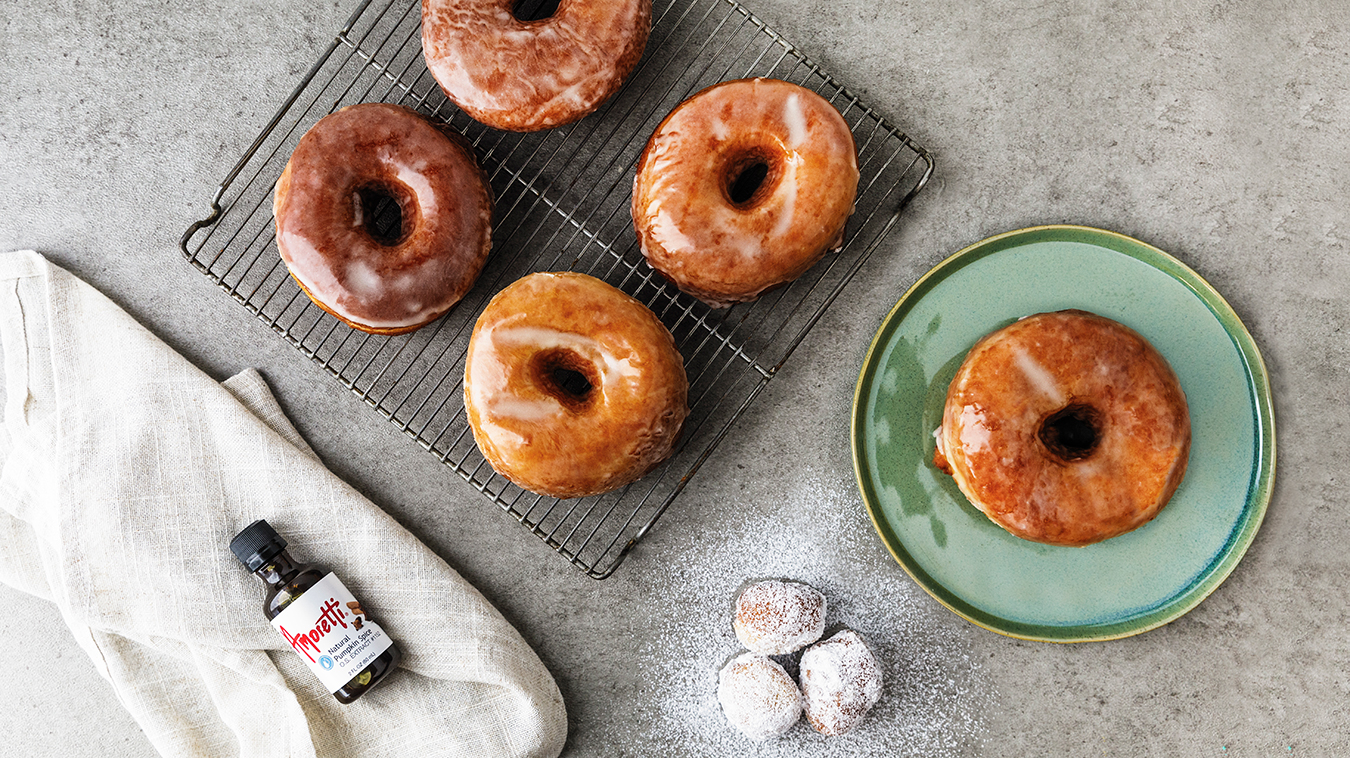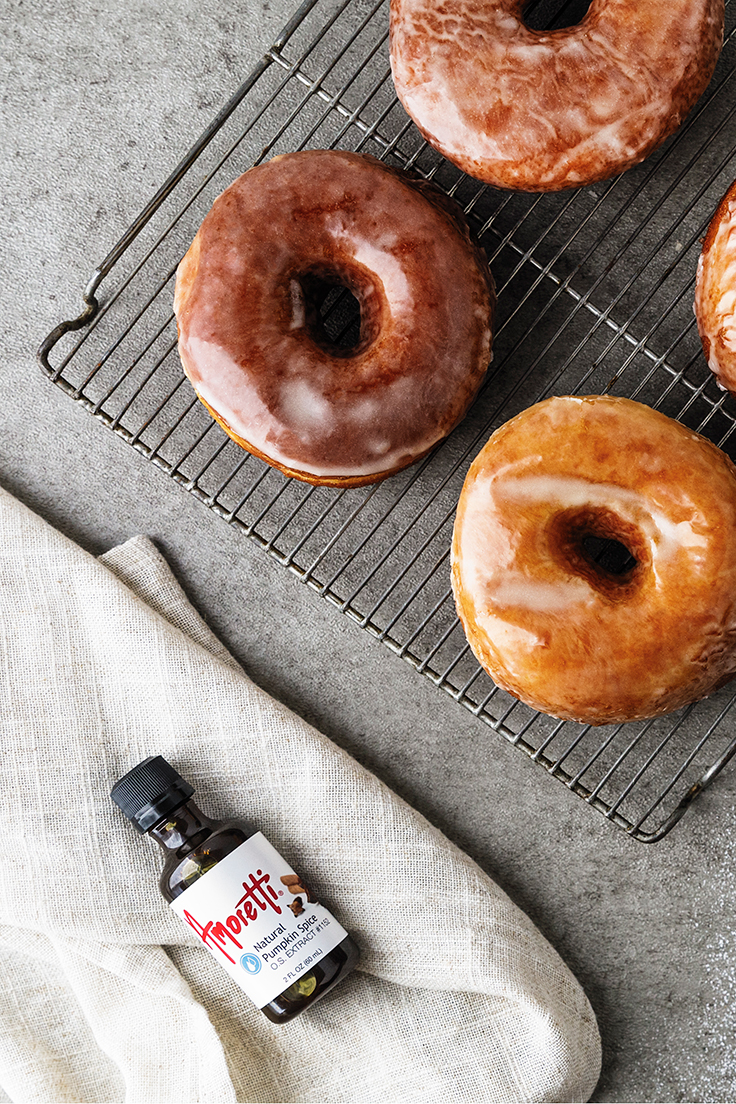 Products used in this recipe