Ingredients
CRUST
¼ cup sugar
½ cup (1 stick) butter, melted
CHEESECAKE
4 - 8 oz blocks cream cheese (2 lb total), room temperature
½ cup sugar
4 eggs + 2 egg yolks, room temperature
½ cup cream
6 drops red gel food color
SPECIAL EQUIPMENT
9" cake pan, 3" deep
stand or hand mixer
medium bowl
large pan for water bath
2 cardboard cake rounds
Directions
Preheat the oven to 350℉.
Lightly spray the bottom and sides of the cake pan and line the bottom with parchment paper.
Mix Natural Cookies & Cream Cookie Crumbs, sugar, and melted butter together. Press the mixture into the bottom of the cake pan.
Bake the crust for 12 minutes. Let cool while you prepare the filling.
Lower the oven temperature to 300℉.
Blend the cream cheese and sugar in a mixer until no lumps remain, scraping the bowl often.
Add the eggs and yolks one at a time, mixing until fully incorporated, scraping the bowl after each addition.
Add Peppermint Extract and cream. Mix, scraping the bowl twice.
Divide the batter in half.
In one half, mix in 6 drops of red gel food color for a light pink color.
Layer the two batters on top of the crust in the pan by pouring a little amount of plain batter directly in the center and then an equal amount of pink batter on top of the plain batter.
Continue alternating in this manner until all the batter is used.
Bake the cheesecake in a water bath for 1 hour and 20 minutes or until the cake has begun to dome and is firm but not browned on the top. Check by gently nudging the cake pan, the cake should move slightly but not be loose.
Remove the sheet pan and cheesecake very carefully so you don't spill the hot water. Remove the cheesecake from the water bath and let it cool for 1 hour before freezing overnight. Freezing the cake enables you to remove it from the pan without marking the crust or the cake itself.
One hour before serving, remove the cake from the freezer and place a cake pad over the top of the cheesecake.
Invert the pan and using a torch, heat the sides and bottom. Tap the edges of the cake pan on a cutting board or counter and it should pop out.
Remove the parchment from the bottom of the cheesecake and place a cake pad on the crust. Invert the cake and remove the cake pad from the top.
The cake can now be glazed with a clear glaze or decorated with rosettes and peppermint candies if desired.
Let the cake defrost for 1 hour before serving and use a hot knife to cut, cleaning the knife after each cut and reheating it before the next cut. This will ensure clean cuts each time.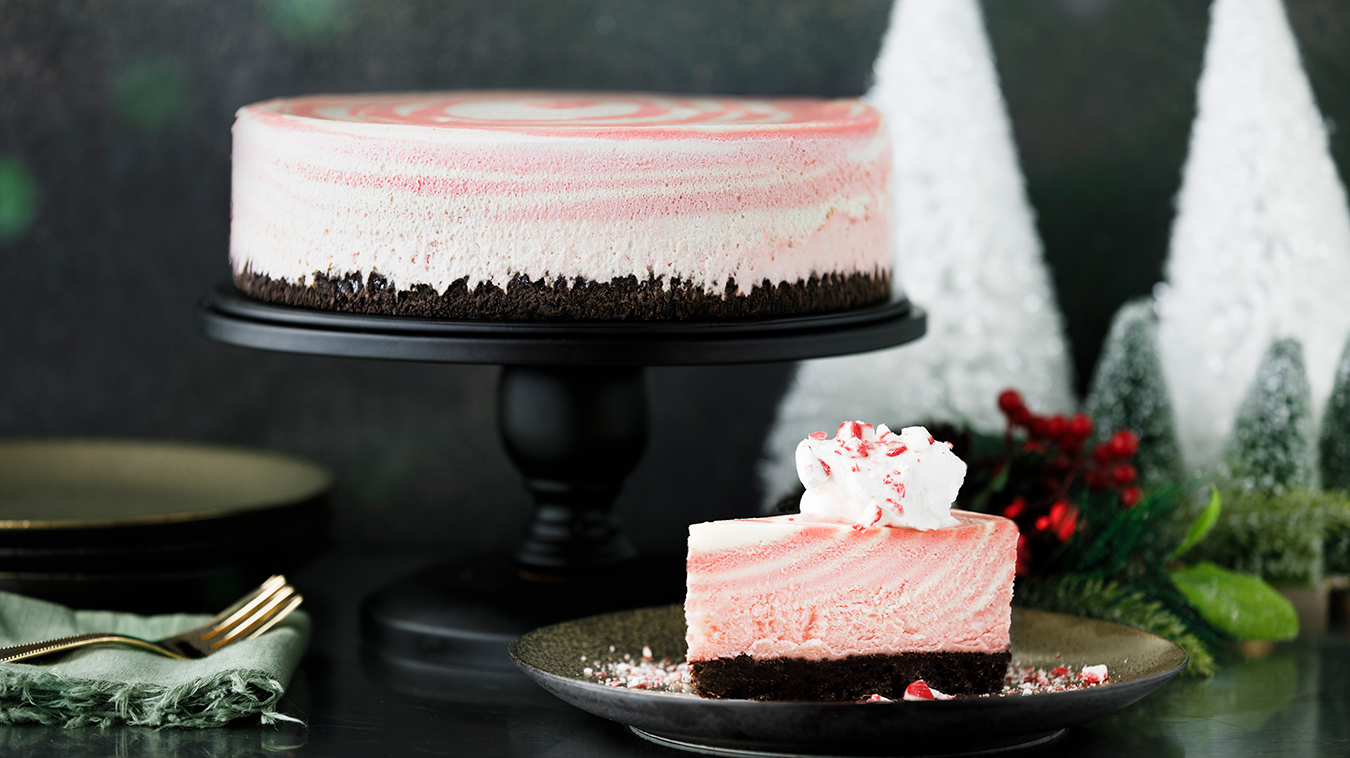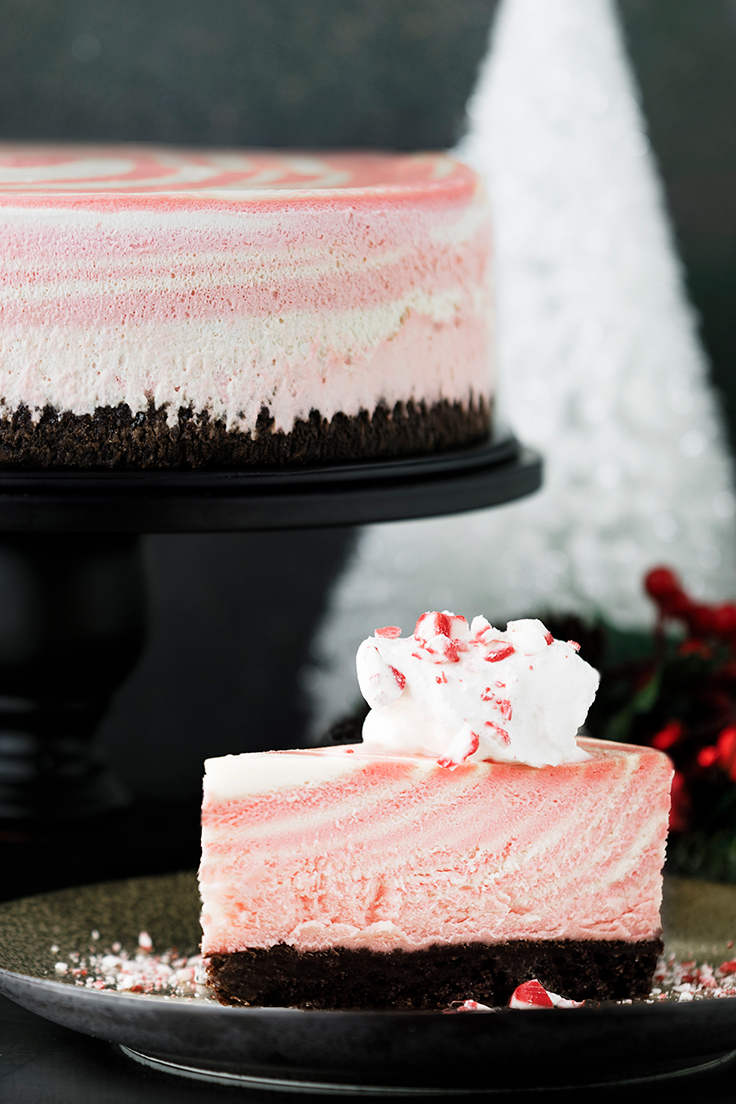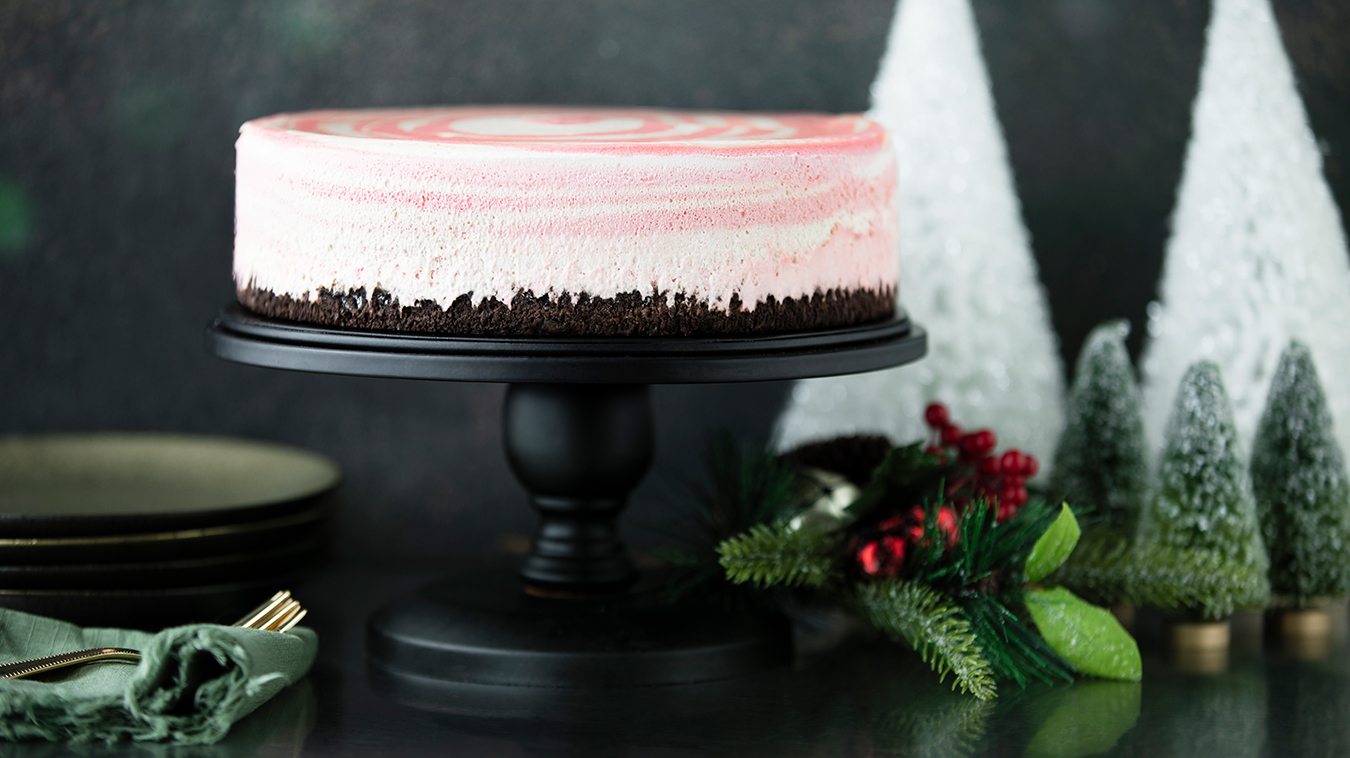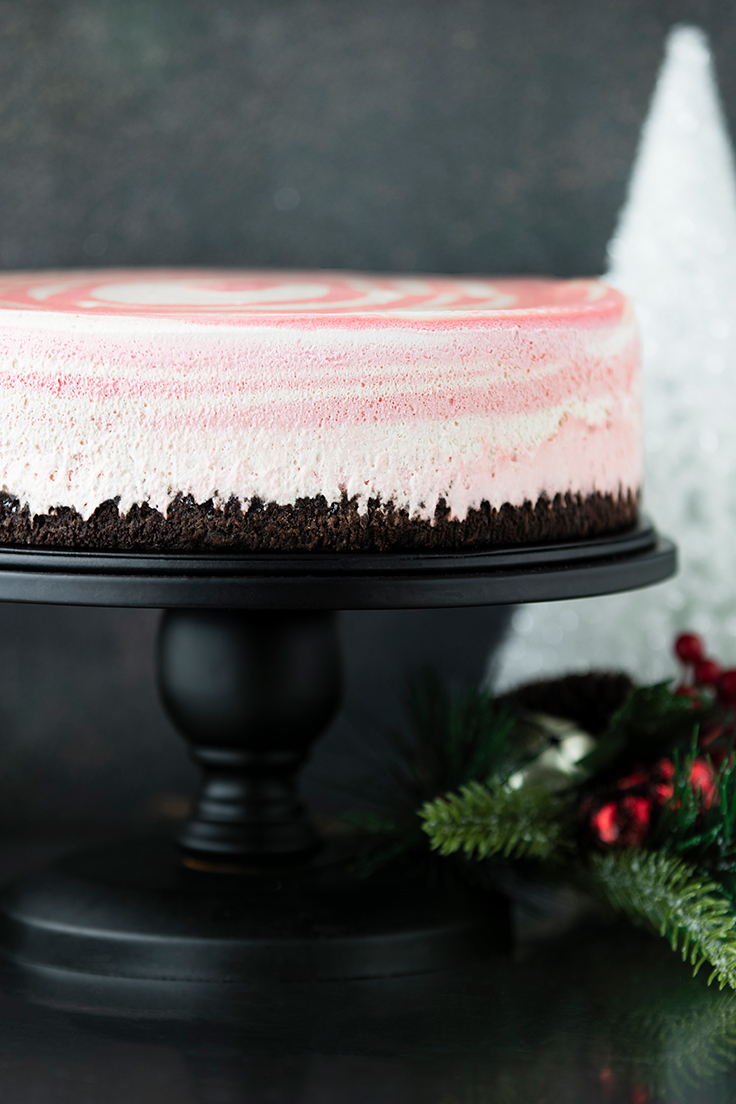 Products used in this recipe