Pavlova is an excellent summer dessert! We added a hint of delicate orange flavor with our Natural Orange Extract which sets off the fresh mixed berries perfectly. And Raspberry Swirl is the perfect finishing touch! For a real showstopper, try dividing the meringue into 2 large disks then proceed with assembly. Makes eight 3½" layered pavlovas.
Ingredients
ORANGE PAVLOVA
6 egg whites, room temperature (about ¾ cup)
pinch salt
⅛ tsp cream of tartar
1⅓ cups sugar
1 tsp white wine vinegar, plus more for bowl
2½ tsp cornstarch
FINISHING TOUCHES
1½-2½ cups mixed berries
2 cups whipped cream (about 1 cup heavy cream, whipped to medium peak)
SPECIAL EQUIPMENT
3½" round cookie cutter
large pastry bag fitted with #806 ateco tip
Directions
ORANGE PAVLOVA
Preheat the oven to 180℉.
Wipe mixer bowl and whisk attachment with a vinegar-dampened paper towel.
Whip egg whites, salt, and cream of tartar on medium speed to soft peak.
With mixer running, rain in sugar very slowly.
Continue whipping for about 3-6 minutes, until whites are stiff and smooth. Rub the meringue between your fingers, there should be no grit from the sugar. If you feel sugar, whip a couple of minutes more.
Add vinegar and Natural Orange Extract, mixing to incorporate.
Remove the bowl from the mixer and sift the cornstarch over the bowl. Fold in cornstarch with a rubber spatula.
Use cookie cutter to draw 16 circles on parchment paper, turn parchment over and place onto a sheet pan.
Pipe circles of meringue onto the parchment, beginning in the center and working towards the outside.
Bake for 1¾-2 hours. Do not open the oven! (If they begin to brown, reduce oven temperature 10 degrees and continue baking without opening oven.)
Turn off the oven and let the Pavlova sit for 40-60 minutes or overnight without opening the oven door.
The Pavlova should lift off the parchment easily. If they do not, bake again for 20-30 minutes and let cool.
ASSEMBLY
Place berries and Raspberry Swirl in a bowl, stirring gently to combine.
Pipe whipped cream around the outer edge of one meringue disc.
Set a few raspberries on top of the cream around the edge, to hold up the next layer.
Place a spoonful of berries in the center and drizzle with Raspberry Swirl.
Top with another meringue disc and repeat the whipped cream, raspberries, mixed berries, and Raspberry Swirl.
TIPS: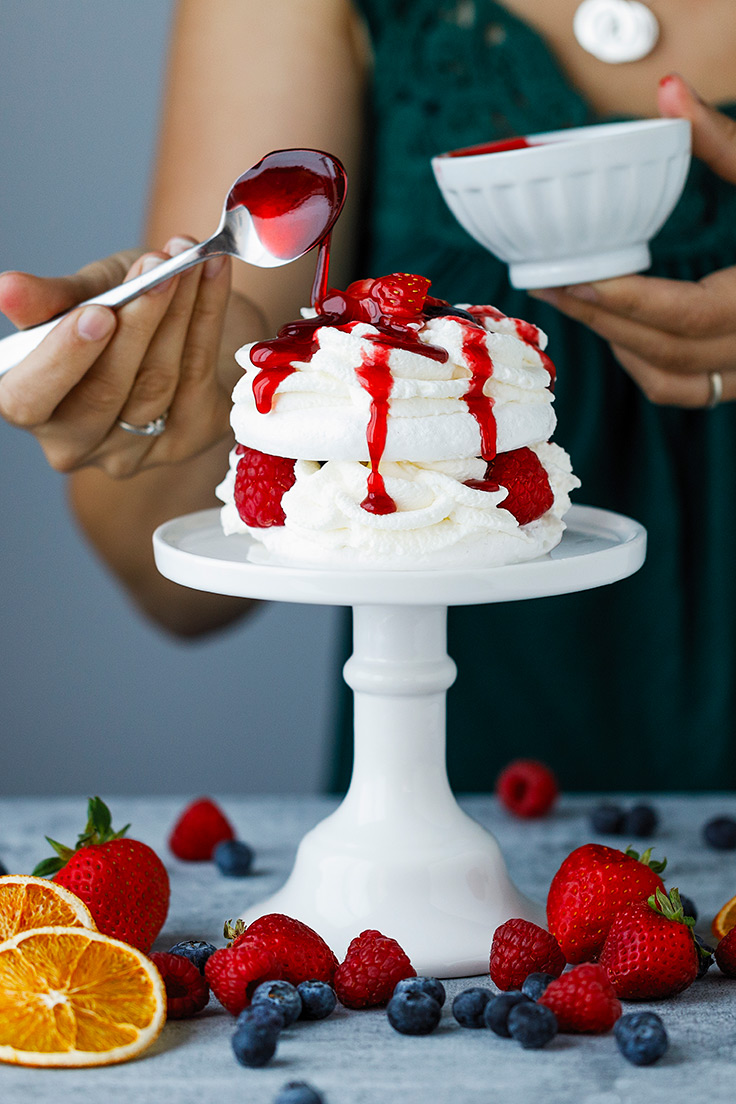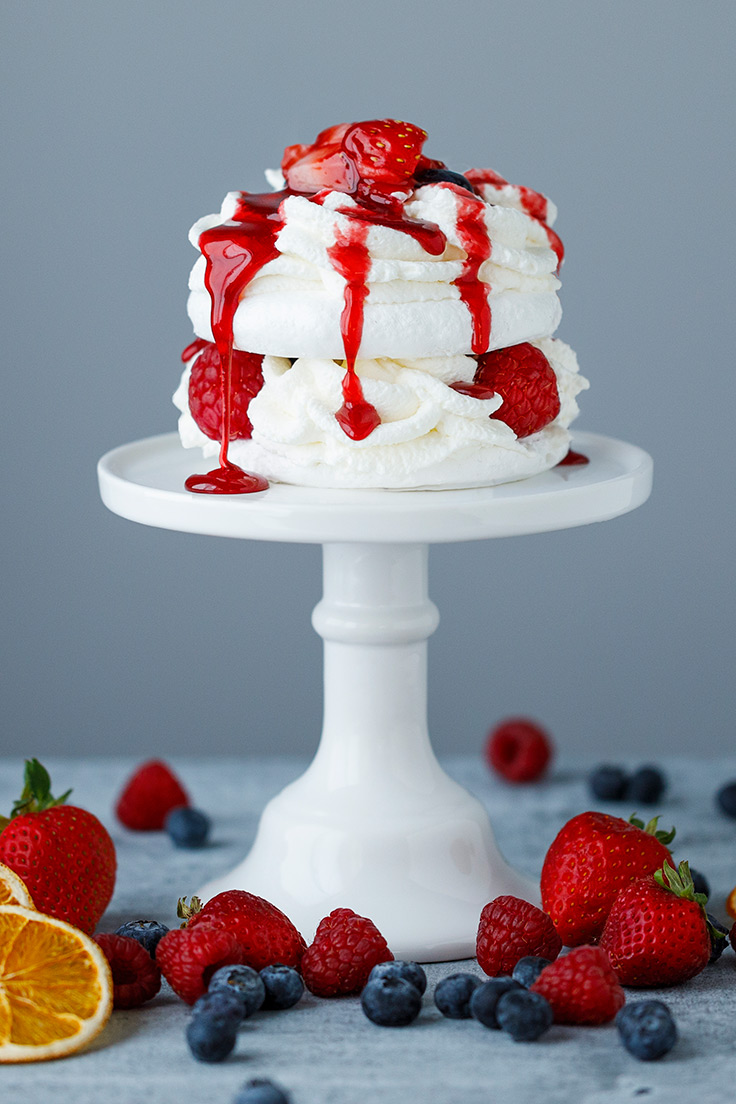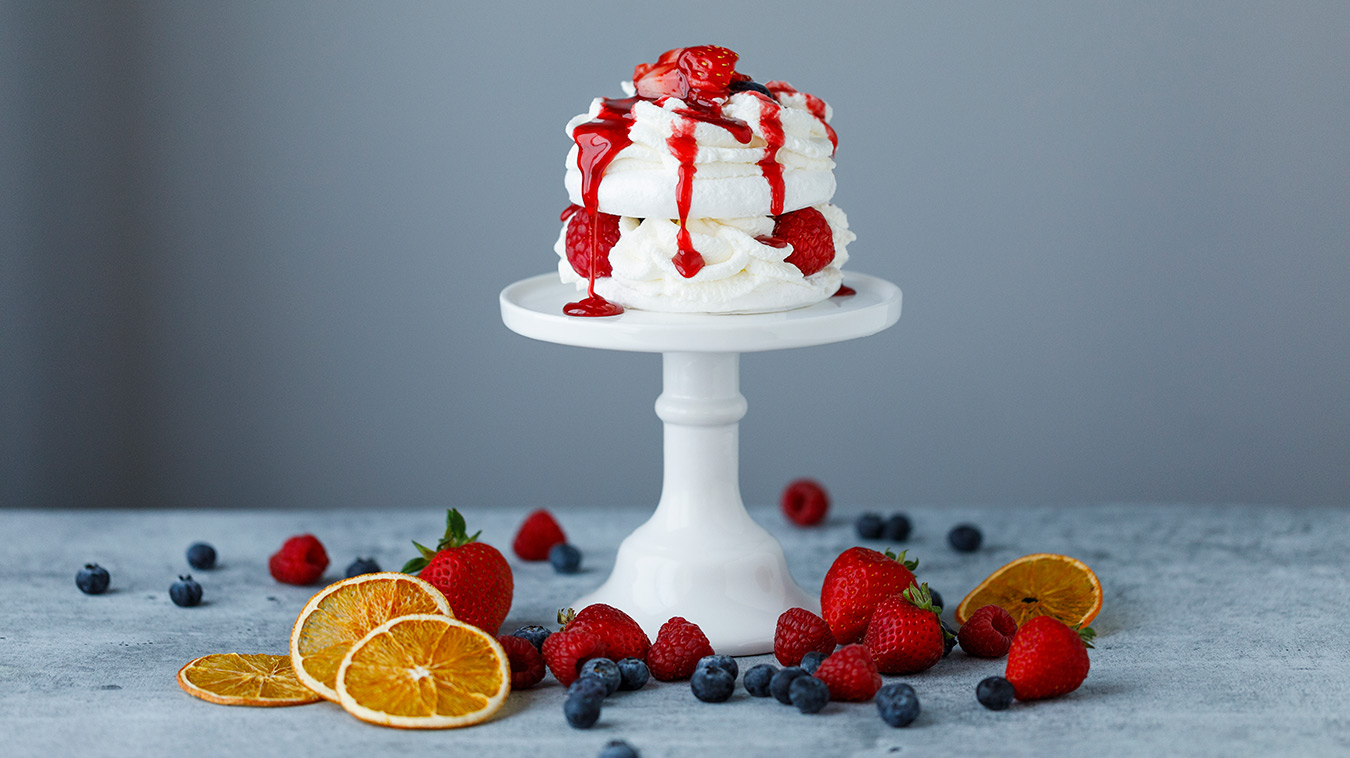 Products used in this recipe