Talking to animals has always been a not-so-secret wish of ours so we were jazzed when to find out our favorite Doctor Dolittle was returning to the big screen! The Ostriches on our tender Vanilla cupcakes are made from gum paste colored with Jet Black Food Color. The fluffy Buttercream frosting is also colored with Jet Black Food Color in various shades of black and grey. Makes 12 cupcakes.
Ingredients
1½ cups flour
3 tbsp cornstarch
2 tsp baking powder
¼ tsp salt
3 eggs
1 heaping cup sugar
6 tbsp unsalted butter, melted and cooled slightly
¼ cup oil
¾ cup milk
FINISHING TOUCHES
SPECIAL EQUIPMENT
silicon feather mold
open star tip
Directions
Begin by making a head and neck for each ostrich. Form ostrich heads out of gum paste colored with Jet Black Food Color.
Stick two toothpicks into the body of the ostriches and let them sit at room temperature, in a deep bowl of sugar for a day to harden. Keeping the ostriches in the sugar will ensure that the heads and necks do not have a flat side, which would happen if placed down onto a piece of parchment to harden, and the toothpicks will give stability when placing them onto the frosted cupcake.
Color gum paste to the desired level of gray and black, then press a bit into a feather mold. Lift it out of the mold and leave to dry overnight.
The next day, preheat the oven to 350℉. Line a standard muffin tin with black cupcake liners.
Sift together flour, cornstarch, baking powder, and salt.
Whip eggs and sugar until light and fluffy.
Add oil, Madagascar Bourbon Vanilla, and butter to egg mixture.
Alternate adding dries and milk, beginning and ending with dries.
Divide batter evenly between cupcake liners. Bake for 18-20 minutes.
Color the buttercream gray using Jet Black Food Color.
Frost the cupcakes using an open star tip and set the ostrich head on the top. Push the feathers into the buttercream along the sides of the ostrich body.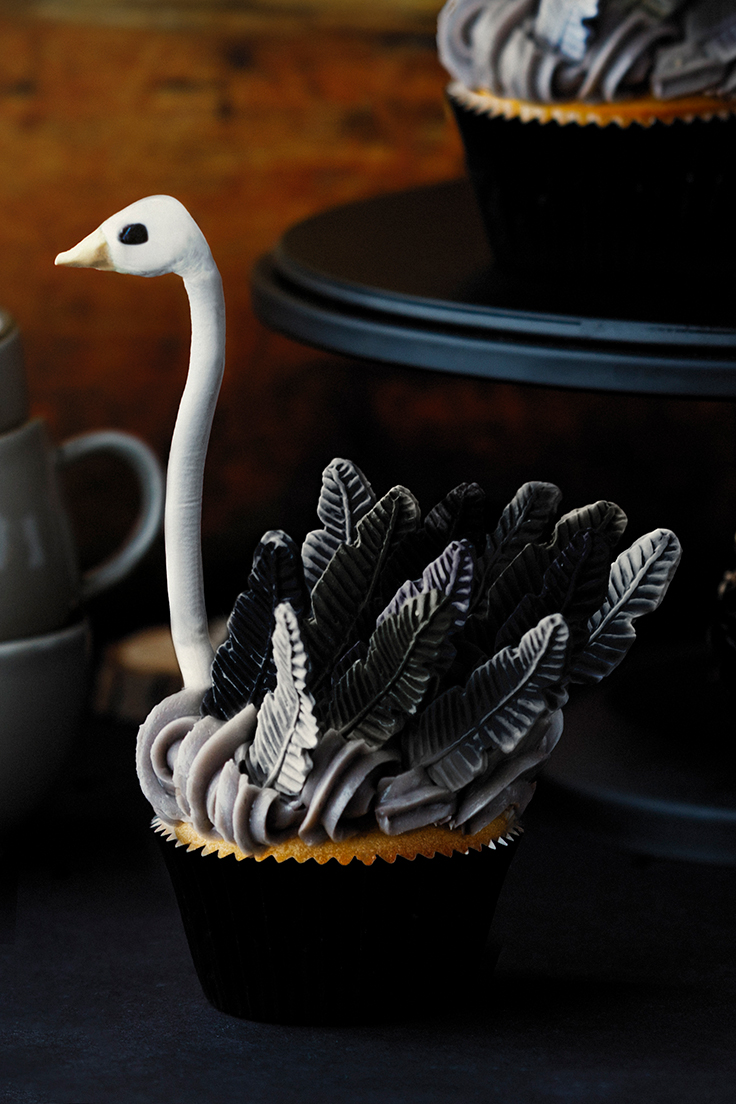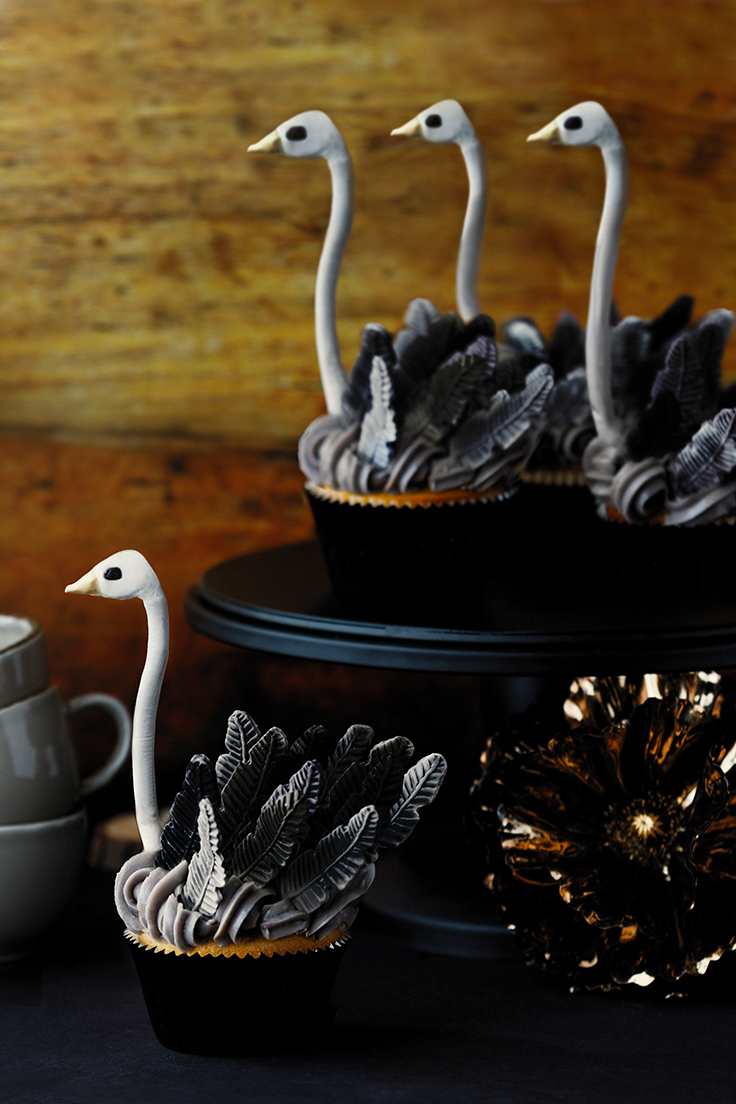 Products used in this recipe