Do you just love pumpkin spice? We do, too! So, we made sure to make some treats that capture that quintessential autumn flavor that you can make all year long. Every pumpkin lover needs to try our Mini Pumpkin Cream Pies with Speculoos Cookie Crust. Put them into little mason jars and they make great gifts during Thanksgiving! The best part is there are only 3 steps to create this delicious dessert! Watch our video to see how it's done!
Ingredients
4 tbsp butter, melted
8 oz cream cheese, softened
½ cup sugar
Directions
Combine melted butter and cookie crumbs. Divide mixture among twelve 4 oz jars (about 2 tablespoons per jar), pressing down firmly to form the crust.
In a large bowl, whip cream cheese until smooth. Add pumpkin purée, sugar, vanilla, and pumpkin spice syrup. Whip for a minute on high, scrape sides of the bowl, then whip again for about 30 seconds, or until smooth. Divide mixture among jars. (You can refrigerate at this point if it will be a while before serving.)
Top pumpkin cream with whipped cream, and drizzle with Amoretti® Salted Crema di Caramel syrup.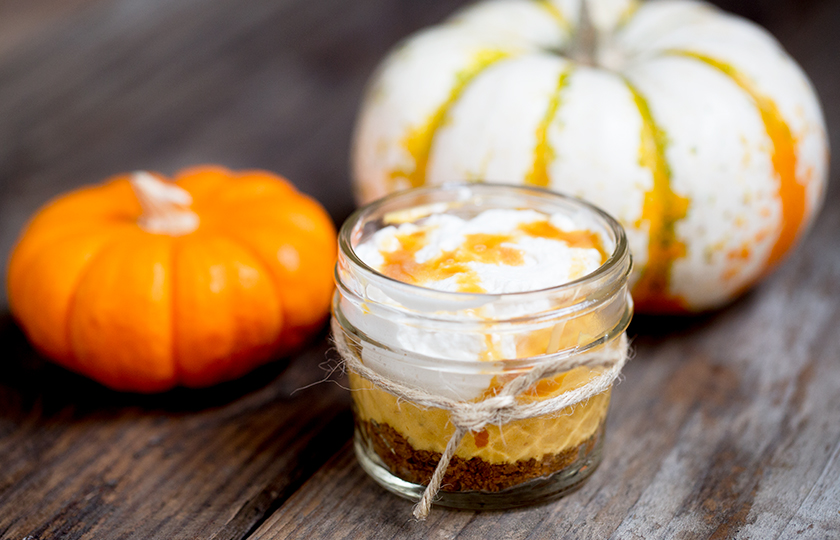 Products used in this recipe