The geometric design of these little pies changes up the usual hand pie look and Amoretti's Lemon Zest Oil Extract brings the lemon flavor to the front of the line, with an extra punch of lemon in every bite. Makes 6 mini pies.
Ingredients
1 tbsp cornstarch
¾ cup + 2 tbsp sugar, plus more for sprinkling
4 extra large eggs
2 egg yolks
2 lemons, juiced
6 tbsp butter, cold & cubed
1 egg, lightly beaten, for egg wash
Directions
MAKE LEMON CURD
Whisk together the cornstarch and sugar, mixing thoroughly.
Add the eggs, yolks, and lemon juice and whisk to combine.
Heat the mixture on low in a heat-proof bowl, over a double boiler, stirring constantly, until the mixture reaches 179℉ (82℃) or until it coats the back of a spoon.
Remove from heat and stir in the cold butter.
Add Lemon Zest Oil Extract, stirring to combine.
Place in an ice bath to cool, stirring frequently.
Cover with plastic touching the curd and chill for 2 hours or overnight.
ASSEMBLE MINI PIES
Preheat the oven to 400℉.
Roll out the pie dough to ⅛" thick and, using a 3" flowered-shaped cookie cutter, cut out 6 bases and set aside, covering tightly to keep the dough soft and pliable.
Cut out sixty 4" x ½" strips, 10 strips per individual pie. (You may use only 8 or 9.) Lay the strips out on a parchment-lined sheet pan and cover with parchment paper, layering as you go. Keep the sheet pan covered with plastic or a large towel.
Place a tablespoon of lemon curd in the center of each flower-cut base.
Place a 1½" round cookie cutter on top of the curd, this is your guide to lay the strips.
Cut a small angle at the top and bottom of one strip of dough.
Brush the bottom side of the strip with egg wash and press the top edge gently onto the flowered base, laying the strip over the curd and around the cookie cutter. Press the bottom edge onto the flowered base, on the opposite side of the round cookie cutter.
Continue this method, working around the cookie cutter in the center, until the circle of strips is complete.
Add an additional teaspoon of lemon curd to the tablespoon of curd in the center to top it off.
Chill the pies for 15 minutes.
Egg wash the top of the dough and sprinkle each pie with sugar.
Bake for 15 minutes or until the dough is nicely browned.
Cool for 20 minutes before enjoying.
TIPS:
Brush simple syrup over the top of the pies when they come out of the oven for a shiny appearance.
The strips or whole pies can be assembled a day ahead, covered, and chilled. Bring to room temperature before assembling (strips) or bake from fridge (whole pies). If the entire pie is made ahead and chilled; brush with egg wash and sprinkle with sugar immediately before baking.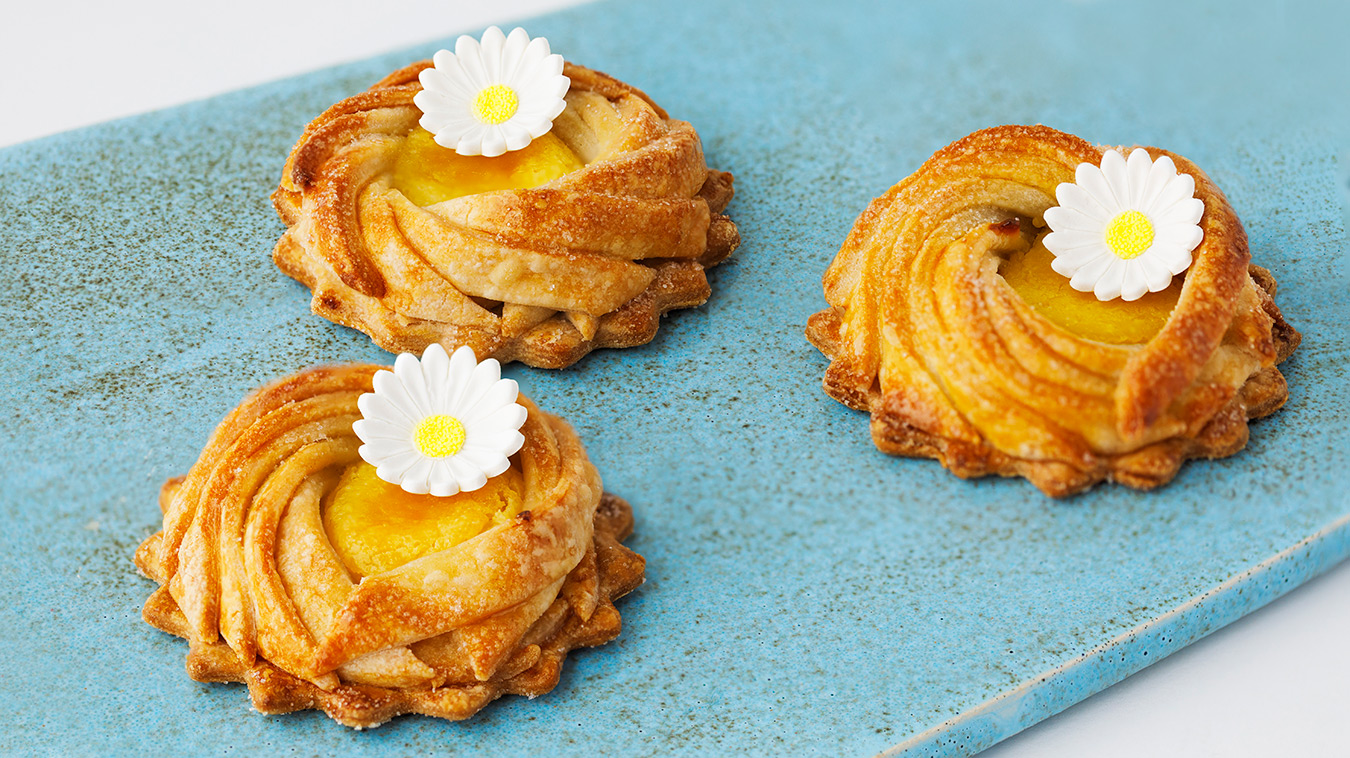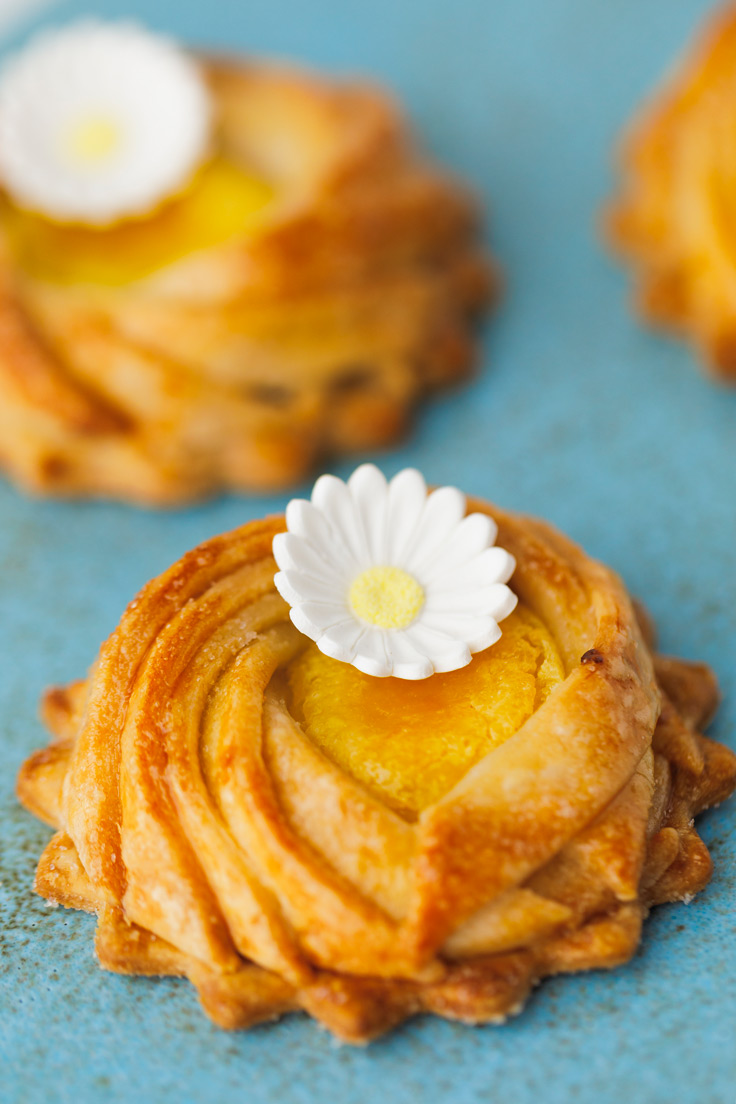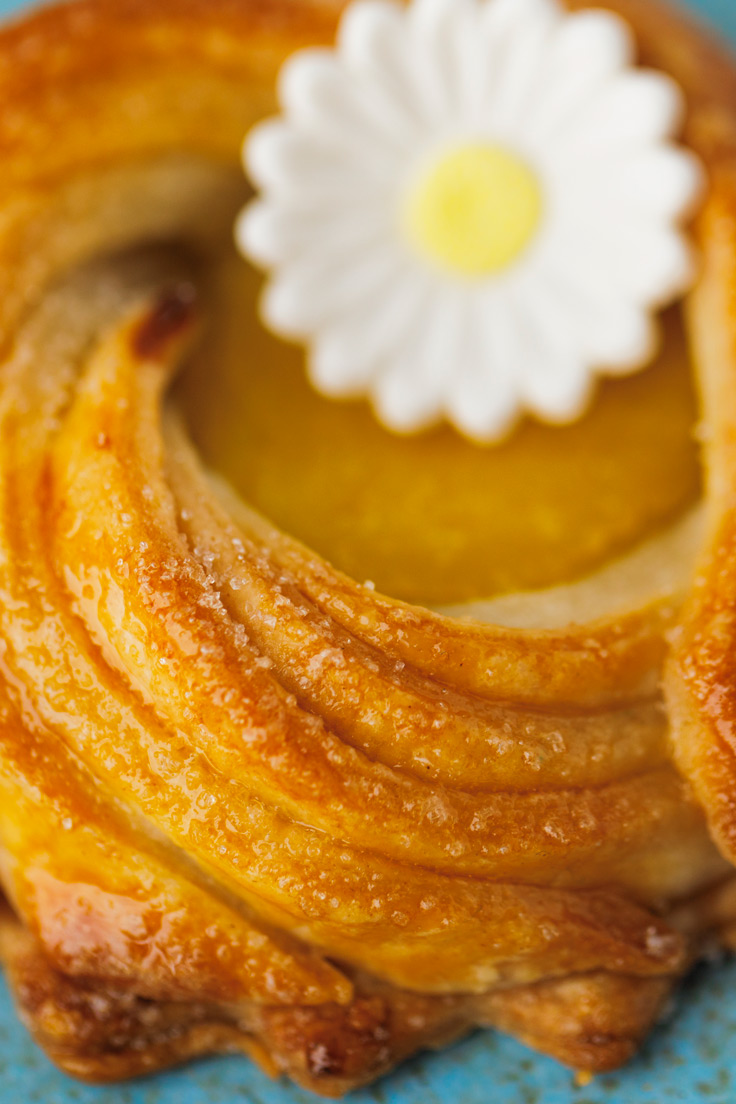 Products used in this recipe