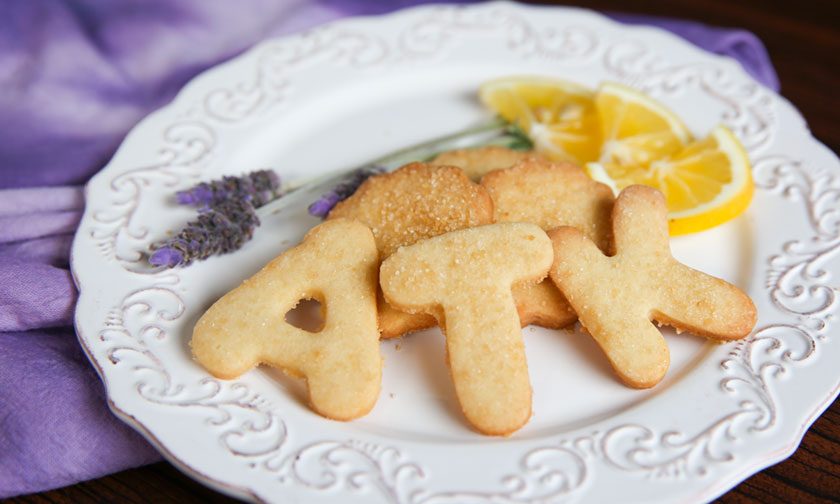 We received a request for lemon lavender sables, and we delivered! Here's a tip for you: we love requests, so keep them coming! Anything you want to see or learn about, we'll figure out in our kitchen and put it up here on the blog for you. So, what are sables? Sable is French for "sand," but in terms of baking it's closer to "breadcrumbs." When you're making sables, the dough looks like breadcrumbs as you mix the butter and dry ingredients, and the result is a soft, crumbly cookie that's fun to eat with chocolate, jam, or tea. And with the citrus of the lemon and robust floral taste of the lavender, these sables are a treat to make and eat!
Ingredients
1 stick + 2 tbsp butter, temperature
A pinch of salt
6 tbsp powdered sugar
1 egg yolk
½ cup + 1 tbsp all-purpose flour
⅓ cup + 3 tbsp cake flour
¼ tsp + ⅛ tsp baking powder
2 tbsp raw sugar for dusting
Directions
Combine all dry ingredients.
Wrap the dough in plastic and chill for at least an hour before rolling out.
Roll out dough to ¼ inch.
Using cookie cutters of your choice, cut out the cookies and place on parchment- or Silpat-lined cookie sheet.
Sprinkle top of each cookie with raw sugar.
Bake in a 350°F oven for 8-10 minutes until lightly browned.
TIPS:
The dough is very soft and will get warm quickly while you're using it. If you're not using it all at once, wrap what is not needed and place it in the refrigerator.
Products used in this recipe