Colorful sprinkles add a little crunch and a lot of joy to these simple citrus cookies. Our month of cookies continues with a one-two punch of lemon with our bright Lemon and Organic Lemon Zest Oil Extracts! And of course our favorite Madagascar Bourbon Vanilla is the one baking ingredient we are never without! Makes about 2 dozen cookies.
Ingredients
1 cup (2 sticks) unsalted butter, room temperature
¾ cup sugar
1 egg
2¼ cups flour
½ tsp salt
8 oz white chocolate
sprinkles
SPECIAL EQUIPMENT
stand mixer or hand mixer
piping bag fitted with a large star tip
Directions
Preheat the oven to 350℉.
Cream the butter and the sugar until smooth.
Scrape down the bowl, add the egg, Madagascar Bourbon Vanilla, Lemon and Organic Lemon Zest Oil Extracts. Mix to combine.
Add the flour and salt all at once, mix until just combined.
Fit a piping bag with a large star tip and fill the bag halfway with dough. The dough is somewhat stiff so it's important to not overfill the bag so you can maintain control.
While squeezing the bag, pipe the dough into rosette shapes on a parchment- lined baking sheet. They can be close together because the cookies will not spread much.
Bake for 7-10 minutes or until lightly browned on the ridges. Let cool.
Melt white chocolate in a heatproof bowl and dip half the cookie into the chocolate. Decorate with colorful sprinkles.
Enjoy!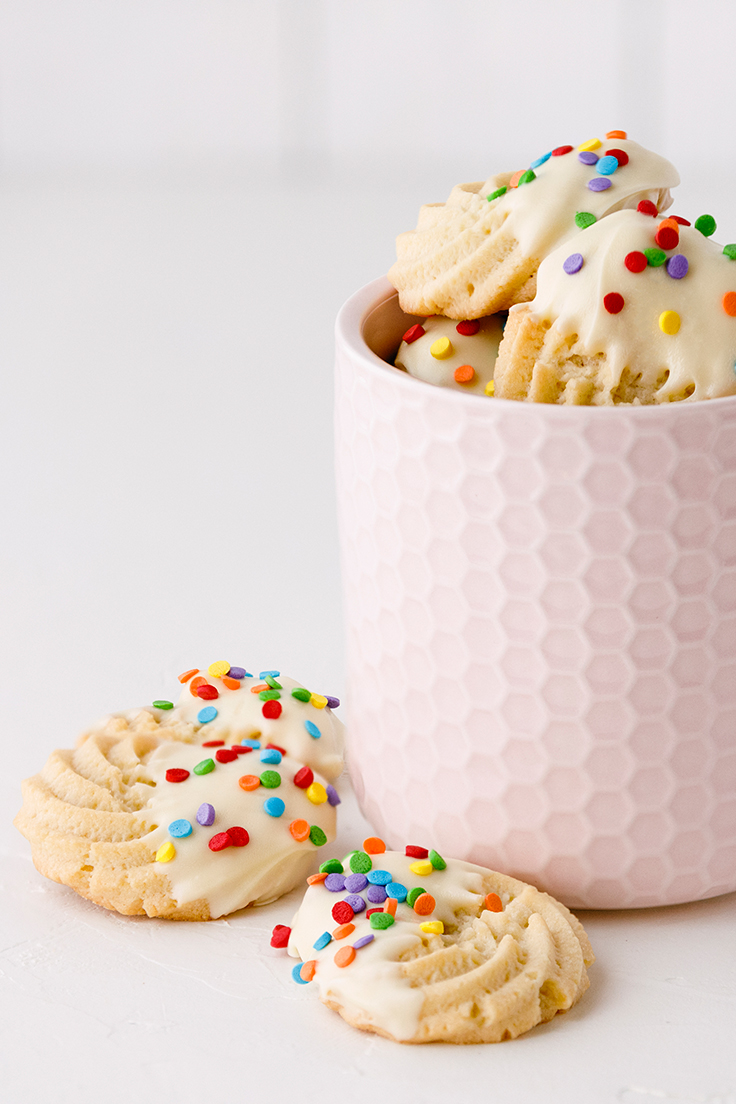 Products used in this recipe