It can be difficult to find healthy, nutritious snacks. You want something quick, nutritious, and of course - delicious. That's a tall order for any food, but we've got an answer for you with these granola bars! Combining oats, almonds, and wheat germ, you're getting all the fiber and protein you could want. The best part is it's customizable, so you can add extras like chocolate chips and/or dried fruits like raisins, cherries, and apricots. Make these bars and keep them around for after school snacks, work treats, or to take on your next camping trip!!
Ingredients
2 cups rolled oats
¼ cup sliced almonds
¼ cup wheat germ
1 tbsp flaxseed meal
2 tbsp brown sugar
3 tbsp honey
7 dates, diced
3 tbsp butter
¼ tsp salt
Directions
Spray a 9-inch square pan with oil.
Lay parchment paper into the pan with the sides hanging over slightly.
Spray the parchment paper.
On a sheet pan, at 350 °F, toast the oats, sliced almonds, Amoretti Almond Flour, wheat germ, and flaxseed meal for 15 minutes.
In a saucepan, combine the honey, Amoretti Blue Agave Nectar, brown sugar, diced dates, butter, salt, and Amoretti Madagascar Bourbon Vanilla Extract.
Heat on medium for about 4 minutes, until the sugars are melted.
Pour the toasted oat mix into a bowl and mix with the warm sugar mixture.
Pour the mix into a 9-inch square pan and bake at 300 °F for 35 minutes.
Set to cool for two hours before cutting.
TIPS:
Time how you'll combine the two mixtures because you want them both to be warm. We recommend heating the butter mixture about 5 minutes before the toasting is done.
The bars need time to solidify before cutting, so don't skip the two hours for cooling.
These bars can be wrapped tightly and kept for a week in the refrigerator.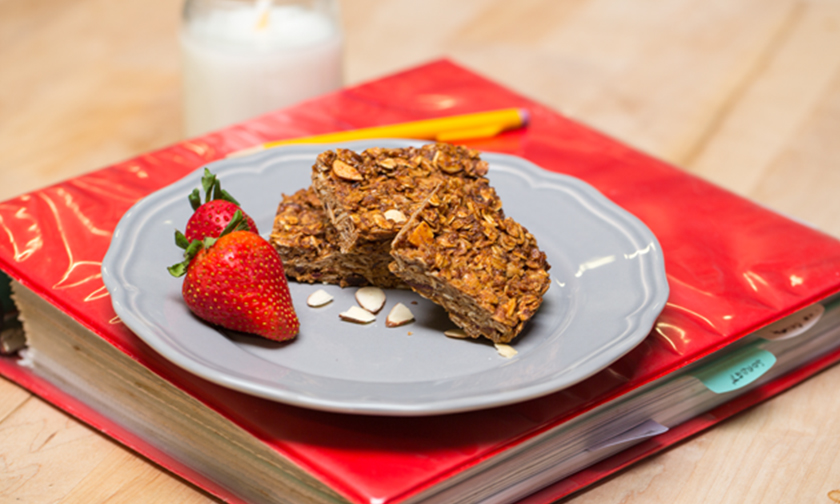 Products used in this recipe