We think our Cornbread with Sweet Corn Honey Butter should definitely be on your 4th of July table! It's gluten free so your whole crowd can enjoy it.
Amoretti's Almond Flour provides a great texture in addition to the cornmeal and lets us leave out the flour. What keeps this cornbread moist is the sour cream and cashew milk. Cornbread is usually fairly neutral as far as savory versus sweet, but this recipe tips slightly toward sweet from the coconut oil and Blue Agave Nectar. It is great gluten free replacement for a sugar loaded breakfast pastry or fructose laden after school snack.
What is cornbread without butter? Try this Sweet Corn Honey Butter. While honey does sweeten the butter, the sweetness in the title here refers to our Sweet Corn Extract. It adds a slightly salty balance to the sweetness of the bread.
We've gathered all the ingredients for our Gluten Free Cornbread: butter and coconut oil, eggs, cornmeal (can't really do cornbread without it), cashew milk, salt, baking powder, sour cream, and Amoretti's Blue Agave Nectar, Madagascar Bourbon Vanilla, and Blanched Almond Flour. Ladies and gentlemen, preheat your ovens!
We've creamed the butter, coconut oil, and Agave. Now we'll add the eggs one at a time; mix each one completely before adding the next one, no one wants weird eggy bits in their cornbread.
We've mixed our Almond Flour, baking powder, and salt in a bowl before adding to the mixer. Scrape the bowl down to make sure everything is well incorporated.
We mixed in the cashew milk (seriously creamy stuff guys, it helps keep our cornbread from drying out) and then ran a spatula around our bowl one last time. We don't want to leave any of this goodness behind!
While our cornbread bakes and cools, we'll mix up our honey butter. Sweet Corn Extract adds a certain je ne sais quoi that'll keep you coming back for more!
Here's the full recipe!
Ingredients
GLUTEN FREE CORNBREAD
¼ cup butter
¼ cup coconut oil
3 eggs
1 cup cornmeal
¼ cup sour cream or mascarpone
2 tsp baking powder
½ tsp salt
¾ cup cashew milk (we used unsweetened vanilla but plain cashew is great too)
SWEET CORN HONEY BUTTER
½ cup (1 stick) butter, room temperature
2 tbsp honey
¼ tsp salt
Directions
GLUTEN FREE CORNBREAD
Preheat oven to 360℉.
Cream the butter, coconut oil, and Blue Agave Nectar until combined. Add eggs, one at a time, then Madagascar Bourbon Vanilla.
Mix in the cornmeal until just combined followed by the sour cream or mascarpone.
Add Almond Flour, baking powder, and salt. Scrape the sides of the bowl to fully incorporate. Slowly stir in the cashew milk.
Pour batter into a greased 8"x8" square cake pan or muffin tin.
Bake 20-30 minutes for square pan or 15-20 minutes for muffins, until a toothpick inserted in the center comes out clean.
SWEET CORN HONEY BUTTER
Combine ingredients well, allow flavors to fully come together by letting it sit for about half an hour.
TIPS:
We realize cashew milk is pretty exotic, if you can't find it feel free to substitute another non-dairy milk.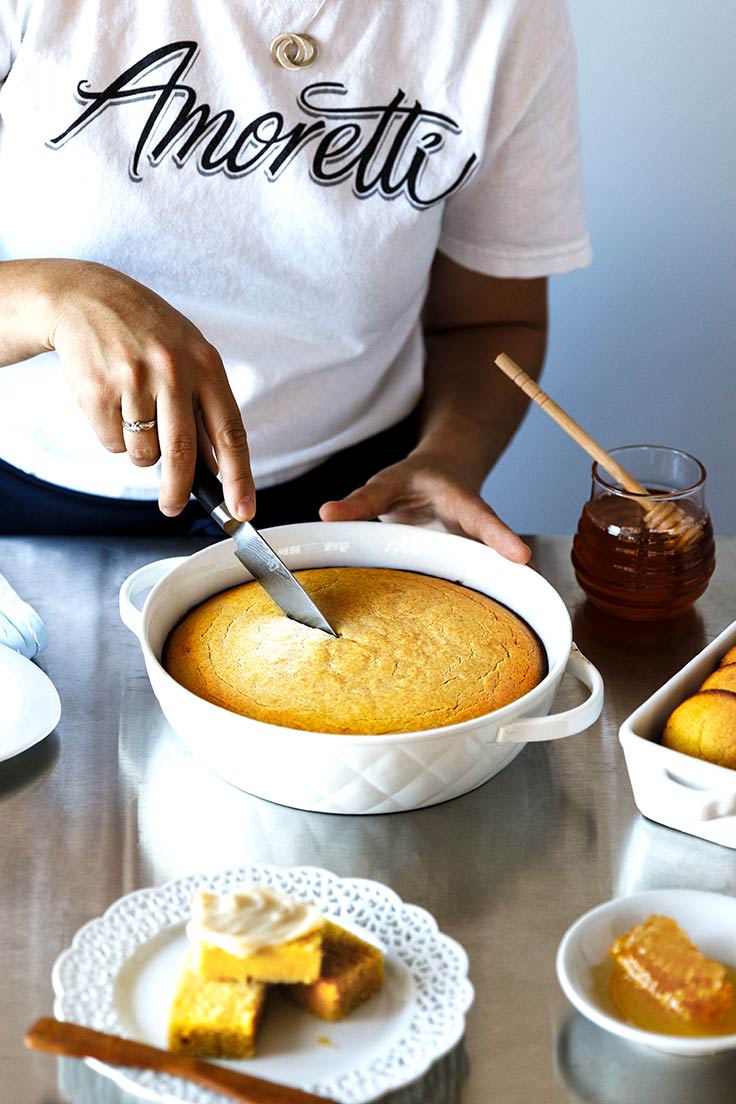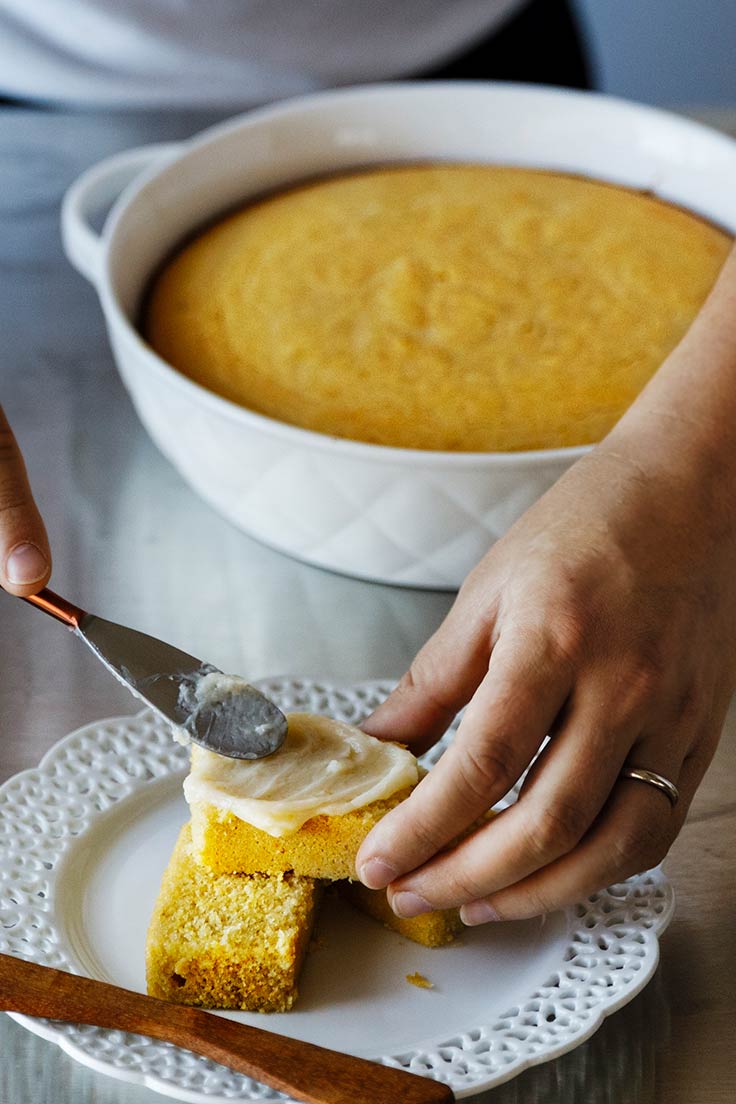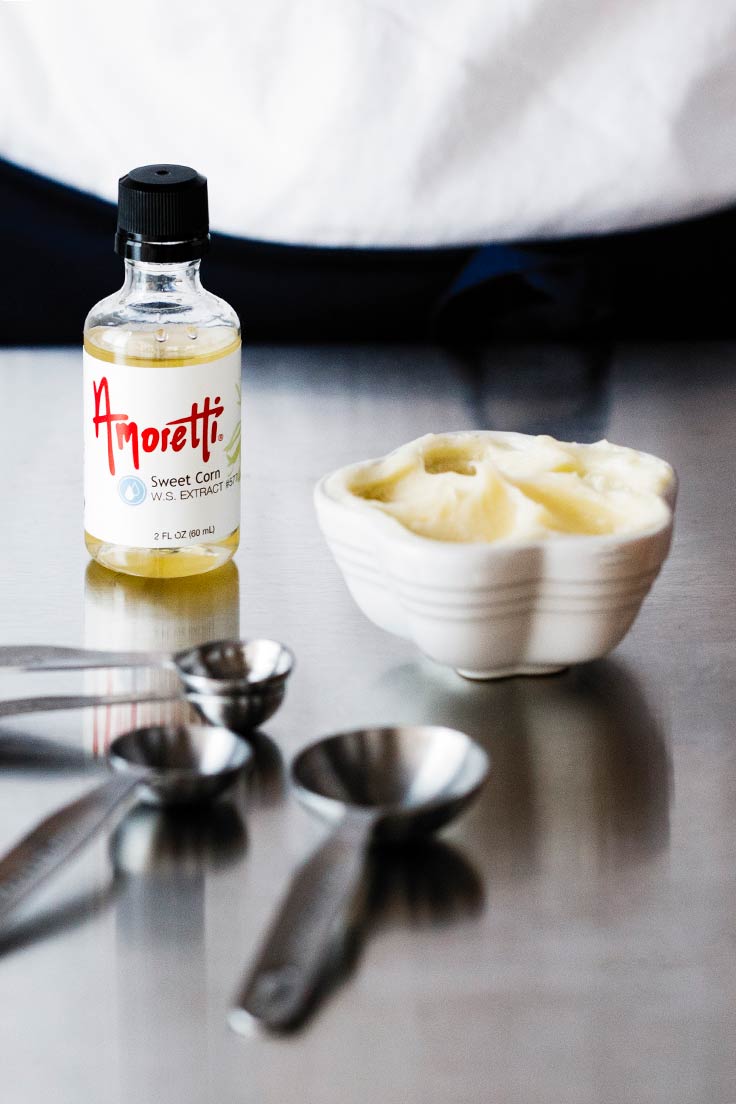 Products used in this recipe