Our favorite meal this summer is fresh Fish Tacos with a delicious Mango Slaw! It's sweet, spicy, cool, and creamy. One bite and it'll be your new favorite meal this summer too!
We'll start by marinating our Mahi-Mahi in a spicy Passion Fruit Marinade. Set it aside while we mix up the slaw so the fish can soak up all that good passion fruit flavor!
We've gathered all the ingredients for our Mango Slaw: red cabbage, green cabbage, fresh cilantro, tomatoes, peppers, mango, red onion and our Chipotle Lime Aioli (guys, this stuff is SO GOOD!).
It's a good idea to toss all our slaw ingredients together before we introduce our dressing. We want aioli in every nook and cranny of cabbage.
Time to add our Chipotle Lime Aioli!
And now we toss toss toss until everything is evenly coated. Now's the time to taste test for salt and pepper levels. Maybe an extra squeeze of lime too?
Top fish-lined tortillas with slaw and finish with sliced avocado and a sprinkle of salt. Let's eat!
Here's the full recipe!
Ingredients
PASSION FRUIT MARINADE
makes 1¾ cups
½ bunch fresh cilantro
⅛ tsp chili flakes
1 cup fresh orange juice
½ fresh jalapeno
1 roma tomato
1 tsp salt
2 lbs protein of choice (we used sliced Mahi-Mahi for our tacos)
CHIPOTLE LIME AIOLI
makes about 1 cup
1 cup mayonnaise
juice of 2 limes
¼ tsp smoked paprika
salt, to taste
MANGO SLAW
makes about 6 cups
2 cups red cabbage, finely sliced or shredded, rinsed (see TIPS)
2 cups green cabbage, finely sliced or shredded
½ bunch fresh cilantro, chopped
2 roma tomatoes, deseeded and thinly sliced long ways
1 or 2 jalapeño or serrano peppers, deseeded and thinly sliced long ways
1 large mango, julienned
½ red onion, very thinly sliced, soaked in ice water (see TIPS)
TO SERVE
corn or flour tortillas
sliced avocado
lime wedges and fresh cilantro to garnish
Directions
PASSION FRUIT MARINADE
Blend all ingredients together.
Let the marinade sit for about 10 minutes to allow the flavors to meld before marinating your protein, 2 lbs of Mahi-Mahi in our case.
Pour marinade over sliced Mahi-Mahi and let fish marinate for at least 15 minutes before cooking.
We baked our fish in the oven to retain as much of the marinade flavor as possible but feel free to cook your fish however you'd like.
CHIPOTLE LIME AIOLI
Whisk all ingredients together.
Taste and adjust salt and lime juice accordingly to your liking.
For best results, wait about 30 minutes before using. This will allow the paprika and chipotle to fully flavor the aioli. Now would be a good time to chop everything for your Mango Slaw.
MANGO SLAW
Combine all ingredients in a large bowl.
Toss with Chipotle Lime Aioli and season with salt and pepper to taste.
TO SERVE
Lay 2-3 pieces marinated Mahi-Mahi in each tortilla.
Top with Mango Slaw.
Serve with sliced avocado, cilantro, and a cold beer!
TIPS:
Unused Passion Fruit Marinade will last in the fridge for a week.
While we used our Passion Fruit Marinade for fish tacos, it can certainly be spooned on top of fish or chicken after cooking as well for an addition of flavor. Make sure to only use marinade that has not been in contact with any raw fish or poultry!
Mahi-Mahi is a sustainable seafood. It is also very forgiving to the cooking process: it retains its moisture even if it is cooked for a bit longer than planned.
The Mango Slaw recipe makes enough to generously top at least 8 tacos.
Rinsing the red cabbage draws the purple pigment out of it. This step can be eliminated but will result in a rather unappetizing purple-gray hue to the entire slaw once dressed. Be sure to dry it well before mixing, using a spinner or simply placing it in a small layer on a kitchen towel works well.
Soaking the thinly sliced red onion in ice water has two purposes: the cold shock keeps the onion crisp for a longer period and the water rinses off that initial pungent onion juice that would otherwise seep into every inch of your slaw making it taste too oniony.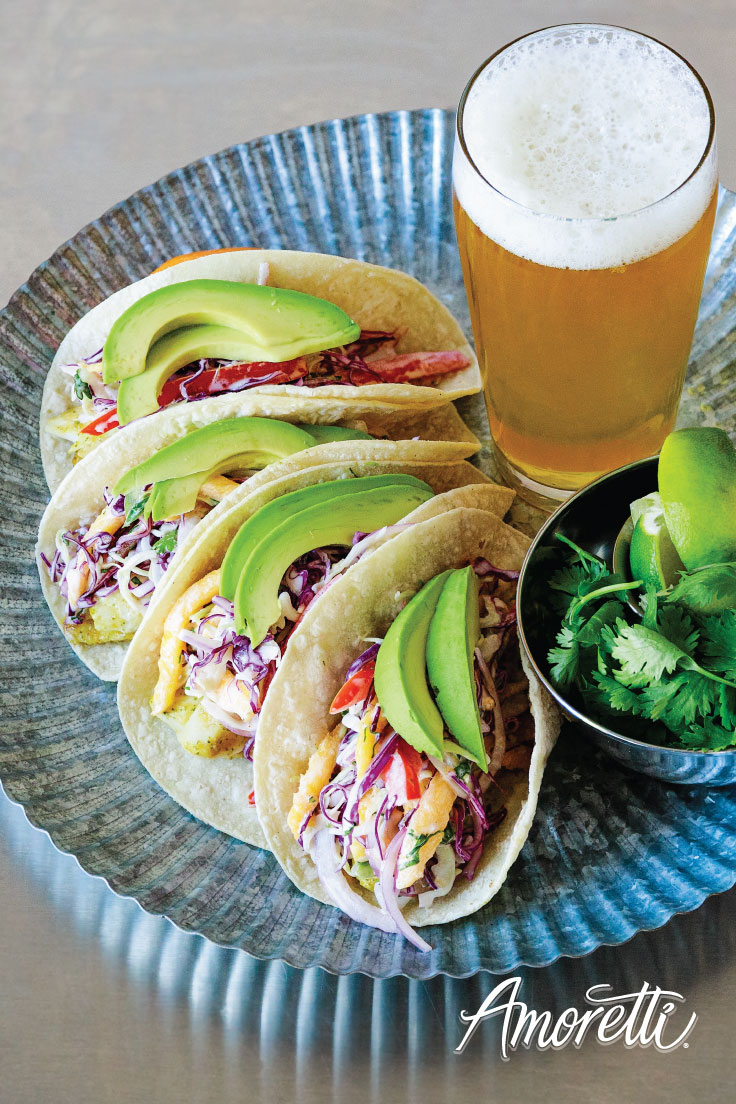 Products used in this recipe