Tomorrow is Valentine's Day! Bake up a batch of these tonight for a fresh, festive breakfast for your friends. Toasting the coconut flour gives these muffins a nice nutty flavor; they are light in color and texture. Adding fresh or frozen berries to the centers make for an extra surprise in every bite. And Raspberry Swirl boosts the raspberry flavor and adds a pleasant sweetness. Makes 48-50 mini muffins.
Ingredients
1 cup coconut flour
½ cup fresh or frozen raspberries, halved if large
2 tbsp Amoretti® Raspberry Swirl
1 - 14oz can coconut milk
4½ cups cake flour
¼ tsp salt
3¼ tsp baking powder
3 large eggs, room temperature
1¾ cups sugar, plus more for sprinkling
½ cup coconut oil, melted and cooled slightly
2 tbsp + 1 tsp Amoretti® Natural Coconut Cream Artisan
SPECIAL EQUIPMENT
Directions
Preheat the oven to 350℉. Grease mini muffin tin and set aside.
Toast the coconut flour for 3-4 minutes and set aside to cool.
Combine the fresh or frozen raspberries with Raspberry Swirl and stir gently, so as not to break up the raspberries too much. Let them sit while you make the batter.
Whip the coconut milk for 3-4 minutes and set aside.
Sift together the cake flour, salt, and baking powder and set aside.
Beat the eggs and sugar to combine.
Add the coconut oil and mix to combine.
Alternate adding the dry ingredients and the coconut milk.
Add Coconut Cream Artisan and mix to combine.
Using an ice cream scoop for even sizing, fill the mini muffin tin. Push a raspberry into the center of each muffin and gently spread the muffin batter over the top to hide the raspberry.
Lightly sprinkle sugar on the top of each muffin.
Bake the muffins for 20-25 minutes, until the tops are firm to the touch and just beginning to brown around the edges.
TIPS: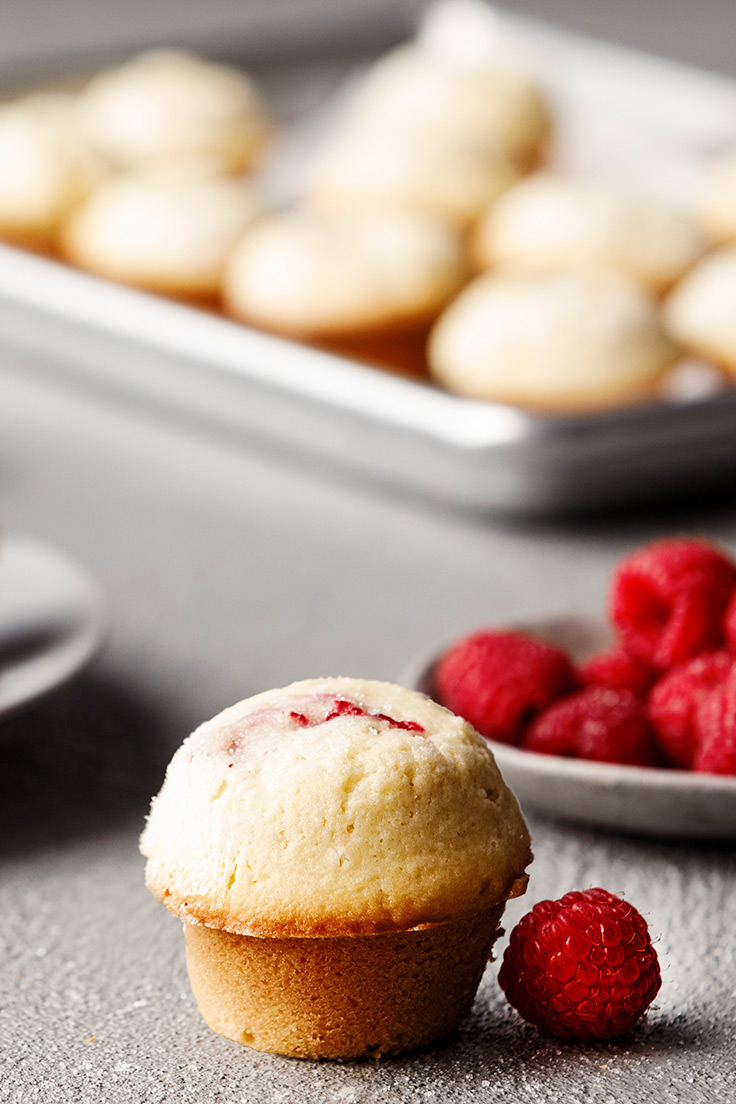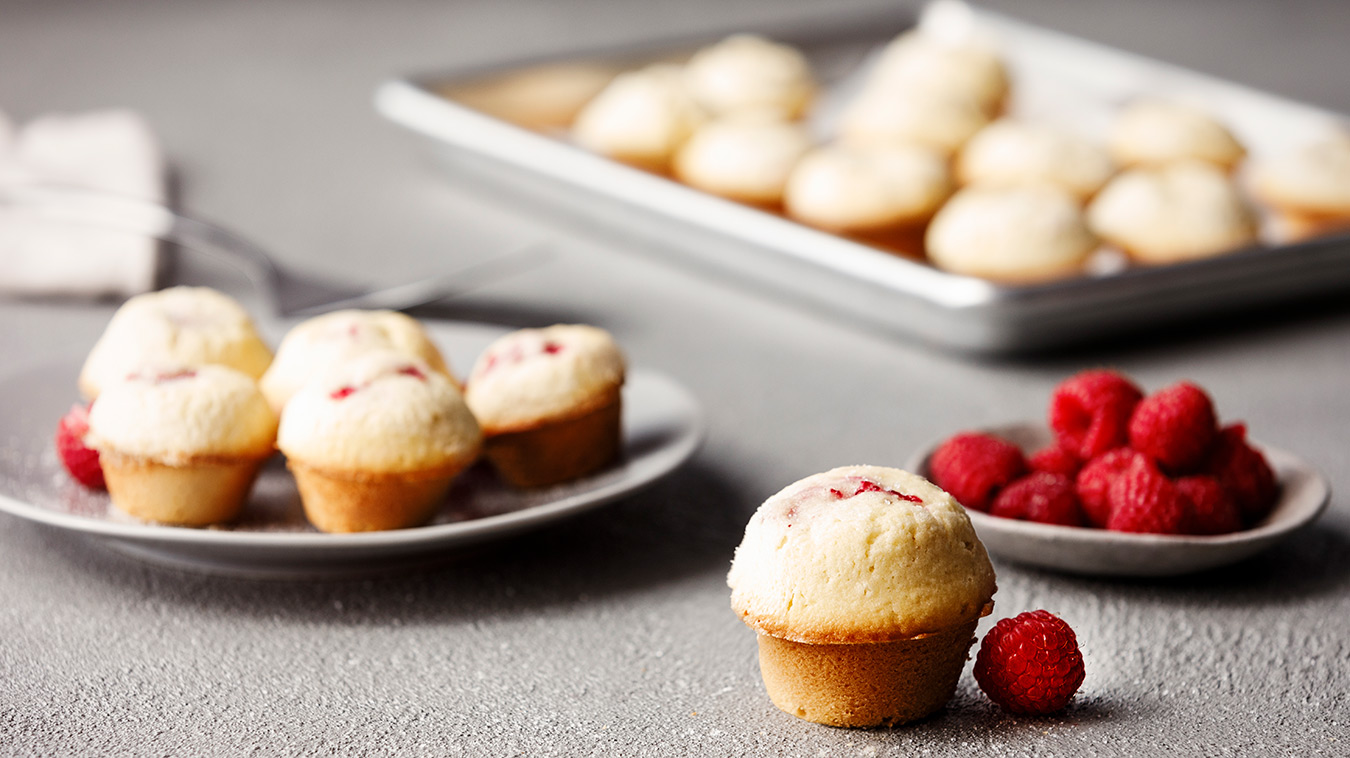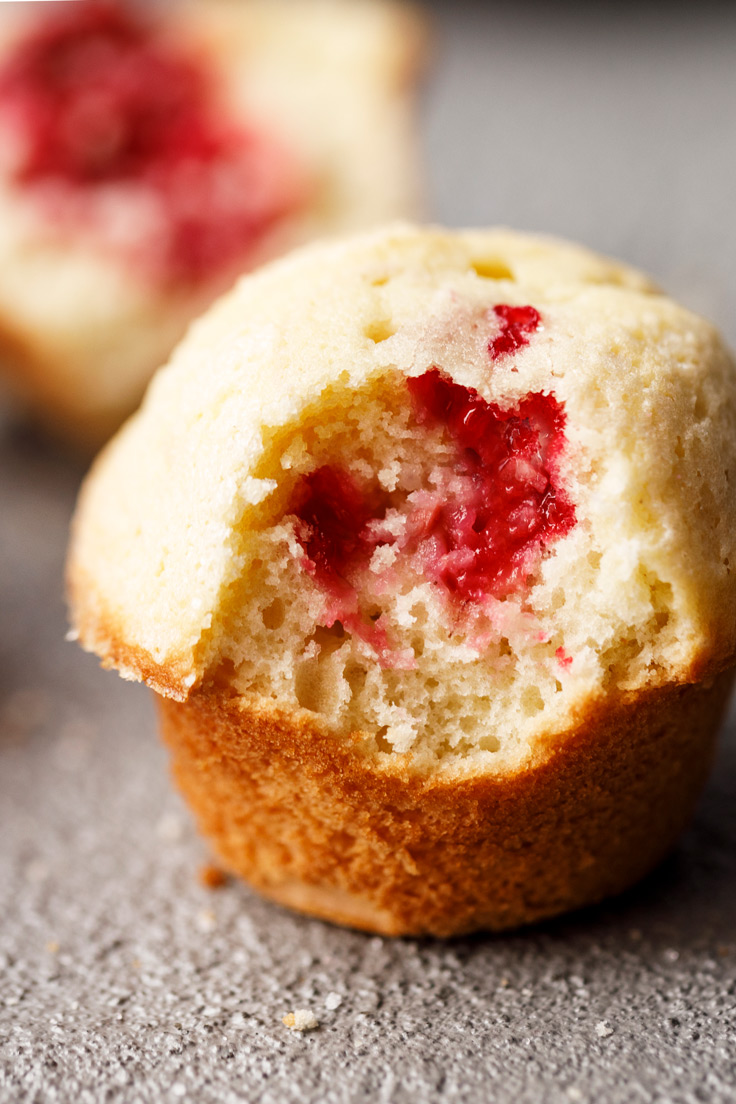 Products used in this recipe