Need a super healthy soup to give you those veggie vitamins? Try our Carrot Ginger Basil Soup, it's so delicious and creamy!
Ingredients
2 tbsp butter
¼ cup olive oil
1½ lbs or one bag carrots, peeled and thinly sliced
1 onion, thinly sliced
1½ tbsp finely grated fresh ginger
4½ cups vegetable or chicken stock
¼ tsp nutmeg
½ tsp salt
¼ tsp white pepper
¾ cup crème fraîche, sour cream, or heavy cream
4 tbsp fresh basil leaves, thinly sliced
Directions
In a medium saucepan, melt the butter and olive oil.
Add sliced carrots, onions and ginger. Cover and cook over moderately high heat for about 8 minutes, stirring occasionally.
Add vegetable or chicken stock, nutmeg, salt, pepper and cover. Simmer for about 10 minutes until carrots are soft.
Purée the soup in batches in a blender or food processor. If the soup is not puréed completely, a hand blender will finish it to make it smooth.
Return soup to the saucepan, and warm.
Add Basil Oil Extract and cream.
Serve with dollop of crème fraîche or sour cream and sliced fresh basil.
This soup is very nice hot or cold.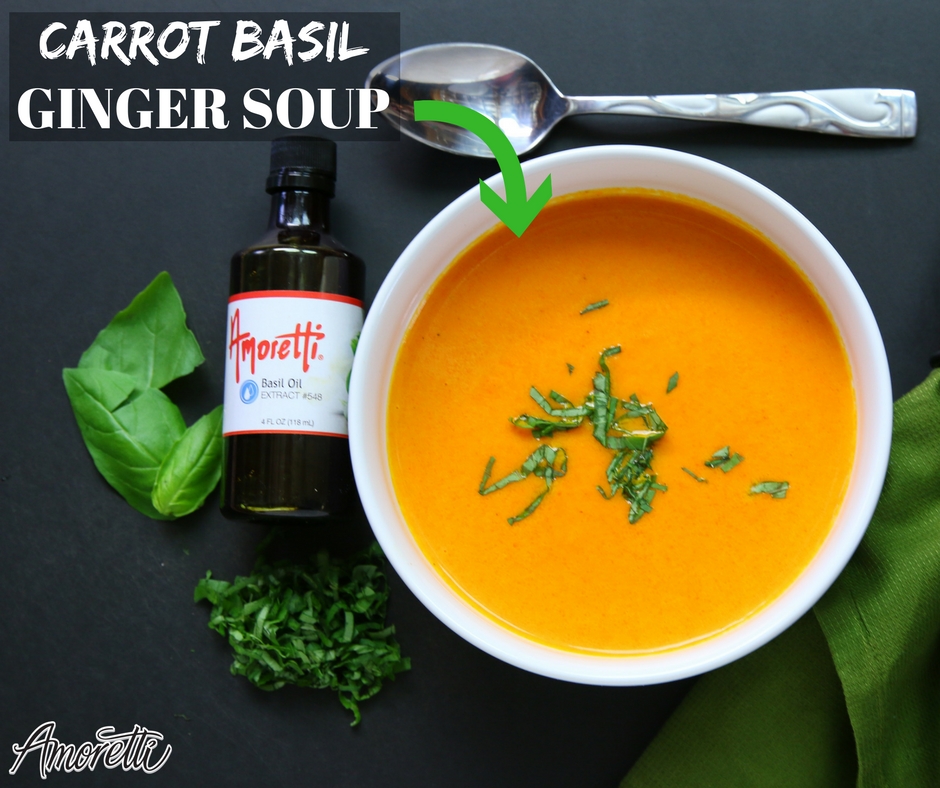 Products used in this recipe