Just in time for Easter, try this delectable carrot cake!
Ingredients
CARROT CAKE
4 eggs
1½ cups vegetable oil
2 cups sugar
¼ tsp salt
1⅔ cups bread flour
2¼ tsp cinnamon
½ tsp baking soda
¼ tsp baking powder
4¼ cups shredded carrots
MAPLE CREAM CHEESE FROSTING
1½ lbs cream cheese, room temperature
1 cup (2 sticks) butter, softened
225 grams powdered sugar, sifted
Directions
CARROT CAKE
Quickly pulse shredded carrots in a food processor for a finer shred.
Sift dry ingredients and set aside.
Whip eggs, oil and Madagascar Bourbon Vanilla until completely combined.
Add sugar and whip to incorporate.
Add sifted dry ingredients to egg mixture and scrape bowl once or twice during mixing.
Fold in carrots by hand.
Spray and line cake pans with parchment paper.
Bake at 350°F for about 40 minutes, or until wooden stick comes out clean when dipped into center of cake.
Cool completely before chilling.
Chill for at least 4 hours or overnight.
MAPLE CREAM CHEESE FROSTING
Mix cream cheese on medium speed, with paddle attachment, until smooth.
Add softened butter, and mix again until combined.
Add sifted powdered sugar, Madagascar Bourbon Vanilla, and Maple Extract.
Mix until smooth.
Add frosting to cake
Enjoy!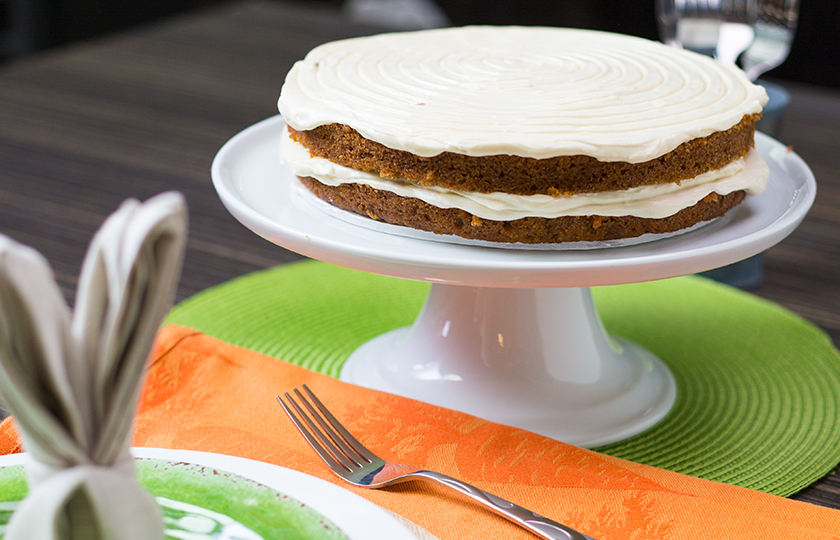 Products used in this recipe