Torrone is a traditional Italian nougat typically made from honey, sugar, egg whites, and toasted nuts. While typically a very time-consuming recipe, our White Nougat "Torrone" takes on the tedious part of the recipe just leaving us to add the final touches. This is a soft torrone filled with tasty morsels of Candied Orange Peel, dried blueberries, and crunchy pistachios!
Ingredients
1 tbsp Candied Orange Peel
1 cup + 2 tbsp chopped toasted pistachio, divided
2 tbsp dried flower petals (we used equal parts rose and marigold petals), plus more for the top
⅓ cup dried blueberries
SPECIAL EQUIPMENT
standard loaf pan
cellophane cut in squares
Directions
In the bowl of a stand mixer fitted with the paddle attachment, combine White Nougat "Torrone", Candied Orange Peel, 1 cup pistachios, and flower petals.
Turn the mixer on low and mix for about 30 seconds, until fully incorporated.
Add the blueberries and mix for about 10 more seconds, until a nice purple swirly color begins to form.
Remove the paddle and knead by hand (oil your hands slightly) a few times to ensure incorporation.
Spray a loaf pan with a touch of oil or line it with plastic wrap. Sprinkle reserved pistachios and flower petals on the bottom.
Press the nougat into the loaf pan.
Flip the nougat out and cut into individual pieces with an oiled knife.
Wrap pieces in cellophane to help hold its shape.
TIPS:
If you don't have a stand mixer, just knead the nougat with lightly-oiled hands.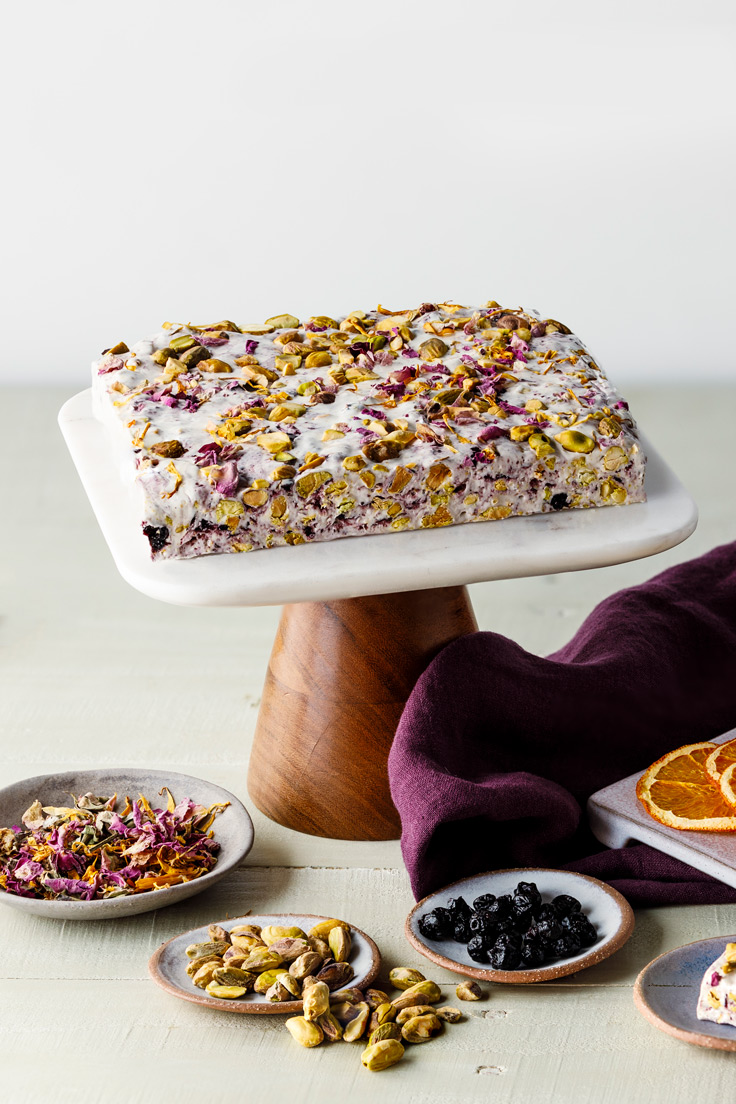 Products used in this recipe