A delicious banana cream filling sets the tone for Mardi Gras festivities; it's time to enjoy some beignets!
Ingredients
BANANA PASTRY CREAM
1 cup milk
3 tbsp sugar
2 egg yolks
1 tbsp Amoretti® Banana Compound
3 tbsp sugar
3 tbsp cornstarch
¼ cup milk
2 tbsp unsalted butter
BEIGNETS
⅔ cup warm water (around 110°F)
1⅛ tsp yeast
¼ cup sugar, divided
½ cup evaporated milk
2 large eggs, lightly beaten
½ tsp salt
3⅔ cups bread flour, plus more for kneading
2 tbsp shortening
colored sugar, for coating
SPECIAL EQUIPMENT
Directions
BANANA PASTRY CREAM
In a small pot, whisk together milk, Madagascar Bourbon Vanilla and sugar. Heat until it steams.
In a separate bowl combine remaining ingredients and whisk thoroughly.
Whisk scalded milk mixture into yolk mixture in a slow and steady stream.
Immediately place mixture back into the pot and whisk continuously over medium low heat until it thickens.
Remove from heat and strain into a wide and shallow container.
Place plastic wrap directly on top so no skin forms as it cools. Cool in refrigerator until ready to use.
BEIGNETS
Combine water, yeast, and 2 tbsp of sugar. Let sit for 10 minutes.
Meanwhile, whisk evaporated milk, eggs, salt, Madagascar Bourbon Vanilla, and remaining sugar. Add to yeast mixture.
Add 3 cups of the flour and stir with a wooden spoon.
Add vegetable shortening and continue to stir while incorporating the remaining flour.
Keep mixing until a shaggy dough forms. Knead for several minutes until dough is somewhat smooth and elastic. Dough should be soft but not sticky.
Place in a greased bowl, turning to coat evenly with oil, and cover it with plastic wrap.
Proof for 3 to 4 hours. After proofing dough is ready to cut or may be kept in the fridge for up to one week.
In a large, deep pot begin heating oil.
Roll the dough out to about ¼" thick and cut into 2" squares.
Fry at 375°F to a light golden brown, turning halfway through.
Remove from oil and toss in colored sugar while still hot.
Whisk pastry cream and place in a pastry bag with a narrow tip.
Once beignets have been sugared and are cool enough to work with, pierce the beignet with the pastry tip and fill with desired amount of pastry cream.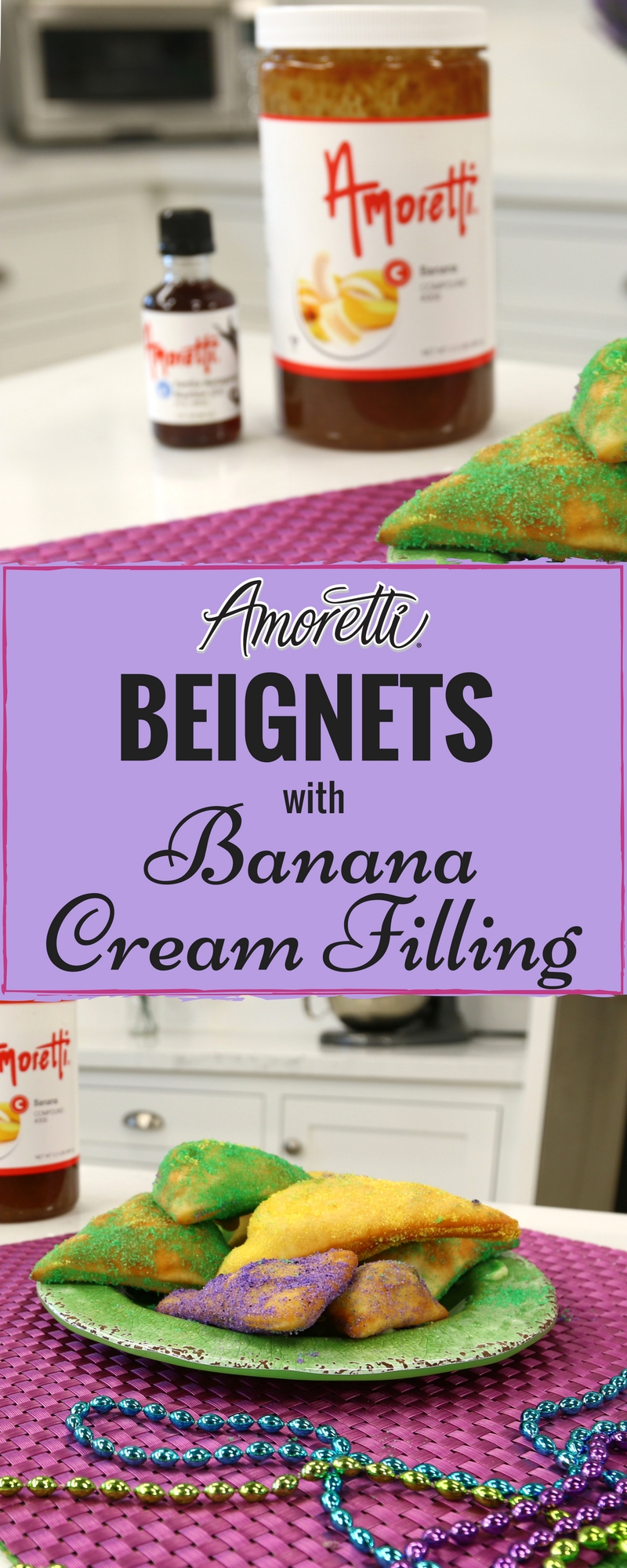 Products used in this recipe