This Armenian Sweet Bread is fragrant with the spice of Mastic Oil Extract. Fairly uncommon in the States, mastic comes from the sap of a tree grown on a tiny island in Greece and gives a subtle pine or cedar-like flavor to the bread. Although typically seen at the table around Easter, this bread is delicious any time of the year. Similar to challah and brioche, our sweet bread is enriched with butter and eggs. Makes 1 large loaf.
Ingredients
1⅛ tsp active dry yeast
¼ cup water, warm
½ cup whole milk
⅓ cup sugar
¾ tsp salt
3 eggs, room temperature, divided
3 cups bread flour
6 tbsp unsalted butter, room temperature
3 tbsp cornmeal
2 tbsp sesame seeds
Directions
In a mixing bowl, dissolve the yeast in warm (110℉) water. Let it sit for a few minutes until it bubbles.
Microwave the milk for 30 seconds, just to take the fridge chill off, and add to the mixing bowl with the yeast.
Then add the sugar, salt, 2 of the eggs, Blue Agave Nectar, and Mastic Oil Extract. Mix to combine.
Add the flour and, using a dough hook, mix until the dough comes together.
Add the butter a little at a time and mix in between each addition, let the butter be incorporated before adding more.
Once all the butter has been added, mix the dough for 3 minutes.
Spray a large bowl with oil and put the dough into the bowl. Spray the top of the dough, cover with a towel and place the bowl in a warm spot. Or you can set your oven dial to "proof" if you have one, we set our proof temperature at 95℉.
Let the dough proof for 1½-2 hours, until doubled in size.
Divide the dough into 3, 4, 5 or 6 sections (depending on the number of strands you want to braid) and roll each section into a rope/strand about 10" long.
Connect the strands at the top and press them together firmly.
Braid the strands, tucking the ends at the bottom under the loaf (watch our video for this step!).
Sprinkle cornmeal onto a parchment-lined sheet pan. Spray oil on the loaf and place on the pan.
Cover with a towel and proof again in a warm place for about 30 minutes or until the loaf has doubled in size.
Meanwhile, preheat the oven to 350℉ and beat remaining egg with 1 tbsp water and a pinch of salt to make an egg wash.
Once proofed, egg wash the loaf.
Dip a finger into egg wash and then into the sesame seeds. Roll the sesame seed-covered finger onto each section of braid. This gives you control over how many seeds you want to use.
Bake for 20-40 minutes, until it is a deep golden-brown color. Cool on a rack for 5-10 minutes.
Tear or slice and enjoy!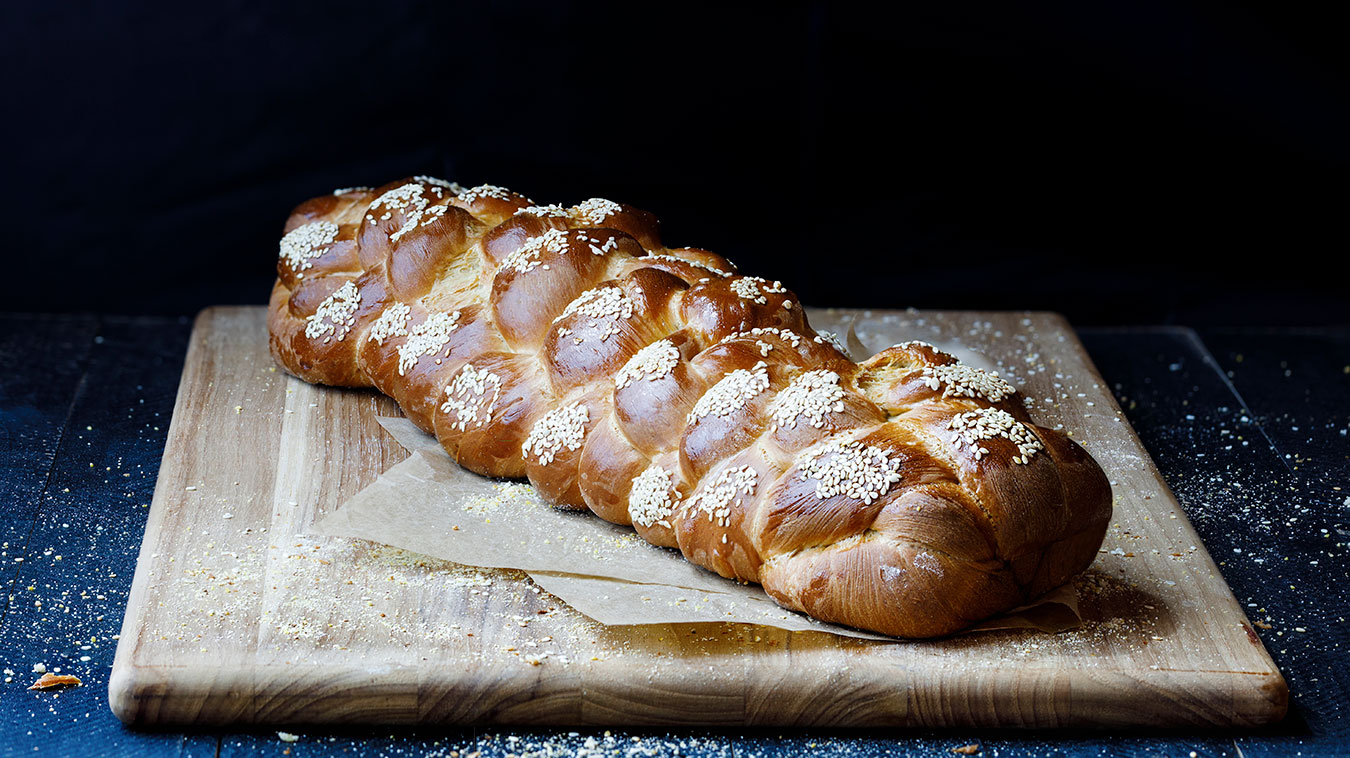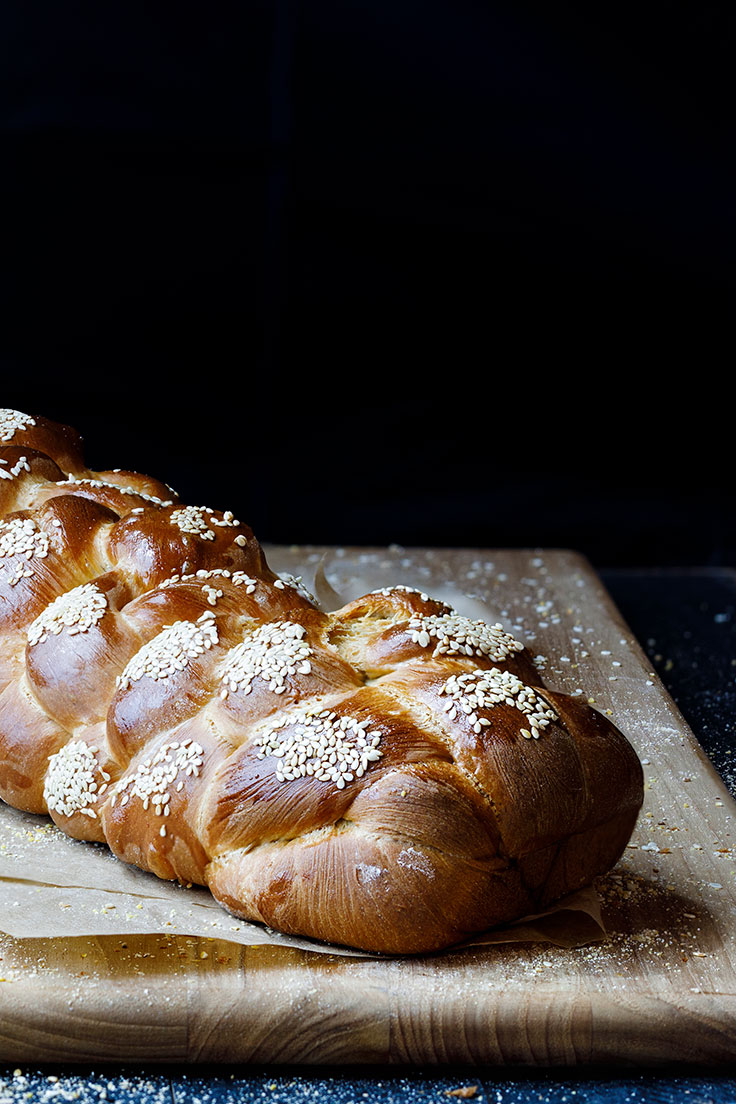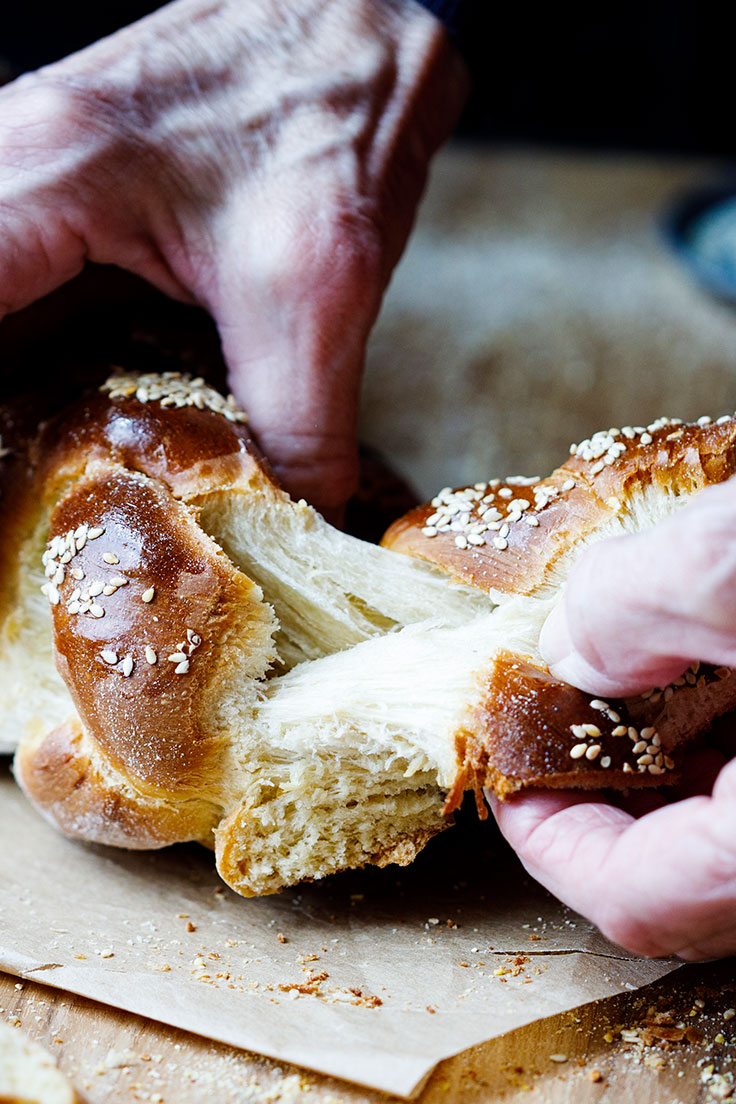 Products used in this recipe