Get into the spirit of the holidays and make this delicious apple pie with a flaky crust!
Ingredients
DOUGH
2½ cups all purpose flour
1 tsp salt
1½ tsp sugar
2½ + 2 tbsp cold butter, cubed
4 tbsp ice water
FILLING
7 Granny Smith apples, peeled and sliced
3 tbsp sugar
2 tbsp brown sugar
3 tbsp butter
1 tsp cinnamon
pinch nutmeg
2 tbsp cornstarch
⅓ cup water
1 tbsp lemon juice
1 tbsp Amoretti® Apple Pie Artisan
1 egg, lightly beaten, for egg wash
turbinado sugar, for topping
Directions
DOUGH
Combine all dry ingredients.
Add butter and mix until pea-sized.
Add ice water and mix until dough comes together.
Divide into two portions, wrap in plastic and chill for about an hour.
Roll-out one portion of pie dough to fit pie dish, leaving some dough overhanging on sides.
Brush bottom and sides of pie dough lightly with egg white wash, this will keep liquid from soaking through the dough as it bakes.
FILLING
Sauté apples, sugars, butter, cinnamon and nutmeg until lightly browned; 8-10 minutes.
Make a slurry of cornstarch, water and lemon juice. Add to warm apples and cook another 5 minutes to thicken.
Remove from heat, add Apple Pie Artisan and stir to combine.
Pour apple mixture into prepared pie dish.
Roll-out second portion of pie dough and cut into strips about 1″ thick.
Brush edges of dough in dish with egg wash.
Lay first strip in center of pie and continue placing strips across the surface.
Lift every other strip and place another strip in center of pie, perpendicular to the others.
Continue this as you go, adding strips to entire surface. Watch our video to see this in action.
Roll edges and crimp as you go around the edge of the pie, sealing edges.
Brush with egg wash and sprinkle top with turbinado sugar.
Bake at 350°F for 1 hour or until bottom of pie is browned and top is bubbling. If it begins to brown too much, lightly tent with foil and continue baking.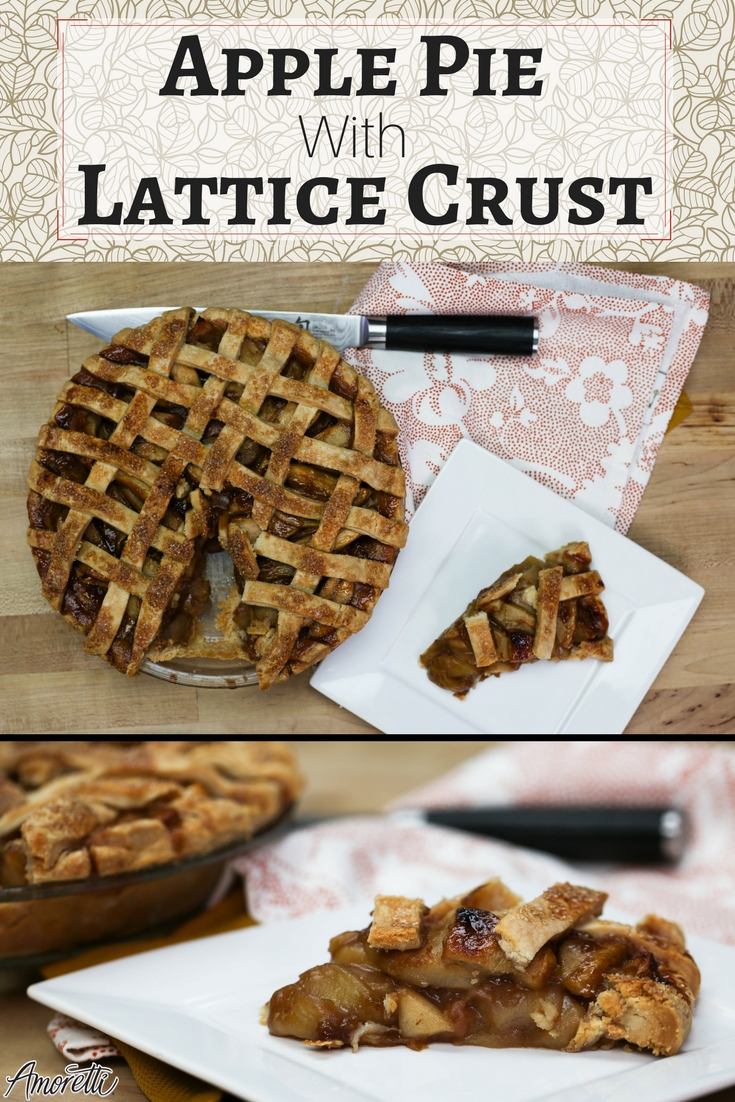 Products used in this recipe