World Pasta Day sounded like the perfect time to share a new recipe using our Homemade Pasta Dough! Agnolotti are a filled pasta, kind of like ravioli's cuter and more sophisticated cousin. This recipe makes about 3 dozen 1" agnolotti. Let's get rolling!
Take your lovely pasta dough and start feeding it through your pasta machine.
Rollin' rollin' rollin'. Keep at it, dusting lightly with flour as needed to prevent any sticky situations, we'll get pretty close to the thinnest setting (see TIPS). It should be about 1/16th of an inch if you want to break out your kitchen ruler. You do have a kitchen ruler, right?
Another dusting of flour! And lay out that long sheet of pasta, trim the ends. Take your piping bag (or ziploc, no judgement) and pipe a nice even line of filling along the length of pasta. We're aiming for a fat ½" of filling about an inch in from the edge.
Grab the pastry brush and your egg white + water.
Brush down the length of the filling (inside edge please). This will act as our glue, keeping our agnolotti filling in their cozy little pasta packages.
Fold the edge of the pasta dough up and over the filling. Be careful, we don't want a bunch of air in our pasta pillows but we don't want to smoosh out our filling either. You got this.
If you're lucky (and what homemade pasta person isn't lucky?), you should have enough space on the other long edge to make another tube of filled pasta. Pipe, brush, seal, and go.
Trim the filled pasta so you get a nice, clean edge. A fluted pastry cutter will give you a fancy edge but a knife works just as well.
Pinch the pasta tubes, starting at one end and working your way to the other end. We're aiming for a good inch between our fingers.
Roll the little guys just a bit as you cut individual agnolotti, this will give them that extra cute happy pillow shape. (You just read that in Bob Ross' voice, didn't you?) Stay chill as you keep rolling and cutting your agnolotti, setting them on a lightly floured surface.
Here's the full recipe!
Ingredients
SPECIAL EQUIPMENT
pasta machine or rolling pin
piping bag
pastry brush
fluted pastry cutter, optional
Directions
Whisk together water and egg white (you should have one left over from making the pasta dough). Set aside.
Roll the dough out into a long sheet at about 1/16th inch thickness and place on a lightly floured countertop. Depending on the width of your pasta machine, you may be able to get two rows of agnolotti out of one length of rolled out pasta dough.
Square off the edges of the pasta with a knife or roller.
Place the Pea & Ricotta Spread in a piping bag or resealable plastic bag.
Cut the tip of the pastry bag and squeeze the filling out in a long line along the length of the pasta, about ½" from the edge of the pasta. Then, with a brush or your finger, apply egg wash to the inner side of the pasta, right next to the pea and ricotta filling.
Fold the long edge of the pasta over the filling and onto the egg washed dough. Work carefully and in sections, taking care to press out any air bubbles but not smash the filling.
Once your long tube of pasta is sealed, start at one end and pinch the dough every inch or so until you reach the end. Your thumb and middle finger will create a seal between the agnolotti while also giving a proper amount of space between them to cut through.
Using your fluted cutter or a knife, trim the end of the pasta tube. Cut your individual agnolotti, rolling from the rounded side to the sealed edge. This will create that pillow effect.
Boil fresh agnolotti in salted water for 3-5 minutes.
Add a sauce of your choice or toss with freshly sautéed vegetables and drizzle with a touch of olive oil and fresh herbs.
TIPS:
Agnolotti can be cooked right away or refrigerated for up to 5 days, although the pasta dough may speckle gray due to oxidization.
You may also freeze them in a single layer on a liberally floured pan. Once they are frozen you can consolidate them into a bag or container for up to 6 months. When ready to cook, let them sit on the counter for about 10 minutes in a single layer before boiling in salted water for 3-5 minutes.
We used a Marcato pasta machine and setting #4 was just right for our agnolotti.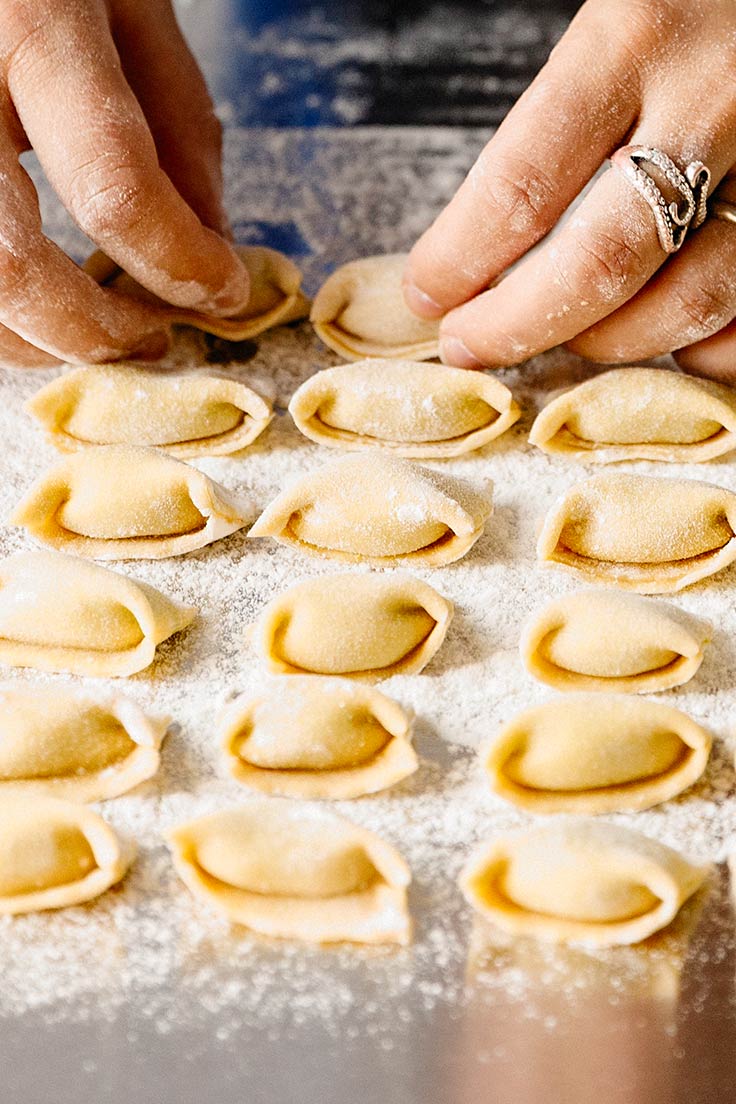 Products used in this recipe