Peanut sauce is one of the most versatile condiments that everyone should have in their pantry. Its nutty yet sweet tang is perfect for dipping vegetables, tofu, meat, spring rolls, seafood, and dumplings. It's also great as a marinade for vegetables and meat. You can also add it to your wraps and sandwiches. Toss your salad with it. Don't forget to use it as a pasta sauce with your favorite noodle dish, too! With so many savory uses for peanut butter sauce, you might want to figure out how to make this exciting sauce at home. We've got a delicious and super easy recipe for you! Try it and stock your own pantry or put it in a jar and give your homemade peanut sauce as a gift! Tell us how you use your peanut sauce below in the comments!
Ingredients
1 – 4″ piece ginger, peeled and finely diced (about 2 tbsp.)
½ small clove garlic, finely diced (about ¼ tsp.)
⅓ cup water
1 tbsp lime juice
2 tbsp teriyaki sauce
1 tsp brown sugar
¼ tsp crushed red pepper flakes
Directions
In a food processor, add all the ingredients and blend them.
Stop the food processor to slightly stir the ingredients, then continue blending them.
TIPS:
The amount of water can be adjusted to create whatever consistency you like.
Enjoy this sauce with our recipe for Cauliflower Cheese Bites!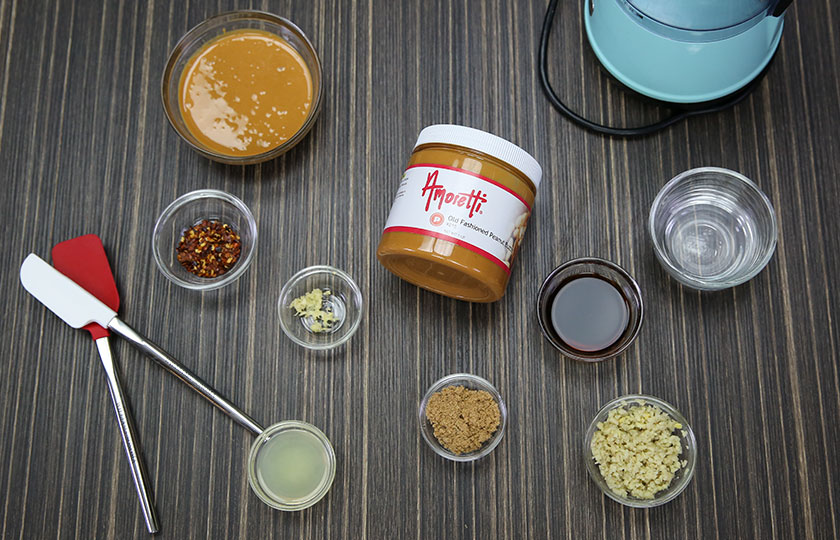 Products used in this recipe